PM rejects key workers' plea for fuel priority
Share - WeChat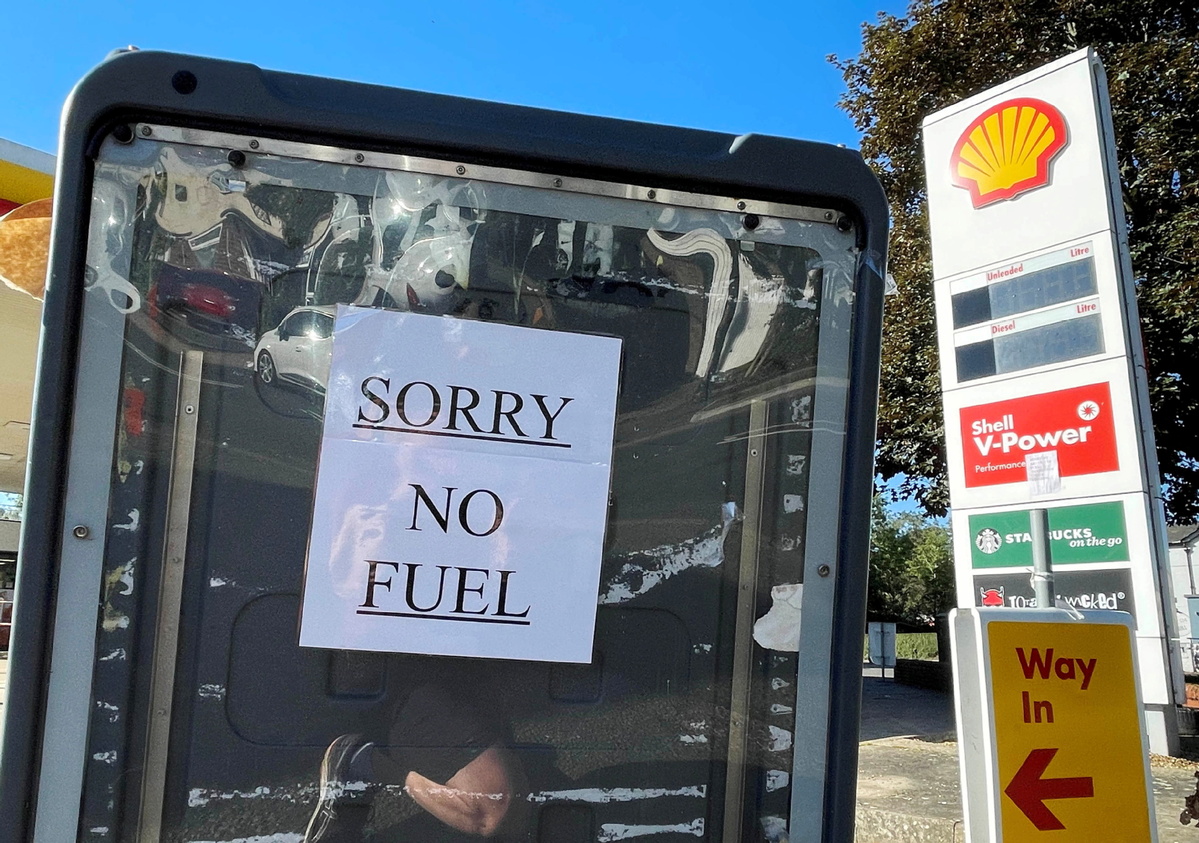 Opposition leader Keir Starmer claims Boris Johnson has kept his 'head in sand'
Britain's Prime Minister Boris Johnson has rejected calls for key workers to be given priority in accessing fuel as the army is called in to deal with the country's petrol supply crisis.
The problem is not a shortage of stock but a shortage of delivery drivers, which has been partly blamed on the pandemic and also on Brexit causing foreign national drivers to leave the country. Speculation the supply chain might break down has resulted in panic buying across the country, with huge queues forming at garages, and many running dry.
Care workers have reported struggling to get petrol to get to work, and the British Medical Association, or BMA, warned there was a "real risk that (National Health Service) staff won't be able to do their jobs".
BMA council deputy chair David Wrigley told Times Radio that care workers should be "worrying about patients and not their fuel dial".
"We can't be waiting two or three hours in a queue for fuel when we have patients to see, so we're calling on the government … to put a plan in place and let us know what's happening," he said.
On Tuesday, Johnson announced plans for spaceports across Britain to send rockets into orbit next year, as media outlets reported huge garage queues and even fist fights between motorists desperate for fuel.
Business Secretary Kwasi Kwarteng confirmed soldiers will be deployed to deliver petrol, and rejected the suggestion that the suspension of competition laws and introduction of emergency visas for overseas drivers meant the situation was a crisis.
"The last few days have been difficult … but I think the situation is stabilizing. We're getting petrol into the forecourts and (on Tuesday) that was matched by the sales," he said.
Johnson echoed his comments, saying there was no need to prioritize key workers.
"With things getting better on the forecourt, the best thing is that... we stabilize it in the normal way," he said.
The general secretary of the Licensed Taxi Drivers' Association, Steve McNamara, said more than one-quarter of his members have been unable to work this week because of the supply crisis and joined calls for a list of key workers to be drawn up.
The chairman of the Petrol Retailers' Association, Brian Madderson, said: "Potentially, we could reach a point of some equilibrium between supply and demand toward this weekend," and James Spencer, managing director of fuel supply company Portland Fuel, told BBC Radio 4's Today program that so many people having filled up meant "logically the worst is behind us".
Opposition Labour Party leader Keir Starmer laid the blame for the panic squarely at Johnson's feet, linking it to Brexit.
"Once the decision had been taken to exit the (European Union), then it was obvious that we needed to deal with the consequences," he told ITV News.
"One of which was there would be consequences in relation to lorry drivers… it's five years later and whether you voted leave or remain you've got to deal with the consequences and the government has simply put its head in the sand."