UK mulls steps to ease petrol panic
Share - WeChat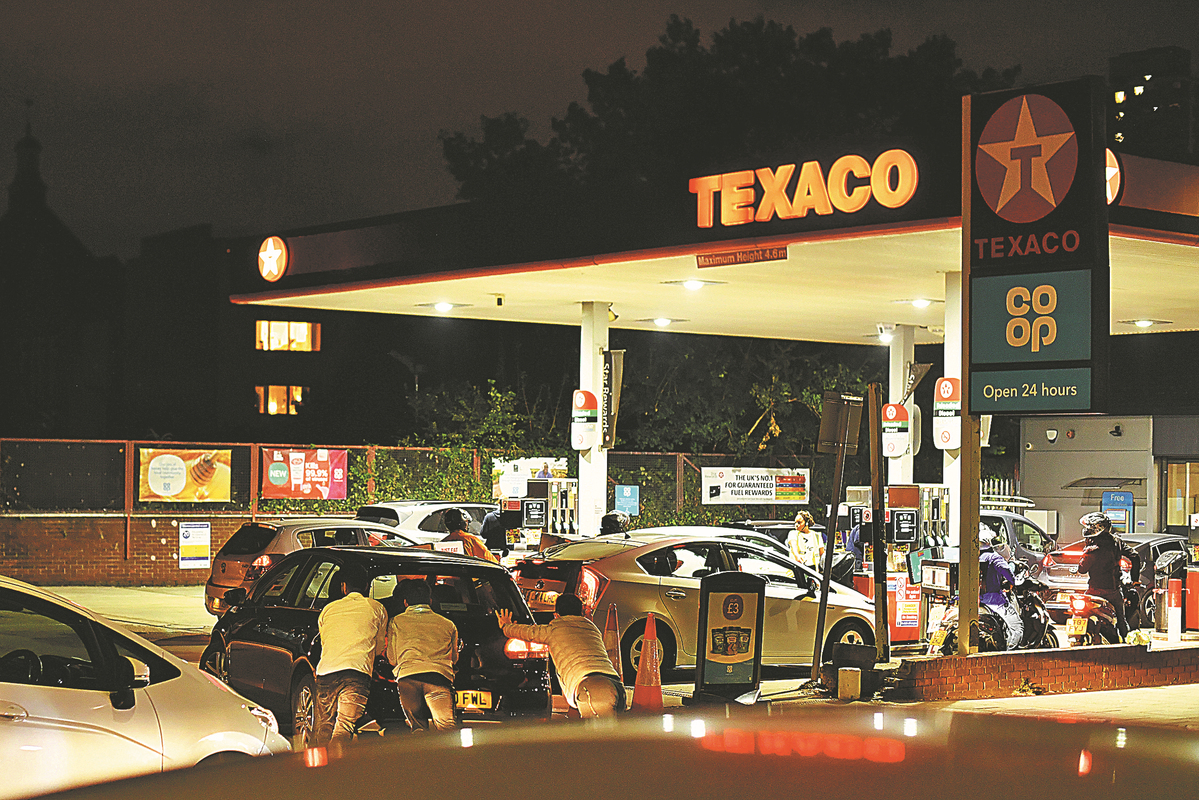 Soldiers could be called in to drive tankers across the United Kingdom to ease the growing panic around fuel supplies which has led to huge queues at petrol stations around the country, according to media reports.
Until recently, large numbers of heavy goods vehicle drivers in the UK were from the European Union, but the novel coronavirus pandemic and Brexit have seen many of them leave, with no intention of returning. The Road Haulage Association estimated that the country is 100,000 drivers short, with around 20,000 having left for what it called "Brexit reasons".
After weeks of supermarkets suffering supply issues, concerns over supplies deepened last week, prompting thousands of motorists to fill up all at once.
One major supermarket chain has put a limit of 30 pounds ($41) on petrol purchases to preserve supplies. The Petrol Retailers Association, or PRA, which represents almost 5,500 independent outlets, said 50 to 90 percent of its members have reported running out, with fears more could follow.
According to a report by The Guardian, senior cabinet members are studying a contingency plan called Operation Escalin, drawn up for the eventuality of a no-deal Brexit. However, even that would only be a partial solution as the practicalities of accessing the hundreds of soldiers needed to drive tankers, some of whom are already deployed elsewhere, and others who are reservists, mean it could take up to three weeks to put the plan in place.
The government said it had "no plans at the moment" to deploy troops, but was making preparations just in case, according to The Associated Press.
The Guardian reported that the contingency plan was expected to be considered by Prime Minister Boris Johnson on Monday.
Brian Madderson, chairman of the PRA, told the BBC that shortages were down to "panic buying, pure and simple", and repeated calls from senior government officials for people to stop panic buying seem to have had little effect.
Temporary solution
In November, Home Secretary Priti Patel tweeted that she was delighted the immigration bill, which ended free movement on Dec 31, had passed through Parliament after many years of campaigning. But this weekend, the government announced it would be offering temporary visas to 5,000 foreign lorry and tanker drivers, and 5,500 to poultry industry workers, to try to reduce disruption in the run-up to Christmas.
Edwin Atema from the Dutch FNV-VNB trade union used particularly graphic language during a BBC radio interview to say drivers he had spoken to had no interest in helping the UK out of a problem of its own making.
Rachel Reeves, the Labour Party's shadow chancellor, told Sky News that the government has been "complacent and negligent" over the issue, and said it "flies in the face of reality" to say, as Transport Secretary Grant Shapps has, that Brexit is not to blame.
"There are other problems as well, an aging workforce, a problem with the pandemic, but when you cut off a supply of labor, which we did when we left the EU, then you are of course contributing to those problems," she said.
Agencies contributed to this story.