Taste of India
Share - WeChat Leading entrepreneurs from Hong Kong's Indian diaspora tell Rebecca Lo why it's important to bring generosity to hospitality ventures.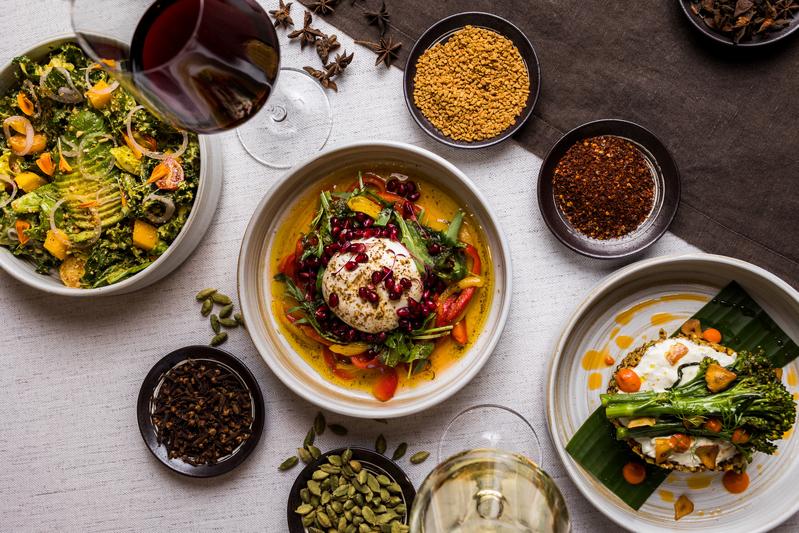 The Indian diaspora in Hong Kong dates back to the city's roots as fledgling Victoria. The philanthropic legacy of the Parsis from Bombay — including Hormusjee Naorojee Mody's support of the University of Hong Kong and the sanatorium built by Jehangir Hormusjee Ruttonjee in 1949 which has since evolved into a hospital named after him — are milestones in the story of Hong Kong's development.
In recent times, the Harilelas and Jhunjhnuwalas lead the pack of Indian entrepreneurs in Hong Kong. Intrepid newcomers joining established business families or starting their own hotels and restaurant chains offer a taste of traditional Indian hospitality while trying to put a unique spin on the patrons' experience.
Guest is god
Sandip Gupta arrived at Kai Tak Airport in 1996 to work for the Harilela family at Gaylord, established in 1972 and still one of the city's oldest restaurants, now operated by Mayfare Concepts. Originally from Kolkata — a hometown he shares with the legendary Hong Kong businessman and philanthropist Paul Chater — Gupta attributes his move to the death of his father in late 1995.
"I have always been a dreamer," Gupta admitted. "When my father died, I felt that it was time to move from the safe harbor of home. I had never been outside of India before. It was a calculated risk to take up a job in Hong Kong, but I was 24 years old and age was on my side."
Along with Sandeep Sekhri, who managed Viceroy Restaurant and Bar (now closed), Gupta learned the ropes while adopting the motto: Guest is god. "It comes from the Sanskrit (adage) atithi devo bhava that (suggests) guests should be respected as much as god," Gupta explained. "For me, it is about bringing warmth and making genuine connections. India is very diverse and there is so much to showcase when it comes to food."
Gupta and Sekhri launched the Dining Concepts brand by opening their first restaurant Bombay Dreams in December 2002. Dining Concepts grew from strength to strength with its international smorgasbord of smartly situated restaurants and bars, including Bistecca, Le Pain Quotidien and Iron Fairies.
In 2018, Dining Concepts went public with a listing on Hong Kong Stock Exchange. Gupta and Sekhri retained a few of the outlets to operate under S&S Hospitality. The latest incarnation of Bombay Dreams opened in August.
Relocated to a bright and airy space overlooking Wyndham Street, the restaurant features two authentic terracotta tandoor ovens serving specialities such as smoky lamb chops marinated in yogurt. The meat is so tender it falls off the bone.
"Kolkata is known for its street food — and the delicious choices there are considered great value for money," Gupta said. "Nothing can match the cooking by my mother or grandmother though. We always add a splash of love to our dishes."
"Passion in the food industry cannot be faked," he added. "The money that we make never compensates for the hours restaurants demand. There has to be pride in what we do."
Welcome sign
Girish Jhunjhnuwala's grandfather relocated from India to Myanmar more than a century ago and established a textiles and garment business in Yangon, trading with Japan and elsewhere in the region. His father relocated the business to Hong Kong and ventured into original equipment manufacturing watch business after World War II.
Born in Hong Kong, Jhunjhnuwala joined the family business in 1984 and helped oversee its factory operations in Dongguan. He soon realized watchmaking was a stagnating business. While looking for a suitable location for his wife Sarika's Indian restaurant Veda, he noticed a shortage of serviced apartments.
Veda opened in 2002 on Arbuthnot Road, followed shortly by the first Ovolo property a few doors down. "Veda originally offered multiregional Indian cuisine and our chef was from West Bengal," Jhunjhnuwala said. "It was a bit too soon for its time. We reopened Veda in 2018 as a 100 percent vegetarian restaurant, with a more casual vibe."
Situated now in the lower floors of Ovolo Central, Veda's executive chef is from Spain and himself a vegetarian. Sarika continues to offer suggestions from time to time.
Upon Ovolo's success, Jhunjhnuwala opened a second serviced apartment facility in Sheung Wan. He converted them into hotels after the 2008 Asian financial crisis. Today, Ovolo Group boasts two co-living properties in Sheung Wan and Aberdeen, the latter operated by Dash Living, as well as hotels Ovolo Southside in Wong Chuk Hang and the flagship Ovolo Central on Arbuthnot Road.
"We noticed that upwards of 24 percent of our guests were Australian and responded to this demand," Jhunjhnuwala said. In 2013, the Ovolo Group expanded into Australia and today has eight properties across Sydney, Melbourne, Brisbane and Canberra.
"By owning and operating all our properties, we can easily adapt to evolving market changes and standards," Jhunjhnuwala said. Architect Paul Kember of KplusK has long been Ovolo's designer and continues to work behind the scenes, while Make Architects designed the latest incarnation of Ovolo Central and Veda.
A sculpture of the Hindu deity Ganesha is common to all Ovolo properties. "Ganesha is a sign of welcome and a symbol of good luck," Jhunjhnuwala explained. "He looks cool. We have them all made in India out of stone, silver, wood and other materials."
"(Nowadays) people are more concerned about what they eat," he said. "The new Veda has really taken off, and Ovolo as a group has also gone fully vegetarian. Though the pandemic put a dent into our business, we have adapted to market changes. Our brand is strong."
In the name of the father
Originally the city's leading tailor who dressed British royalty and Indian prime ministers alike, the Harilela name is synonymous with hospitality in Hong Kong. In December 2020, Aron Harilela opened The Hari in the heart of Wan Chai. The 201-room hotel follows The Hari London, which opened in 2016. Both offer carefully crafted spaces by established London interior designer Tara Bernerd.
On the shelves of The Hari Hong Kong's first floor lounge are copies of a 2020 biography of the family patriarch Hari Harilela, written by Vaudine England. Hari Harilela: Made in Hong Kong chronicles the family's origins in Hyderabad, the move to Shanghai, followed by Shamian Island, Guangzhou and finally Hong Kong.
"The Harilela's generosity and family values really come through in everything they do," said Rory Slater, general-manager with The Hari Hong Kong, explaining how the hotel is an extension of the Harilela brand of hospitality.
Though The Hari is styled more like an English manor than an Indian palace, glimpses of the Harilela heritage come through in its rotating art program and the tunic collar worn by staff members.
"The Hari is both an ode to Hari Harilela and the Harilela family," Slater said. "The Hari is Aron's interpretation of understated luxury. The ground floor arrival is warm but the front door is small, like being welcomed into a home."
"Hong Kong has always been very open and Indians have been here for a long time," Jhunjhnuwala said. "We are very ingrained into Hong Kong society."
"I feel great pride when I walk down Mody Road or pass Ruttonjee Hospital," Gupta said. "We are Indians and Hong Kong people at the same time. I hope that Bombay Dreams can continue this special legacy. I believe the key to success is the ability to read the pulse of a city, to evolve and to adapt."