Biden faces anger from both sides in crisis at US border
Share - WeChat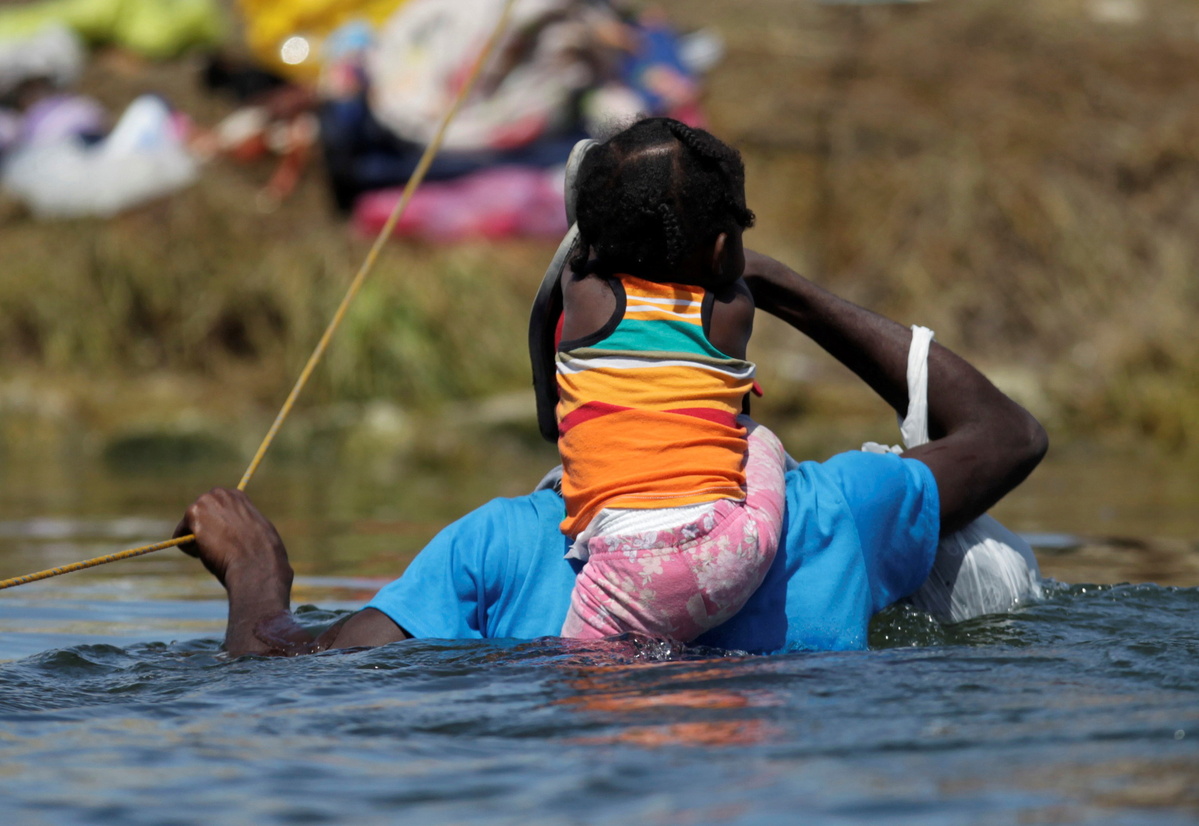 The political situation involving Haitian migrants at the Texas border intensified on Wednesday, with one report saying thousands of the asylum seekers have been released into the country despite the Biden administration saying they would be placed on repatriation flights.
Two US officials told The Associated Press of the migrants' release into the US interior, undercutting the Biden administration's public statements that the thousands in the camp faced immediate expulsion.
Haitians have been freed on a "very, very large scale" in recent days, according to one US official who put the figure in the thousands, the AP reported, saying the official has direct knowledge of operations but was not authorized to discuss the matter.
The Daily Mail of London, citing a source, said a little more than 1,000 of the nearly 15,000 migrants who camped under a bridge in Del Rio, Texas, across from Mexico have been flown back to Haiti.
The border chaos also has renewed the political dispute on illegal immigration in the US, with Republican Texas Governor Greg Abbott sending a convoy of state vehicles to serve as a steel barrier at the Mexican border, while Democrats in Washington have condemned what they called mistreatment of migrants by US Customs and Border Patrol (CBP) agents.
Many migrants have been released with notices to appear at an immigration office within 60 days, which requires less processing time from Border Patrol agents than an appearance in immigration court, the official said.
The releases in the US were occurring despite the signaling of a massive effort to expel Haitians on flights to Haiti under pandemic-related authority that denies migrants an opportunity to seek asylum. A third US official not authorized to discuss operations said there were seven daily flights to Haiti planned starting Wednesday.
Accounts of wide-scale releases — some observed at the Del Rio bus station by Associated Press journalists — conflict with statements a day earlier by Homeland Security Secretary Alejandro Mayorkas, who traveled to Del Rio to promise swift action.
"If you come to the United States illegally, you will be returned, your journey will not succeed, and you will be endangering your life and your family's life," he said at a news conference Monday.
The releases come amid a quick effort to empty the camp under a bridge that, according to some estimates, held more than 14,000 people over the weekend in a town of 35,000.
Abbott, during a visit Tuesday to Del Rio, said Val Verde County's top official told him the most recent tally at the camp was about 8,600 migrants.
On Sunday, three flights deported 327 Haitian nationals from Del Rio to the capital of Port-au-Prince; two flights repatriated 233 people on Monday, and 523 were flown out on four flights Tuesday, the Daily Mail reported.
The criteria for deciding who is flown to Haiti and who is released in the US were unclear, but two US officials said single adults were the priority for expulsion flights.
During a press briefing Wednesday, White House press secretary Jen Psaki said Border Patrol agents used "brutal" methods against migrants crossing the Rio Grande into Texas.
Psaki said officials had watched "horrific video of the CBP officers on horses using brutal and inappropriate measures against innocent people". Psaki noted that there is an ongoing independent investigation of the incident, and that officers involved "were placed on administrative leave and will not be interacting with any migrants".
At issue are images of CBP agents using their horse reins to keep migrants away. Critics have charged that the reins were used in whiplike fashion.
"We were alarmed to see footage of the inhumane treatment of Haitian and other migrants in Del Rio, Texas, by Border Patrol agents on horseback," Representative Carolyn B. Maloney, Democrat of New York and the chairwoman of the Oversight Committee, wrote in a letter on Wednesday to Troy A. Miller, acting CBP commissioner.
The letter said that images and videos showed border agents "charging at women, men, and children; menacing them with bridle reins; and making derogatory comments towards the migrants.
The committee demanded a meeting on the issue by Friday.
Meanwhile, more than 30 civil and human rights groups sent a letter Tuesday to President Joe Biden stating, "our fears that your Administration, like its predecessors, is utilizing harsh and illegal policies to attempt to deter people, particularly Black migrants, from seeking refuge at the border. Your Administration has promised to uphold tenets of racial equity, but is unleashing immigration policies infused with anti-Black racism."
In Haiti, dozens of migrants upset about being deported from the US tried to rush back into a plane that landed Tuesday afternoon in Port-au-Prince as they yelled at authorities. A security guard closed the plane door in time as some deportees began throwing rocks and shoes at the plane. Several of them lost their belongings in the scuffle.
The Associated Press contributed to this story.