Veterans keep their dreams alive
Share - WeChat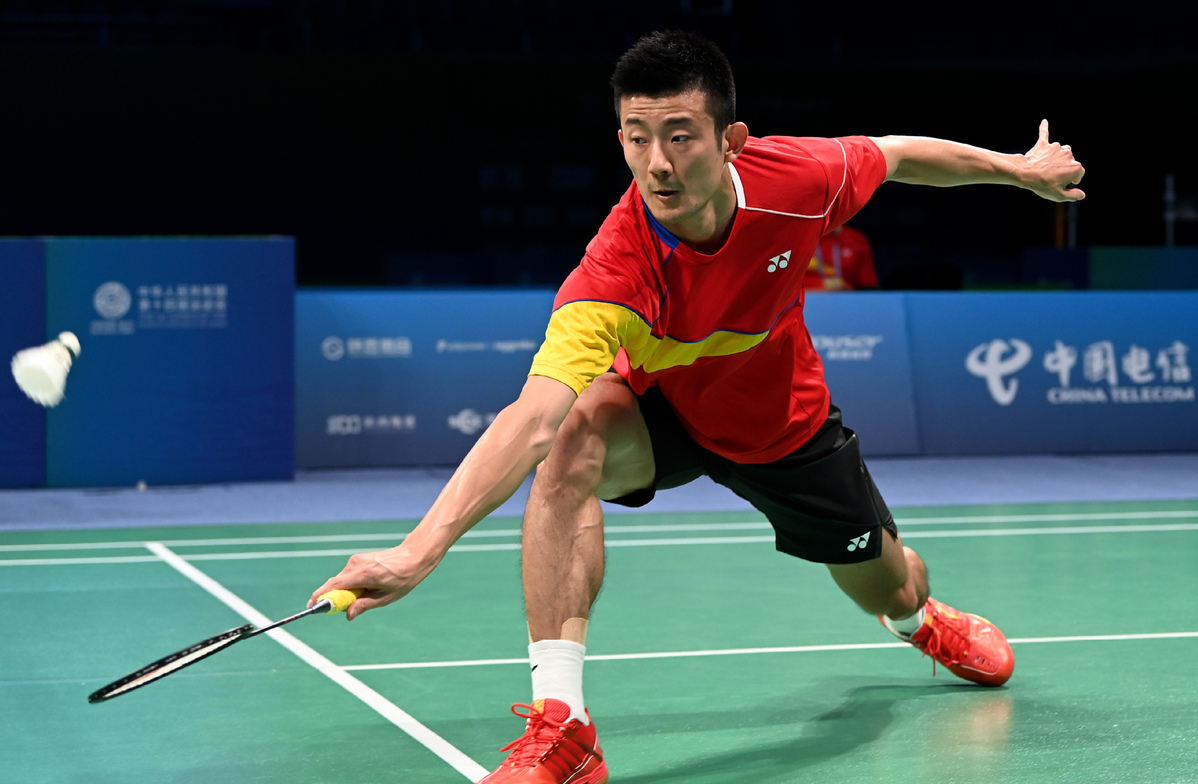 Old-stagers dig deep to make their experience count against young rivals at National Games
China's young guns may be taking center stage at the National Games in Xi'an, but that doesn't mean there's no room for the veterans to muscle in on the limelight.
At 27, Wang Shun is now the oldest member of the Chinese swimming team, but he only rose to prominence this summer after winning gold in the 200m individual medley at the Tokyo Olympics.
The late-blooming star maintained that momentum at Xi'an Olympic Sports Center on Monday by claiming 400m IM gold, his third consecutive national title in the discipline.
"No gold medal is a certainty for any athlete. At each event, we need to try our best. The silver and bronze medalists today are both very young. I hope they can shoulder the responsibility of Chinese swimming in the future," said Wang.
Wang's Tokyo gold was China's first Olympic men's IM title. The victory also saw him become only the second Chinese male swimmer to win Olympic gold.
Wang's name "Shun" means smooth, however, at times his career has been anything but.
He made his Olympic debut in 2012 when he failed to reach the podium. Four years later he won 200m IM bronze at the Rio Games, with his victory in Tokyo coming as a major surprise.
Like all of China's Olympians, Wang needed to complete a 21-day medical quarantine after returning from Tokyo, during which he was unable to train in the pool.
"It's tough for anyone to compete in two high-level tournaments in such a short time. But my job is to overcome these difficulties, so I'm fine with the pressure," said Wang.
"I have won many medals at the National Games, but I always just try my best to swim at each race. I normally don't think too much about the result.
"The Asian Games will be staged in Hangzhou around 11 months from now. So I will prepare as best I can for that and will also firmly focus on the next Olympic Games in Paris."
On target again
Another veteran back on the medal trail in Xi'an was 35-year-old shooter Pang Wei.
Pang pocketed the 10m air pistol mixed team gold in Tokyo, and last week helped Hebei province win the 10m air pistol men's team title.
Pang won the first of his Olympic titles at the Beijing Games in 2008, and is now a four-time Olympian with two gold and two bronze medals. Many of his teammates and rivals at the nationals are almost 15 years his junior. Following his busy summer, Pang admitted he is now close to calling time on his glorious career.
"Honestly speaking, I was happier to win the team gold than the individual gold at the National Games. The team event is about persistence. Those who can hold on until the very last second will prevail," said Pang.
"My performance was not good, and my teammates were much more consistent. I'm preparing for my retirement after these Games. I made this decision a long time ago.
"Winning the national title here is a good result for me, the provincial team and the national squad. What I need now most as a veteran is to have a good rest. I hope more young talented shooters can do China proud and win more honor for the nation in the future."
Pang retired to become a coach after the 2016 Rio Olympics, but ultimately couldn't resist another shot at glory in Tokyo.
"After the 21 days of quarantine following the Tokyo Olympics, I couldn't do any systematic training. So, as I expected, I faced many problems in the competition," Pang, who has competed at five National Games, said.
"I hope through these National Games, more young people can level up their strength and gain more experience. They can learn how to better adjust themselves, show their strength and control their pace during matches."