Chongqing teacher stays at his post to serve children
Share - WeChat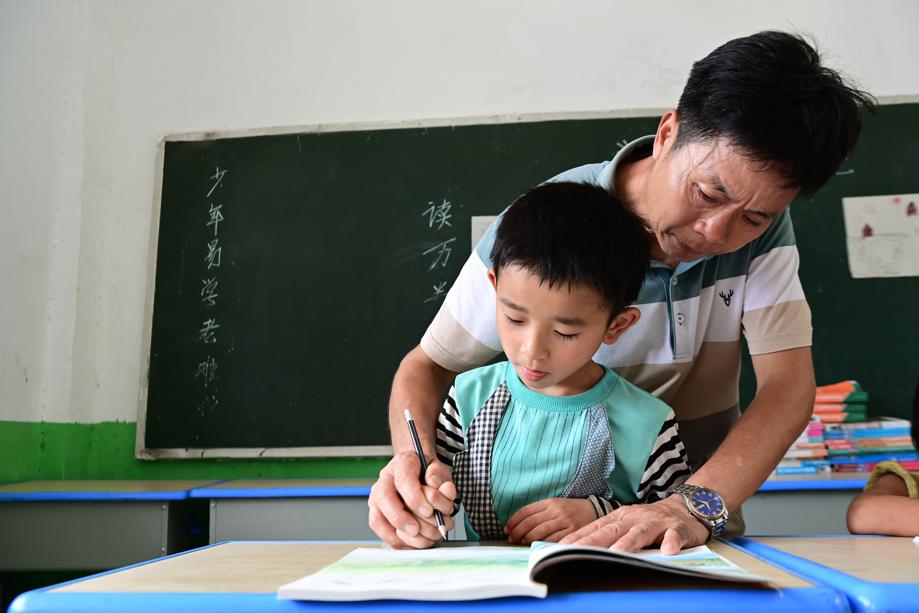 On Sept 1, Li Xianggang and his two students started the new semester at Changxi Primary School in Youyang Tujia and Miao autonomous county of Chongqing.
"I'll stick to my post as a teacher as long as I can, so that the children can go to school," said Li, who in the past 15 years has taught more than 100 students, many of whom have enjoyed a brighter future.
The school, founded in 1968, is located in Qianfeng village on a mountain ridge with cliffs on three sides. It is the only primary school in the remote village, with poor land and inconvenient transportation, and Li is the only teacher.
In 2006, persuaded by a senior village director, he came back from big cities and started to teach at the school, willing to serve younger generations though the pay was lower.
As the only teacher, Li, 57, adopts a comprehensive teaching mode-teaching all kinds of classes including Chinese language, math and physical education.
"When I teach the boy math, I might let the girl draw, and vice versa," he explained. The two students of the new semester-a boy in grade 1 and a girl in preschool-attend classes together.
Besides teaching, Li needs to take care of the students' lives. At noon, Li turns into a chef and cooks lunch for the students.
Li has witnessed the number of students decrease over the years, from over 30 in 2006 to only two this year. Some local villagers have migrated to nearby cities and towns for better jobs and living conditions.
Villager Tian Qiaoying said her 9-year-old daughter, Li Bingbing, is very reluctant to say goodbye to Li this semester, because she will go to another school.
Tian said in the past summer holiday, Bingbing visited Li often. "He is a really good teacher. He has given so much love to his students and is loved by his students."
"A rural teacher should be a guide," said Li, adding that some of his students are left-behind children brought up by their grandparents, lacking discipline, self-care and learning ability.
In recent years, China has paid more attention to teachers in rural areas and improved their working and living conditions. On Wednesday, Ren Youqun, director of the teachers' work department of the Ministry of Education, said that the career evaluation and payment of the rural teachers will be continuously improved.
As of the end of 2020, about 1.3 million teachers in 80,000 village schools at 725 former poverty stricken counties in 22 provinces in the central and western regions had benefited from the policies, with a subsidy of 375 yuan ($58) per month per capita.