Belt, Road literary network formed in Beijing
Share - WeChat The Literary Network of the Belt and Road, initiated by the China Writers Association (CWA), was established in Beijing on Sept 7 to promote regular literary exchanges and deepen writers' friendship between China and other countries.
Tie Ning, president of the China Writers Association, attended the ceremony and delivered a speech. Representatives of Chinese writers, including Mao Dun Literature Prize winners Liu Zhenyun and Ge Fei and internet literature writer Tangjia Sanshao, attended the ceremony, together with the leaders of China Publishing Group, People's Literature Publishing House, People's Literature Magazine, Writers Publishing House and other publishing organizations. Hu Bangsheng, secretary of the Secretariat of China Writers Association, presided over the ceremony. Network members from around the world attended the ceremony online.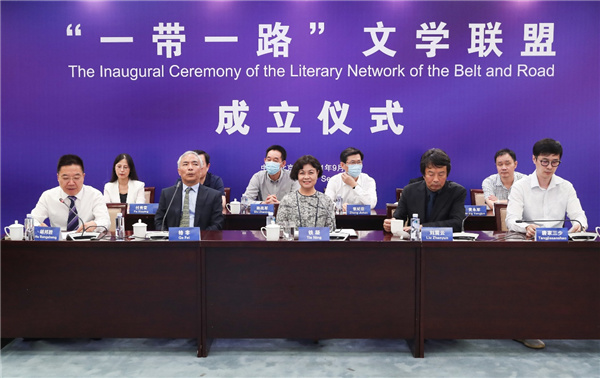 The Literary Network of the Belt and Road has enjoyed a positive reception among literary organizations and writers in many countries. Joining the network were 30 influential literary organizations from 35 countries – the United Arab Emirates, Pakistan, Palestine, the Philippines, Kazakhstan, Republic of Korea, Cambodia, Laos, Malaysia, Mongolia, Myanmar, Nepal, Japan, Thailand, Turkey, Singapore, Indonesia, Iran, Jordan, Egypt, Morocco, Tunisia, Bulgaria, North Macedonia, Poland, Russia, the Czech Republic, Romania, Serbia, Greece, Hungary, Dominican Republic, Cuba, Argentina and Chile – as well as 19 representative writers and translators from all over the world. The secretariat of the network is located in the CWA.
The official website of the Literary Network of the Belt and Road, launched on the same day, will become an important platform for members of the organization to communicate and learn from each other.