Japan party race for top job wide open
Share - WeChat Japanese might have thought they had seen the end of the revolving door era for national leaders when Shinzo Abe held down the job of prime minister for nearly eight years.
When Abe passed the baton to Yoshihide Suga in September 2020, few would have thought that Suga, as his right-hand man, would bow out after just a year in the top job.
Suga's announcement on Friday that he won't stand for reelection as chief of the ruling Liberal Democratic Party leaves the field clear for his challengers in a party vote late this month as a national election looms.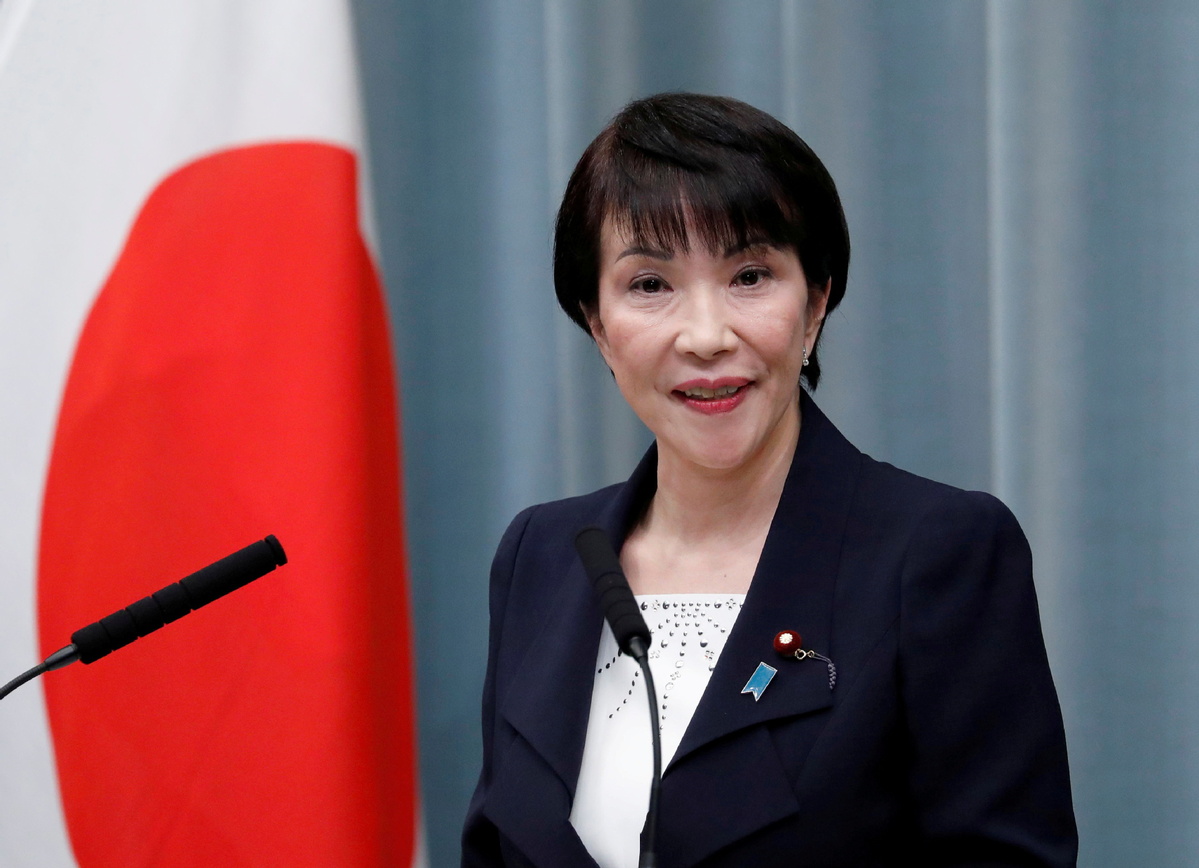 Former party policy chief Fumio Kishida and former internal affairs minister Sanae Takaichi have already thrown their hats in the ring for the election, which rewards the winner with the post of prime minister.
Much as the winner will be hoping that the revolving door won't return as a fixture in Japanese politics, history can't be ignored.
Prime ministers in Japan changed nearly every year from 2006 to 2012.
Kishida and the Abe-backed Takaichi will be hoping to buck that history.
Seiko Noda, the LDP's executive acting secretary-general, is also considering a run. Administrative reform minister Taro Kono said he will announce his stance this week. Former defense minister Shigeru Ishiba is monitoring moves within the party and weighing his next step.
Campaigning for the race is scheduled to start on Sept 17. Voting, and the count, will take place on Sept 29. The winner will succeed Suga as the LDP leader and effectively become Japan's next prime minister, given the LDP's strength in the House of Representatives, the lower house of parliament.
A poll by Kyodo News released on Sunday showed that Kono, who is also in charge of COVID-19 jabs, is the most popular pick to succeed Suga.
Kono gained 31.9 percent of support from respondents in the nationwide telephone survey conducted on Saturday and Sunday, ahead of Ishiba with 26.6 percent and Kishida with 18.8 percent.
The opinion polls, however, do not necessarily mean that there is a clear front-runner in this race.
The party election will be held with LDP lawmakers holding 383 votes and rank-and-file members holding an equal number, and whoever wins a majority of the combined 766 votes will become the party's president.
In another Kyodo survey conducted last month, the approval rating for Suga's cabinet was 31.8 percent, down from 66.4 percent immediately after he took office last September when his image as a self-made man and son of a farmer was viewed positively.
Suga said on Friday that his decision not to run in the LDP leadership race will pave the way for a new prime minister to lead the party into the elections.
Suga became prime minister on Sept 16, 2020. He has been unpopular with voters for a variety of reasons, all to do with how his government has responded to the pandemic. The vaccine rollout in Japan has been perceived to be haphazard and slow. Fears that COVID-19 cases would spike during and following the Olympics were largely realized, as infections and hospitalizations skyrocketed across Japan, with no apparent government plans to deal with the situation.
Several younger LDP lawmakers had voiced their concerns that the LDP could not win the next election for the lower house, which will take place by Nov 28 at the latest, with Suga at the helm.
Lawmakers who entered national politics in the 2012 lower house election that ushered in the LDP's return to power are now serving their third term. There are 84 of these three-term members, more than any other group. Including those who were first elected in 2014 and 2017, members serving three or fewer terms account for 46 percent of all LDP lower house legislators.
Approval ratings
These younger members who have never experienced a difficult election became worried about Suga's low approval ratings and began pushing for another leader.
Suga's own personal qualities made things worse. Critics say he took a top-down decision-making approach to policy issues without carefully weighing the opinions of a wide range of advisers. He rejected dissenting voices and focused on data convenient for his agenda.
The final straw was Suga's suggestion of a hasty dissolution of the House of Representatives, with a reshuffle of LDP executives, ahead of the party vote. Such maneuvering was seen by some as a means for Suga to disregard political norms in a blatant attempt to cling to power.
Suga's decision to depart the stage caught most Japanese off guard.
The Mainichi Shimbun, in an editorial, said Suga will leave a political vacuum during the coronavirus crisis. "The LDP must quickly have its presidential election," it said.
The Asahi Shimbun said Suga deserves to be severely criticized for abandoning his responsibility to protect the lives and livelihoods of the people at a time of explosive growth in COVID-19 cases. "It should be first pointed out, however, that the LDP, which elected Suga as its head and supported his administration for a year, shares the blame for the current dire situation," the newspaper said.
Even though the LDP's popularity is waning, there is little chance of a change for the opposition parties.
Japan's political analysts believe that the ruling coalition will almost certainly maintain its majority with a new LDP leader, though the party would likely still lose a fair number of seats.