Texas moves ahead with laws restricting abortion, voting
Share - WeChat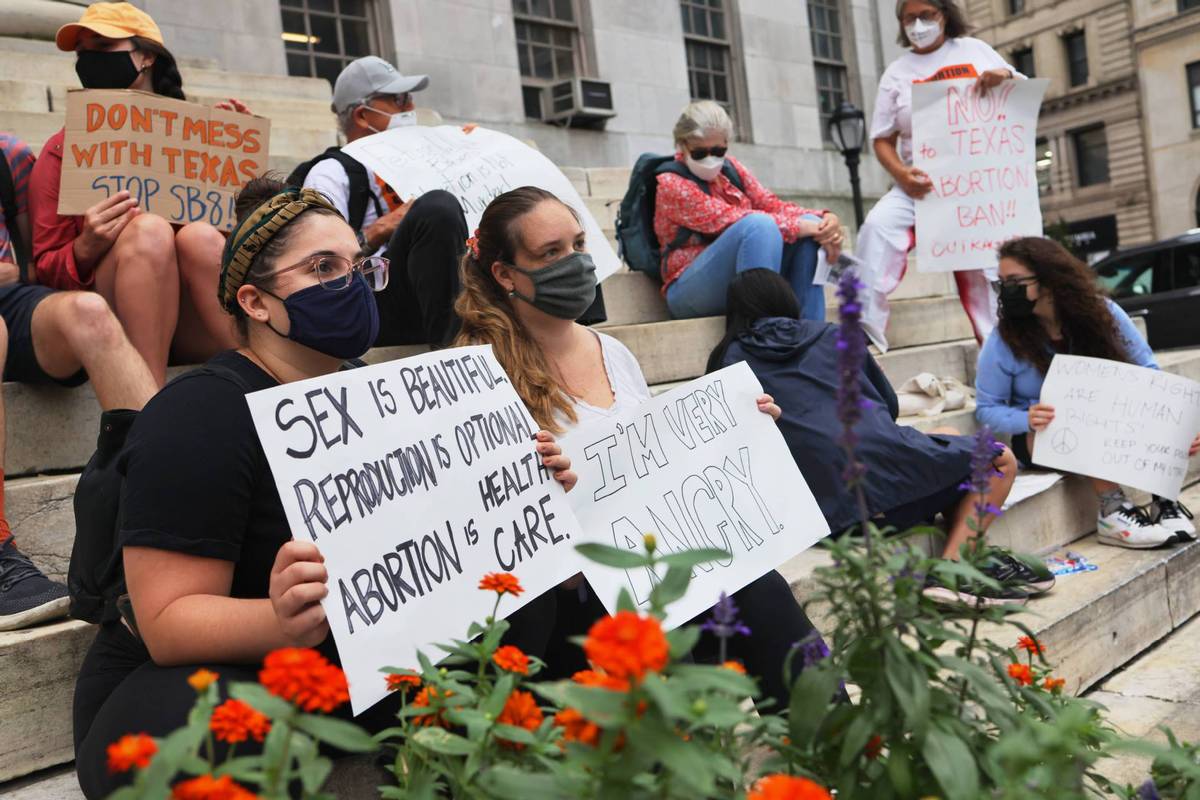 A Texas law that bans abortions after six weeks, including in cases of rape and incest, and is one of the most restrictive in the US, goes into effect Wednesday, as Governor Greg Abbott is poised to sign another law that further tightens the state's voting rules and reins in local efforts to widen voting access.
Called SB 8, the bill prohibits abortions whenever an ultrasound can detect a fetal heartbeat — which is usually at six weeks into pregnancy when most women wouldn't be aware that they are pregnant.
This bill effectively bans almost all abortions in Texas, abortion rights groups said.
Texas abortion providers had taken the case to the US Supreme Court on Tuesday for an emergency appeal, but the court didn't act.
President Joe Biden on Wednesday rebuked the abortion law, vowing that his administration would work to defend abortion rights. "This extreme Texas law blatantly violates the constitutional right established under Roe v. Wade and upheld as precedent for nearly half a century," Biden said in a statement.
The new law purposefully won't be enforced by the state. Instead, only private citizens can sue abortion providers, and anyone involved in aiding or abetting an abortion deemed illegal by SB 8. That might allow the bill to circumvent the 1973 Supreme Court decision in Roe v. Wade that legalized abortion with some limits.
Aimee Arrambide, executive director of Avow (formerly known as the Texas chapter of the National Abortion Rights Action League), called the abortion bill "disasters the state manufactures" and said it "opens up the doors to an abuse of the justice system, and sets a dangerous precedent for abortion rights nationwide".
"SB 8 will curb access to abortion overnight, it will decimate the already vulnerable care infrastructure in place, and most importantly, it will leave Texans who need access to compassionate care and support services scared to reach out for help, and advocates afraid to help them," she said.
The Texas Tribune reported that abortion rights advocacy groups and providers estimate that the new law would affect at least 85 percent of abortions taking place in the state.
In response to the new law, Texas' 11 abortion-providing Planned Parenthood clinics had all stopped scheduling abortion for pregnancy of six weeks or more since mid-August.
Another major abortion provider Whole Woman's Health provided abortion care until midnight Tuesday. "Our waiting rooms are filled with patients and their loved ones. Right now," it tweeted Tuesday evening.
Amy Miller, the clinic's CEO, said they will only schedule abortions for people who are seven weeks pregnant or less from Wednesday.
Texas Right to Life, the biggest anti-abortion organization in the state, launched a whistleblower website encouraging people to anonymously report people who might have helped others to get abortions. It plans to sue those they believe violate SB 8.
Also in Texas, a permitless gun-carry law also goes into effect on Wednesday. It allows Texans 21 and older to carry handguns in public without going through training or having to get a permit as long as they aren't legally prevented from doing so. Before the new law, Texans were required to be licensed to carry handguns.
While a total of 666 new laws take effect in Texas on Wednesday, another high-profile bill on voting is heading to Abbott's desk to be signed into law.
Voting bill SB 1 cleared and was signed off in both the House and Senate last week after Democrats delayed the Legislature twice in May and July. Texas Democrats' decamped to Washington in July to prevent the needed quorum for a vote in the state house, a move that caught national attention.
The Republican-backed voting bill sets up new ID requirements for voting by mail, enhances protections for partisan poll watchers and sets new rules for those who assist voters.
The law makes it a felony for local election officials to proactively distribute applications for mail-in ballots even to voters who automatically qualify to vote by mail. It also bans drive-through voting, which was initiated in Harris County and mostly used by people of color.