Taliban's final Kabul march brings pledge
Share - WeChat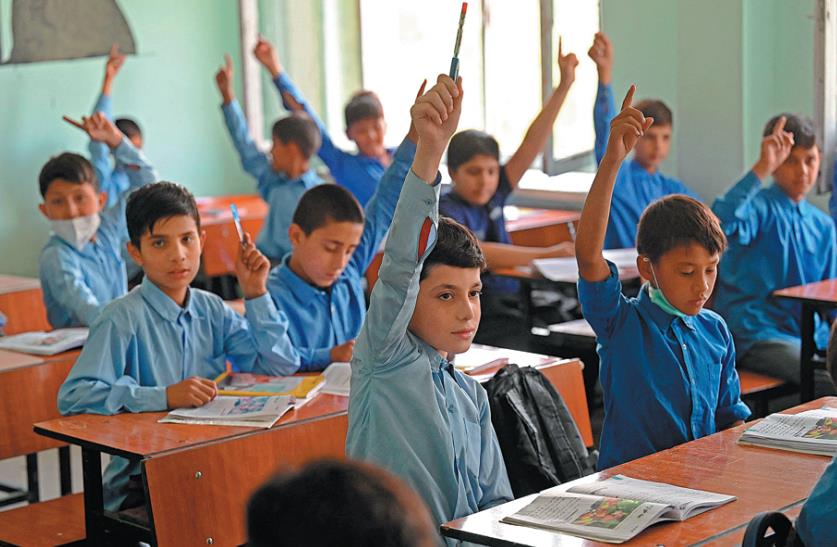 At airport, leaders vow security while China reminds of threats from terrorism
The Taliban marched triumphantly into Kabul's international airport on Tuesday, hours after the United States' final troop withdrawal that ended its longest war. Standing on the tarmac, Taliban leaders pledged to secure the country, quickly reopen the airport and grant amnesty to former opponents.
In a show of control, turbaned Taliban leaders were flanked by the group's elite Badri unit as they walked across the tarmac. The commandos in camouflage uniforms proudly posed for photos.
Getting the airport running again is just one of the sizable challenges the Taliban face in governing a nation of 38 million people that for two decades had survived on billions of dollars in foreign aid, The Associated Press said.
"Afghanistan is finally free," Hekmatullah Wasiq, a top Taliban official, said on the tarmac. "The military and civilian side (of the airport) are with us and in control. Hopefully, we will be announcing our Cabinet. Everything is peaceful. Everything is safe."
Wasiq also urged people to return to work and reiterated the Taliban pledge offering a general amnesty. "People have to be patient," he said. "Slowly we will get everything back to normal. It will take time."
Pakistan's Foreign Minister Shah Mahmood Qureshi said on Tuesday in Islamabad that Afghanistan will form a government within days, Reuters reported.
Just hours earlier, the US military had wrapped up its largest airlift of noncombatants in history.
Chinese Foreign Ministry spokesman Wang Wenbin said on Tuesday that the US withdrawal shows that the policy of carrying out reckless military interference and imposing its own values and social systems on other countries is doomed to fail.
"Getting rid of foreign military occupation, now the Afghan people are ushering in a new start for national peace and reconstruction, turning a new page of the country's history," Wang told reporters in Beijing.
Friendly policy
He said China always respects Afghanistan's sovereignty, independence and territorial integrity, adheres to noninterference in the country's internal affairs and pursues a friendly policy toward the Afghan people.
China will continue to keep close communication and coordination with all parties in Afghanistan as well as the international community to provide support and assistance within its ability for the country to restore peace, revive the economy and crack down on all terrorist organizations, including the East Turkestan Islamic Movement, Wang said.
On Tuesday morning, signs of the chaos of recent days were still visible. In the terminal, rifled luggage and clothes were strewed across the floor, alongside wads of documents. Concertina wire stills separated areas while overturned cars and parked vehicles blocked routes around the civilian airport-a sign of measures taken to protect against possible suicide car bombers entering the facility.
Taliban spokesman Zabihullah Mujahid addressed the gathered members of the Badri unit. "I hope you be very cautious in dealing with the nation," he said. "Our nation has suffered war and invasion and the people do not have more tolerance."
In an interview with Afghan state television, Mujahid also discussed restarting operations at the airport, which remains a key way out for those wanting to leave the country.
The airport had been chaotic since the Taliban took Kabul on Aug 15.
Last week, an Islamic State suicide attack at an airport gate killed 170 Afghans and 13 US service members. Some survivors have raised the possibility that a number of Afghan people were actually killed by US fire amid the chaos and confusion instead of by the bombing.
The 20-year war has claimed the lives of more than 2,400 US citizens.
Its frantic conclusion and purpose are expected to generate much soul-searching and calls for congressional investigations as another US intervention ends in disarray.
'Devastating' withdrawal
"Consequences for the US are good-it finally cut its loss. But for Afghanistan, the war and the withdrawal will be devastating," Torek Farhadi, who served as an adviser to former Afghan president Hamid Karzai, told USA Today.
While the US is leaving, it also is leaving behind billions of dollars of sophisticated weaponry, which redounded to the Taliban as it swept aside the Western-backed Afghan army in a matter of weeks.
Jeremi Suri, who teaches history at the University of Texas in Austin and at the Lyndon B. Johnson School of Public Affairs, wrote in a guest column in The New York Times: "History is clear: We would be better off with more modest, restrained military and strategic goals. US public opinion seems to have moved in this direction, too. Our country needs to reexamine the value of military dominance.
"The reliance on military force has repeatedly entangled the United States in distant, costly, long conflicts with self-defeating consequences-in Vietnam, Lebanon, Iraq, Afghanistan and other places. American leaders have consistently assumed that military superiority will compensate for diplomatic and political limitations," he said.
Mike Bebernes, a senior editor at Yahoo News, wrote that many experts believe that "the most important thing the US should take from its struggles in Afghanistan" is a sense of humility. "The core mistake of the war, they argue, was the assumption that American values could be imposed on a country as complex and divided as Afghanistan," he said.
Heng Weili in New York, Mo Jingxi in Beijing, agencies and Xinhua contributed to this story.