Craftsmen strike a chord
Share - WeChat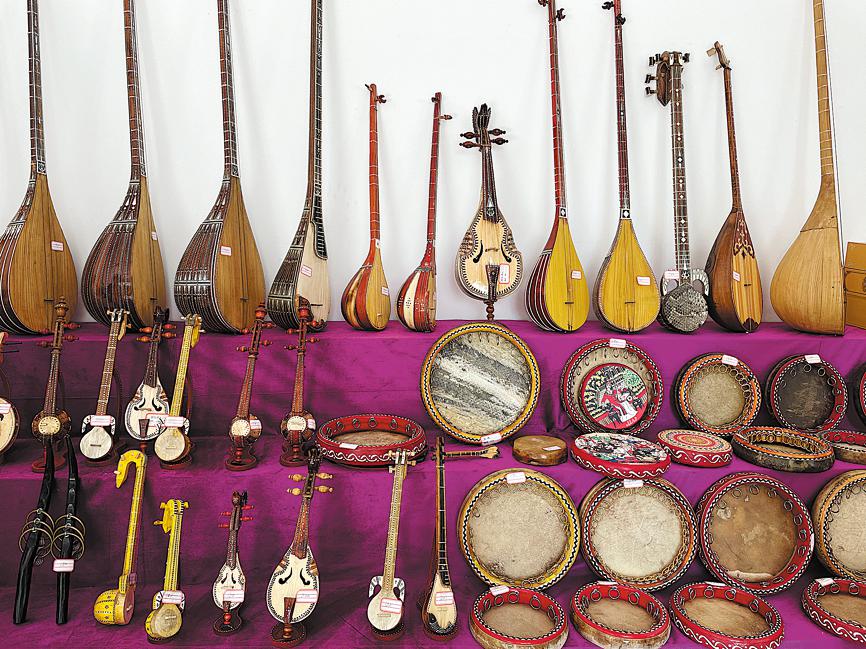 It is meant to be eye-catching, and at 25 meters high and 56 meters wide, the loess statue-a man holding a rawap, a plucked Uygur instrument-stands proudly at the entrance of Jiayi village, Xinjiang Uygur autonomous region, indicating the characteristic feature of the village.
The village, located in Xinhe county, Aksu prefecture, is renowned for the skill of its villagers in making traditional Uygur musical instruments, an art they have practiced for more than 300 years.
About 100 households out of the village's 326 are engaged in making more than 50 different types of the musical instruments of local ethnic groups.
Last year, the villagers made more than 25,000 instruments that were sold in Urumqi, Korla, Turpan, as well as other cities both inside and outside of the region, with sales reaching 8 million yuan ($1.24 million). The craftsmanship has created an important source of economic growth for the village, says Xu Subao, head of Xinhe county's culture and tourism bureau.
The village's main street is lined with traditional Uygur-style residential houses, the exteriors of which are daubed with straw-tempered mud. The venerable instrument maker Ayit Imin, 68, lives in one of the residences.
A corner of his yard is stacked up with the raw materials needed to make the instruments, including mulberry and apricot wood, as well as acrylic resin.
Most Popular