What's on
Share - WeChat Snapshots of China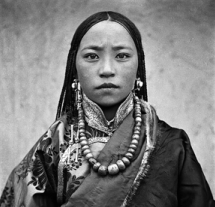 More than 1,200 photos and videos are on show at Xibei, an exhibition through Aug 29, at the Museum of Contemporary Art Yinchuan in the Ningxia Hui autonomous region. It shows the changes in the imagery of Northwest China since the late 19th century. The exhibition begins with a section of photos taken between 1870 and 1949, largely by Western missionaries, explorers, photographers and writers who visited Northwest China. The first part features works of Zhuang Xueben, among China's first ethnographic photographers who extensively traveled and documented the country's hinterland mainly during the 1930s and '40s. It also highlights Walter Bosshard, the Swiss photographer known internationally for his coverage of Asia, and German photographer Hedda Morrison, whose photos of Chinese cities are of historic significance. The second part shows photos taken after the founding of New China until the early 1980s. At the time, a group of photographers from Northwest China, such as Hou Dengke, enthralled the world with their distinctive approach to photography. Their images diversified public impression of the region. Works by contemporary artists, such as Zhuang Hui and Zhao Zhao, present an avant-garde perspective on social issues. The exhibition's special section, "a journey into light", displays vintage photos of Yan'an, Shaanxi province, which provide a glimpse of the revolutionary course taken by the Communist Party of China.
10 am-5 pm, Tuesday-Sunday.12 Hele Road, Xingqing district, Yinchuan, Ningxia Hui autonomous region.
Su, Le Brun on show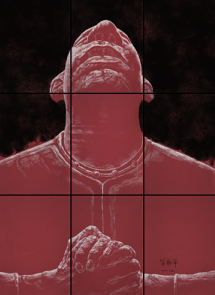 Transcendence and Ren Jian, an ongoing exhibition at the Shenzhen Museum of Contemporary Art and Urban Planning in Shenzhen, Guangdong province, looks at the distinctive creative experiences of two artists-Su Xinping, also the vice-principal of the Central Academy of Fine Arts in Beijing, and Christopher Le Brun, a British painter, printmaker and sculptor. The exhibition, which runs through Sept 19, brings together more than 40 oil paintings, prints, installations and video works by the two seasoned artists whose careers have spanned decades. Having grown up on grasslands, Su revisits motifs such as the broad sky, extensive land and horses in his art. He uses a simple palette and composition to endow his works with a feeling of purity, loneliness and peace. In his works, Su discusses the desires and mental state of modern people. Le Brun orchestrates a symphony of vibrant colors in his creations to evoke different artistic narratives. Su created for the exhibition a sculpture titled Cohesive, which will be added to the museum's permanent collection after the show.
10:30 am-5:30 pm, closed on Mondays. 184 Fuzhong Road, Futian Central district, Shenzhen, Guangdong province. 0755-8276-0159.
Human existence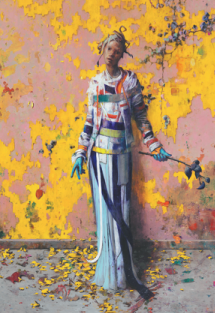 German figurative painter Jonas Burgert says he finds it interesting not to show the things that have already been there, but what things imply and indicate. "I try to see what is behind the people around me and what is behind the surface," he says. Burgert's solo exhibition, ongoing in Shanghai, reflects his examination of the existence and emotions of humankind in contemporary life. Titled Bluht und Lugt (Blooms and Lies), the exhibition at the Long Museum's West Bund space through Oct 10, features paintings and sculptures in which Burgert depicts mystical scenes of human figures wearing odd costumes and makeup. By creating a compelling visual impact, Burgert presents to the audience a lens through which they can journey to the deepest parts of individuals, and explore how they struggle for a balance between their inner reality and the outside world.
10 am-6 pm, Tuesday-Sunday.3398 Longteng Avenue, Xuhui district, Shanghai. Subway: Longhua Middle Road Station, Line 7.021-6422-7636.
Spirituality, reinvention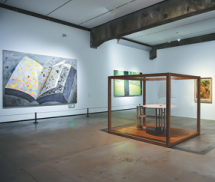 The second installment of Duration: Chinese Art in Transformation, a permanent exhibition at the Beijing Minsheng Art Museum, brings together paintings, sculptures, installations, images and animations by 88 homegrown artists. The exhibition features several large-scale conceptual works that reinforce the spirituality of art creation and artists' individual perceptions. Li Feng from Beijing Minsheng says the exhibition is not intended to present art history, but attempts to show the insights of Chinese artists into their times, society and cultural scenes. He says the works show artists' worries, doubts and even self-denial by which they hope to inspire viewers. The exhibition's curatorial team intended not only to examine contemporary Chinese art, but also how domestic artists identify themselves and their work in a global vision.
10 am-5 pm, closed on Mondays.9 Jiuxianqiao Bei Lu, Chaoyang district, Beijing. 010-5323-2111.