Painter's work is off the wall
Share - WeChat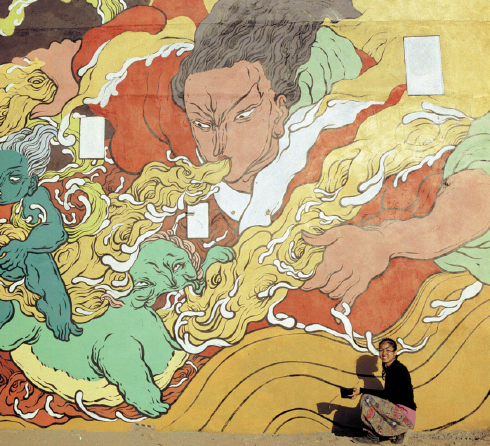 It's 8 pm, and artist Wen Na is climbing the walls-in a good way. Wen Na, you see, is in the middle of her latest project, working inside a lighthouse in Dalian, Liaoning province, on a large-scale mural covering more than 400 square meters.
"Because the walls inside the lighthouse that ascend, are not horizontal, it requires more painting," says the artist, obviously excited at the challenge. "I've spent the past two weeks working here and today is supposed to be the last day of the project," she adds.
Known for her murals, which depict characters like mythological figures, based on traditional Chinese culture, Wen Na, whose real name is Chen Xingxing, has been traveling around the world to paint on walls of various sizes.
She has just wrapped up a project in collaboration with the fifth season of The Coming One, a reality show by Tencent Video, which is expected to be screened this year.
The show, that hopes to uncover the next big star for the Chinese original music scene, has come a long way since 2017. It has introduced pop stars, such as singer-songwriter Mao Buyi, 27, who rose to fame after being crowned champion in the first season of the show. Now, he has garnered over 19 million followers on microblogging platform Sina Weibo.
In its fifth season, the show gathers young Chinese musicians against the backdrop of a campus, called The Coming One Summer School, where competitions will take place. A group of celebrities: singer-songwriter Ma Di, rock band Wu Tiao Ren, singer Tang Tsz-Kei, better known as G.E.M., singer-actor Wang Yuan and talk show performer Li Xueqin, will also join in the show.
Wen Na was invited to paint for the show, including major visual images and images for the celebrity judges.