Yellow River goes green to get clean
Share - WeChat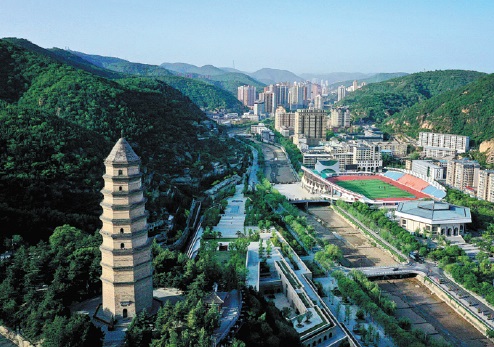 Lan Fengcheng's childhood memories all involve the color yellow.
His home, Zanjiashan village, was located in a valley alongside the Yellow River, where the atmosphere was always windy and sandy.
When it rained, the river flooded, covering the land with water and silt and making it almost impossible for him to leave home.
In the 1980s and '90s, the small settlement in Yichuan county, Yan'an, Shaanxi province, had a harsh living environment and poor transportation infrastructure.
"When we farmed, we depended on the weather gods, and when we wanted water, we had to leave the house (to fetch it)," Lan said.
"Though I lived near the river, I couldn't reach it in three hours because it took so long to cross the many channels," said the 70-year-old as he recalled the old days.
Today, the area around the mountains is covered with pine and cypress trees, while the outside world is now accessible via purpose-built roads.
All the changes are the result of a "green revolution" that began in Yan'an about 20 years ago and saw farmland transformed into forests.