Roses help village stem poverty in Guizhou
Share - WeChat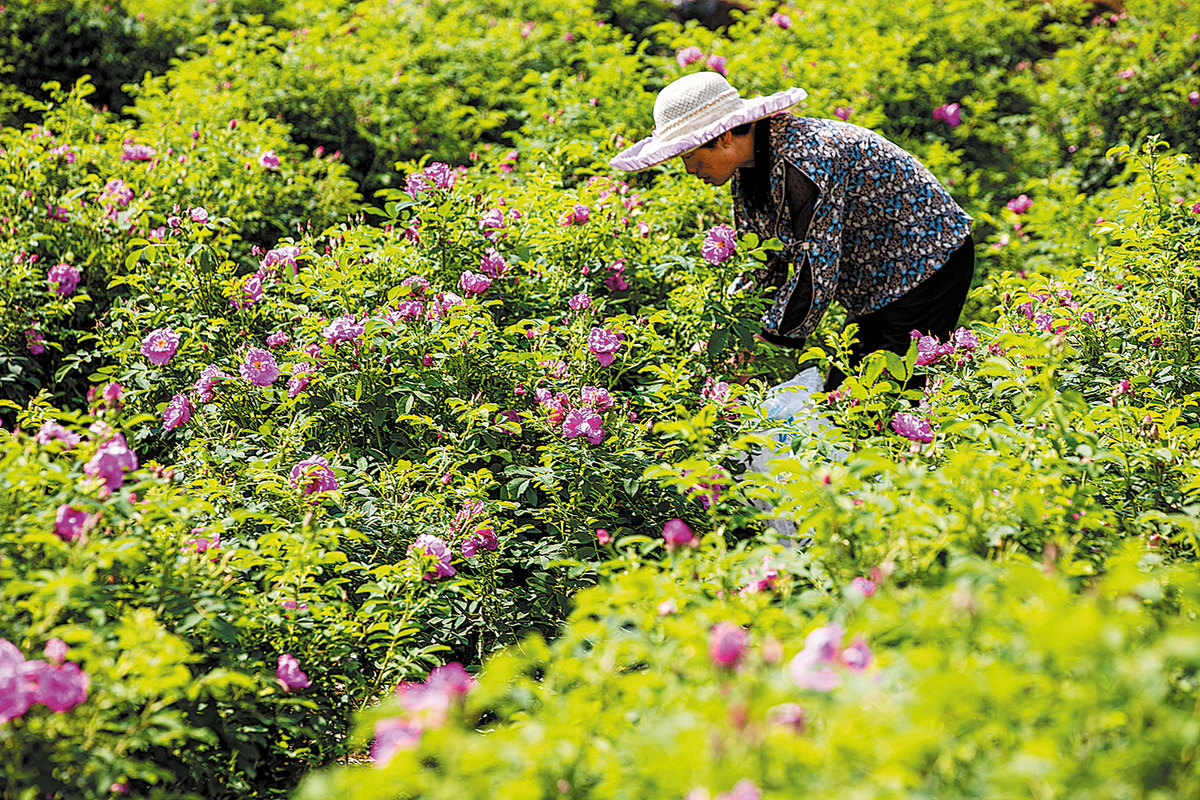 GUIYANG-Sunny days in July call up bittersweet feelings in Wang Zhengyin, a farmer from Qingshan village in Bijie, Guizhou province.
His chiles need plenty of sunshine to grow, while the yield of roses that prefer cooler weather may be affected by the persistent heat.
Wang, 54, started planting edible roses in 2017. The villagers there had never planted this variety of rose before. Some had only seen the flower on television and could not distinguish the difference between ornamental and edible ones.
Located in the hinterland of the Wumeng Mountains, Qingshan has a population of 2,514, and over 70 percent are ethnic group members. It used to be an impoverished village, with 358 people in 107 households.
"We planted corn and potatoes for generations, and that barely helped make ends meet," said Zhang Qilong, the village's Party chief.
To help lift the locals out of poverty, village cadres started promoting large-scale planting of edible roses in 2017.
However, the villagers were initially reluctant, wondering whether it was a feasible idea to grow roses instead of traditional crops. They were even worried about incurring possible losses.
Provided with free rose seedlings, fertilizers and technical guidance, Wang was one of the first batch of villagers to take up planting roses in a 3-hectare area.
"I wanted to change my life," said the father of a daughter and two sons.
Wang's efforts paid off. By growing edible roses, his annual income increased by over 50,000 yuan ($7,700).
In addition, he began to plant chiles and started a beekeeping business, which raised his total annual income to about 100,000 yuan.
Witnessing Wang's success, more than 300 households in the village began to plant roses. The total rose-planting area reached 120 hectares within three years, contributing to the village's poverty relief and development.
In Wang's plantation base, the reddish-purple roses are about to blossom, and chiles planted between them are also bearing fruit.
Even if the roses are affected by the hot weather this year, Wang still feels assured due to his multiple income sources.
"I have already earned 60,000 yuan from the roses in the first two harvest seasons this year, and the honey and chiles are expected to generate additional income of more than 70,000 yuan," he said.
The rose plantations have also brought about a change to the village's landscape, boosting rural tourism.
Currently, the village has five farmhouses in the style of the Yi ethnic group and a rose-themed hotel with more than 170 beds.
The village plans to expand its rose plantation area to 200 hectares while focusing on developing agritourism.
"I will surely take part in the rural tourism program," Wang said.
Xinhua