Model UN participants debate global concerns
Share - WeChat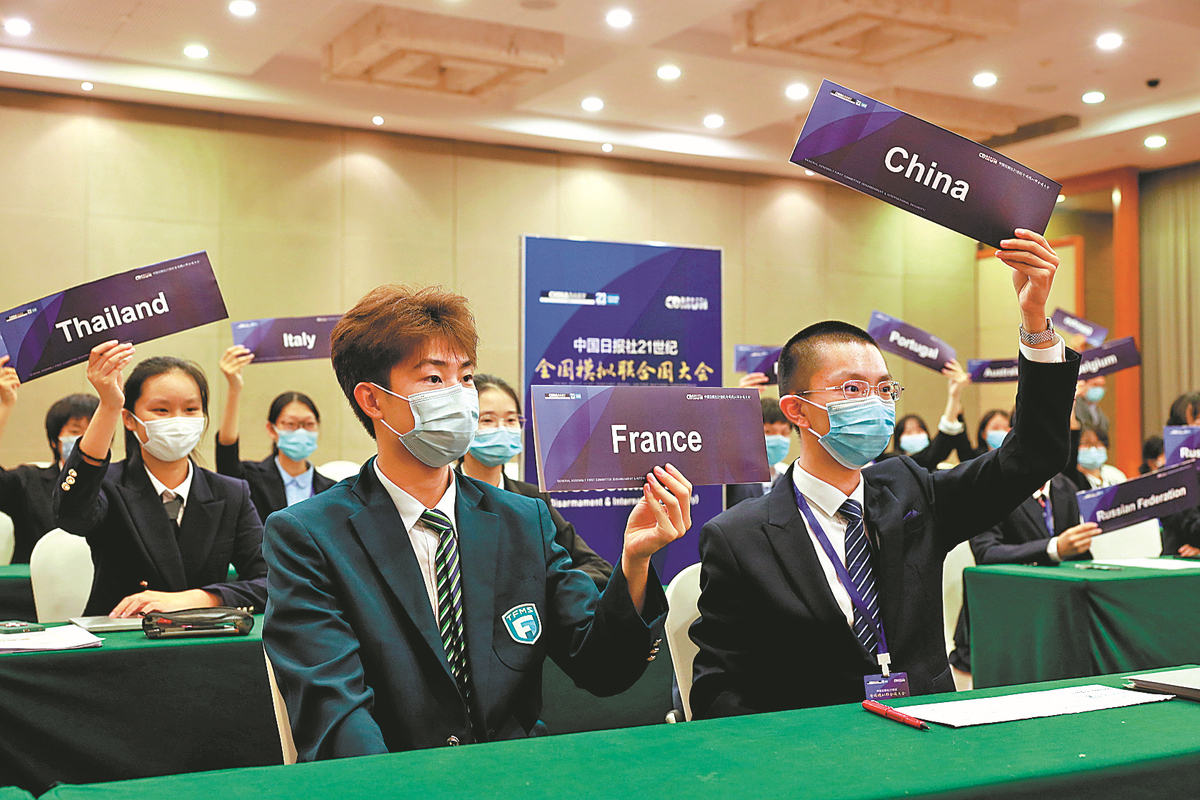 Chinese students demonstrated a keen interest in getting more involved with international affairs and brought their ideals, enthusiasm and ideas to debates at a mock United Nations conference, held from Monday to Thursday in Suzhou, Jiangsu province.
Students and teachers from more than a hundred secondary schools and universities in 26 provincial-level regions participated in the China Daily 21st Century Model United Nations Conference. The event was organized by 21st Century English Education Media, a subsidiary of China Daily.
The students conducted heated discussions and debates in English on issues of global concern, including international politics, trade, cybersecurity, the environment, public health and cultural protection.
The conference aimed to help young students actively participate in international communication and diplomacy, and learn to present China to the world as a major country and gain a deeper understanding of "building a community with a shared future for mankind".
The Model UN is an educational simulation and academic competition held all over the world in which students playing diplomats and UN officials discuss international affairs and important global issues.
In a video message to participants, UN Secretary-General Antonio Guterres said the world still faces an all-encompassing pandemic, which is a health crisis, economic disaster and human rights emergency rolled into one unprecedented challenge. It also confronts a planetary emergency, including accelerating climate change, growing pollution and collapsing biodiversity, that threatens the very environment on which everyone's future depends, he said.
In such trying times, Guterres said he welcomes engagement in the Model UN, adding that young people today are spearheading movements for climate action, racial justice, gender equality and much more.
"The pandemic has created a moment for change. Recovery is our chance to shape a better future," he said. "At the Model UN, you broaden your horizons. By leading and networking, you can be part of the UN's efforts to establish peace, secure human rights and enable all people to live in dignity."
Liu Zhixian, former vice-president and director-general of the UN Association of China, said the Model UN conference has special significance this year as the world is undergoing profound changes.
The conference covered a wider range of topics, including global economic recovery in the post COVID-19 era, the refugee crisis in Syria and gender inequality during the pandemic, he said.
Zhang Han, an undergraduate student at Zhejiang University, said it was the second time she had participated in the conference, which has helped her form friendships with students from all over the country, as well as generate new ideas through debate.
Representing Australia, the 20-year-old discussed discrimination and hate speech during the COVID-19 pandemic.