Resounding through the ages
Share - WeChat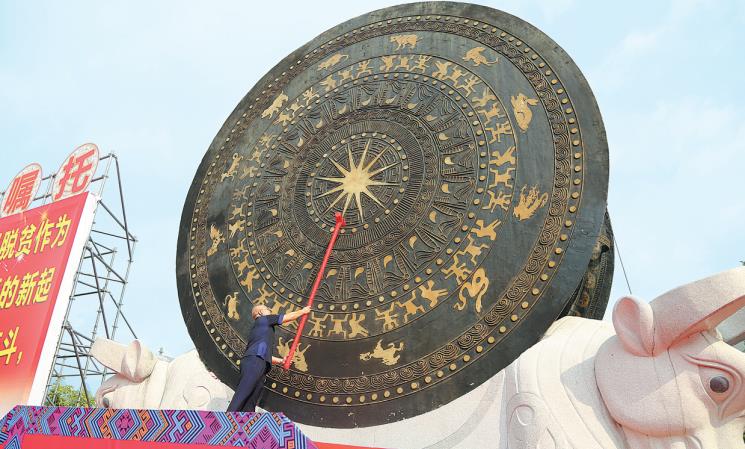 Heritage of bronze drums kept alive by ethnic groups
Editor's note: From arts and crafts to knowledge and skills, China's intangible cultural heritage is invaluably embedded in its ethnic communities. This series looks at the latest efforts to preserve and promote the country's inherited traditions and living expressions.
Three years ago, master craftsman Wei Qichu unveiled to the world the largest bronze drum of its kind.
Weighing 50 metric tons, at 6.68 meters across and 2.88 meters deep, the drum took Wei and his team of more than 30 artisans almost a year to forge.
Their masterpiece now stands in the public square of their hometown in the Huanjiang Maonan autonomous county of Hechi, in South China's Guangxi Zhuang autonomous region, with a Guinness World Records certificate recognizing its status.
The achievement marks the growing importance of the bronze drums to ethnic groups in the region, with their casting technique listed as a State-level intangible cultural heritage.
Wei, 58, is a fifth-generation drum maker. He has a 1,200-square-meter workshop in the mountains, a two-hour drive from the county seat, staffed with 10 workers.
"The record drum was certainly a high point for us," he said.
"We've been kept busy since, making traditional drums, ranging from keychain-like miniatures to the common table-sized ones, averaging 100 main drums a month."
The drums are sold not only to members of the ethnic groups, but also to customers from outside the region and overseas.