Xi visits Tibetan family, praises hard work
Share - WeChat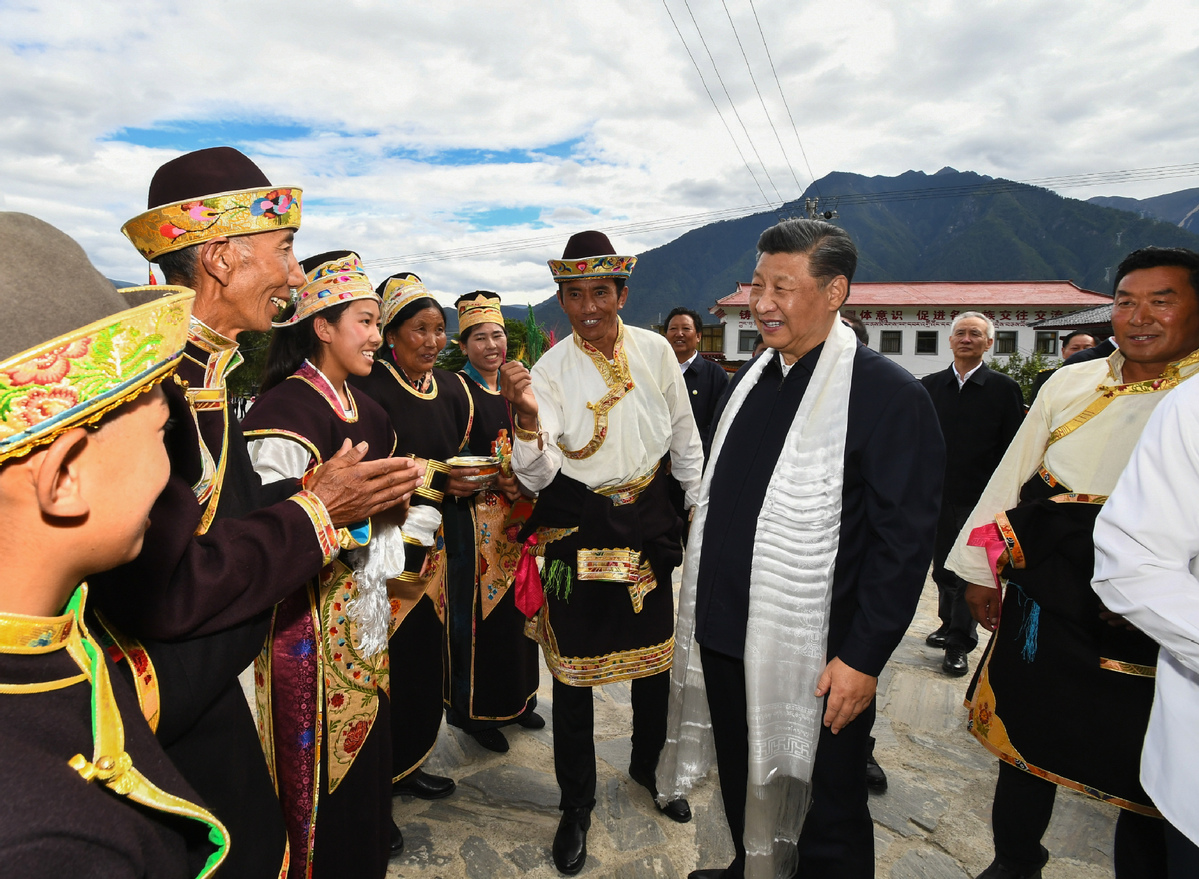 Wearing their newest and best traditional Tibetan attire, members of Dawa Gyaltsan's family in Galai village of Nyingchi, Tibet autonomous region, warmly welcomed President Xi Jinping to their home on Wednesday, Tibet Daily reported.
With offerings of barley wine in exquisite silver bowls, along with other traditional presentations, the welcoming ceremony was infused with traditional Tibetan customs, including white silk hada, used by Tibetans as a greeting gift, and wooden boxes known as chemar, filled with a mixture of roasted barley flour and butter.
Xi, who is also general secretary of the Communist Party of China Central Committee and chairman of the Central Military Commission, visited the Tibet autonomous region from Wednesday to Friday to commemorate the 70th anniversary of Tibet's peaceful liberation.
"When we saw President Xi Jinping heading to our home in the village, we were moved to tears," said Dawa Gyaltsan, adding that Xi also took a close look at the plums and peaches on the trees in the yard.
After entering the home, Xi visited the family's storage room and touched the sacks of grain stacked there. He asked how much land the family owned and was told 1.93 hectares, on which they planted wheat, corn and buckwheat.
Dawa Gyaltsan received an income of 37,000 yuan ($5,700) last year from land rent.
His mother, Drolma, 60, said she had once lived in a small stone dwelling. At that time, the family kept livestock in their yard, and sanitation was poor.
"It was beyond my imagination that we could live in such a bright house and that we could plant different things in the yard," she said, adding that she felt very happy to have such a wonderful life.
Dawa Gyaltsan's son, Phurbu Tsering, 12, said Xi came to his bedroom and noticed a soccer ball and a basketball under the desk. The boy was glad to hear that Xi liked playing soccer, too.
"President Xi also asked me what my future dream was," he said, adding that he wants to be a sprinter.
Dawa Gyaltsan told Xi that his family income exceeded more than 300,000 yuan last year, and that his businesses now included transportation, tourism, land rent, planting and livestock breeding.
Hearing this, Xi noted that the wonderful life in the village reflects Tibet's overall development over the past seven decades since the region's peaceful liberation, thanks to the Communist Party of China and the country's good policies.
"This happy life was also earned by your own hard work, which is necessary to fully implement the Tibet aid policies introduced by the central government and fully realize the development and revitalization of rural areas," Xi said.