A show of courage
Share - WeChat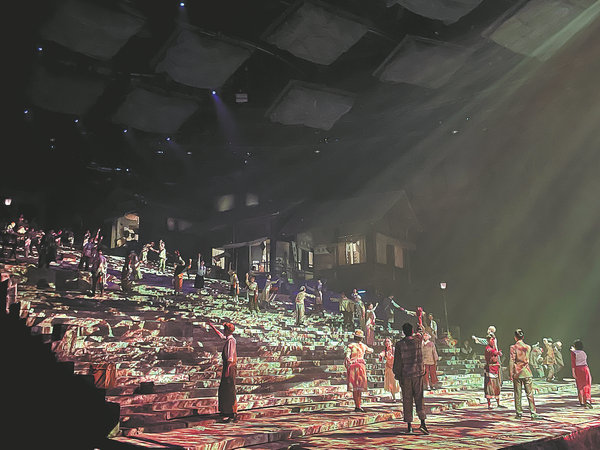 An innovative new stage production tells the moving story of Chongqing's revolutionary martyrs, Deng Rui and Tan Yingzi report.
In the final scene of Chongqing 1949-once the People's Liberation Army and local people have taken control of Chongqing-a group of revolutionary martyrs of the Communist Party of China look back toward the audience and say in chorus as if they were communicating through time: "Please forget about us and dry your tears. Forget about the grief and look forward to a bright future."
The historical and innovatively presented stage extravaganza premiered in Chongqing on July 1 to celebrate the 100th anniversary of the founding of the Communist Party of China.
The 70-minute show centers around a group of revolutionaries who were imprisoned in Baigongguan and Zhazidong-two secret Kuomintang prisons used to punish Communist revolutionaries at the foot of the city's Gele Mountain. The revolutionaries chose death rather than surrender to the enemy's interrogations and cruel torture.
The show boasts a cast of more than 130, mostly young, performers. The youngest is 12 years old.
Specially rigged for the unique stage set up, the Chongqing 1949 Grand Theater in Ciqikou ancient town, at 89 meters long, 73 meters wide and 31.6 meters high, covering an area of 25,000 square meters, can accommodate nearly 1,500 people.
"I was totally immersed in the heavy historical tone of the magnificent stage play-it was their sacrifices that brought about our happiness," says Yang Xin, an audience member at the premiere.