Only talks can bridge China and EU
Share - WeChat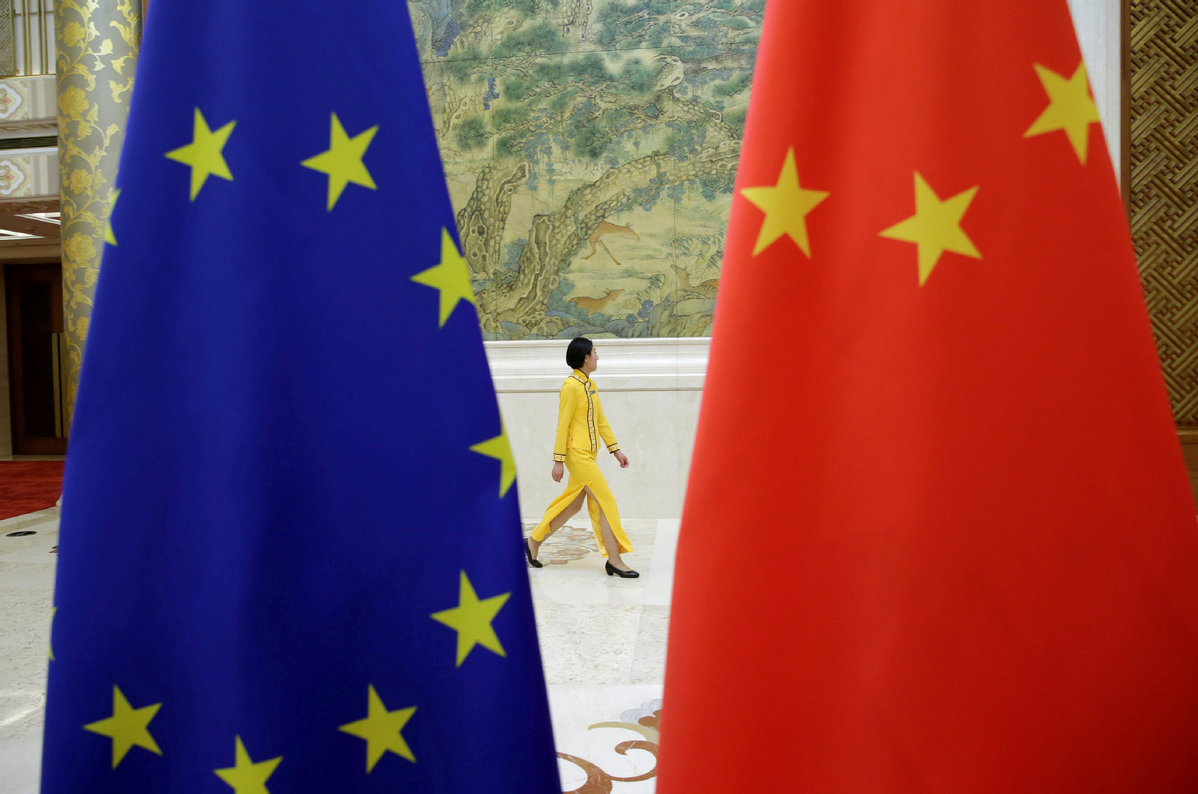 Having achieved its first centennial goal of eradicating absolute poverty and building a moderately prosperous society in all respects, China is moving closer to achieving its second centennial goal of becoming a great modern socialist country and realizing the rejuvenation of the Chinese nation.
The modernization of national governance in China is in full swing. Which means the political leadership is producing "demonstrable achievements", and has the power to lead by example and the "strategic credibility" based on the "moral realism" theory.
Development, economic performance and poverty alleviation are critical to attaining social prosperity, sine qua non for the success of socialism with Chinese characteristics. Social prosperity gives impetus to new ideas, innovation, meritocracy and ideals, which in turn stimulate social prosperity. In order to create such a virtuous circle, hard work, rule of law and strict Party discipline are mandatory.
China has specific socialist rule of law: support the Party's leadership; defend the principal position of the people, who are crucial for advancing the rule of law; uphold the principle that all are equal before law; integrate the rule of law with the "rule of virtue"; and take into account the prevailing circumstances in China (internal affairs must be handled in accordance with China's national conditions and reality).
As such, socialism with Chinese characteristics is reflected in China's inclination toward solidarity and unity; strong leadership, combined with self-discipline; and results-oriented governance. Prosperity for all is at the heart of the leadership with Chinese characteristics. Consequently, socialism with Chinese characteristics and its related political values represent "the only choice for the development of modern China".
China is also a key player in international relations. Self-reliant and confident of its strength, China is committed to multilateralism, liberalization and sustainable development. This is reaffirmed by China's position as a major global producer, consumer, trader, investor and innovator. China's progress in global competitiveness, science and technology supports its national goals of becoming a leader in innovation by 2030 and a world scientific and technological power by 2049, which marks the 100th anniversary of the founding of New China.
At a time when cross-border infrastructure has become crucial for integrating Asia-Pacific economies and infrastructure development is essential for the advancement of developing countries, the relevance of the China-proposed Belt and Road Initiative is self-evident.
China is redefining and rebranding the Belt and Road Initiative, and attaching special importance to the sustainability of projects negotiated, agreed and implemented, in accordance with "green investment principles". Which take into account environmental, social and governance considerations, as well as new technologies, reflecting the gradual transition from "value-driven" to "values-driven" investment.
Besides, China supports a new model of major country relationship featuring "non-conflict, non-confrontation, mutual respect, and mutually beneficial cooperation", meaning a relationship on an equal footing.
How do Western powers react to these goals and progresses?
This question should be complemented by three interrogations paraphrased from a book by Venezuela's former ambassador to several countries including the United States and the United Kingdom, Alfredo Toro Hardy: Has China challenged developed countries too hard and too soon and, by doing so, seriously compromised its chances of fulfilling its objectives? Has former leader Deng Xiaoping's prescription of keeping a low profile been abandoned too early? Why decide to sail against the wind instead of waiting for favourable tailwinds?
The Belt and Road Initiative underscores at least three realities: First, China is playing with open cards.
Second, it is powerful enough to implement the ambitious initiative projects, unlike alternatives such as the 2017 Japanese-Indian Asia-Africa Growth Corridor, the 2018 US Indo-Pacific Economic Vision, the 2018 EU Strategy on Connecting Europe and Asia, the 2018 US-Australia-Japan Trilateral Partnership on Infrastructure Investment in the Indo-Pacific, and the 2019 EU-Japan Partnership on Sustainable Connectivity and Quality Infrastructure.
And third, the Belt and Road Initiative goes well beyond the most famous geopolitical theories (Alfred Mahan's sea power theory, Sir Halford Mackinder's heartland theory and Karl Haushofer's Indo-Pacific thalassocracy), as it puts development first, and is not a "debt trap" if the participants negotiate keeping their national interests in mind.
After a moderate change of attitude of the Western world toward China in 2015-16, starting with the US National Security Strategy of 2017, one can see a "fundamental re-evaluation" of the West's relations with China. Gradually, China has been practically blocked to do business as usual with its partners in the developed world.
Yet the European Union is more inclined to cooperate with China than the US. For instance, the European Parliament has proposed a three-pronged China policy "cooperate where possible, compete where needed, confront where necessary".
The EU-China Comprehensive Agreement on Investment-negotiations on which were concluded "in principle" on Dec 30, 2020, under Germany's presidency of the European Council, after 35 rounds of negotiations over the course of more than seven years-can be interpreted as an appropriate tool to stimulate the EU's cooperation with China in a hostile environment when international relations are dominated by suspicion and unpredictability. Even though the CAI is on hold at present, the ad referendum agreement is ready.
In light of these arguments, one can conclude that negotiations are a prerequisite for reaching a solution acceptable to both parties. Therefore, permanent dialogue between partners is the key to cooperation, consensus and concord.
The author is a Romanian senior researcher.
The views are the author's own and don't necessarily reflect those of her institute or China Daily.
If you have a specific expertise, or would like to share your thought about our stories, then send us your writings at opinion@chinadaily.com.cn, and comment@chinadaily.com.cn.
Most Viewed in 24 Hours
China Views