Program seeks to popularize science among Chinese girls
Share - WeChat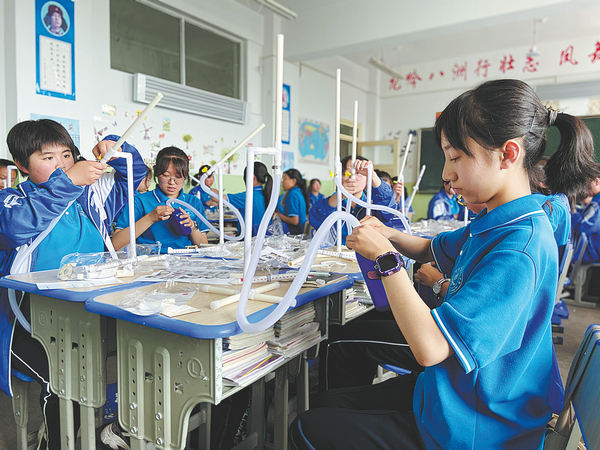 Over 180 adolescent girls from Lixian County No 1 Middle School in Longnan city, Gansu province, listened carefully to a speech about neuroscience.
It was being delivered by Yang Qian, director of the experimental surgery department at The Second Affiliated Hospital of the Air Force Medical University in Xi'an, capital of Northwest China's Shaanxi province. She won the L'Oreal-UNESCO Women in Science Awards in 2015.
"I learned from the speech that there is no gender difference in the field of science. The pursuit of science can be an individual's interest and can also be a core strength of a nation," says Kang Naixin, a 14-year-old student.
Another student, Wang Zi, says it's the first time she had a face-to-face encounter with a scientist. "Professor Yang is rigorous in academics with an unyielding spirit. I imagined previously that a scientist must be a very serious person, but she's affable, approachable and humorous."
The students also joined a science class to make paper rockets to launch into the sky. A plastic bottle was connected with a long pipe joined to the end of the rocket, and students stomped on the middle of the bottle so hard that the air pressure shot the rocket upward. Beijing Sci-Tech Report also sent the school popular science magazines and books especially for children, as reading materials for students.
It's part of a program co-organized by the Children and Youth Science Center of the China Association for Science and Technology, China Association of Children's Science Instructors and US chip giant Qualcomm Inc, which invites women scientists to promote their respective disciplines in rural areas, especially the central and western regions in China. It aims to stir an interest in science, technology and mathematics among female students.
The program was initiated in 2016 as a one-week summer camp in Beijing that invited female students to take science courses and to interact with women in science. The summer camp was suspended after the outbreak of COVID-19.
Most Popular