Billionaire Jeff Bezos set to fulfill dream of 'whole life' on spaceflight
Share - WeChat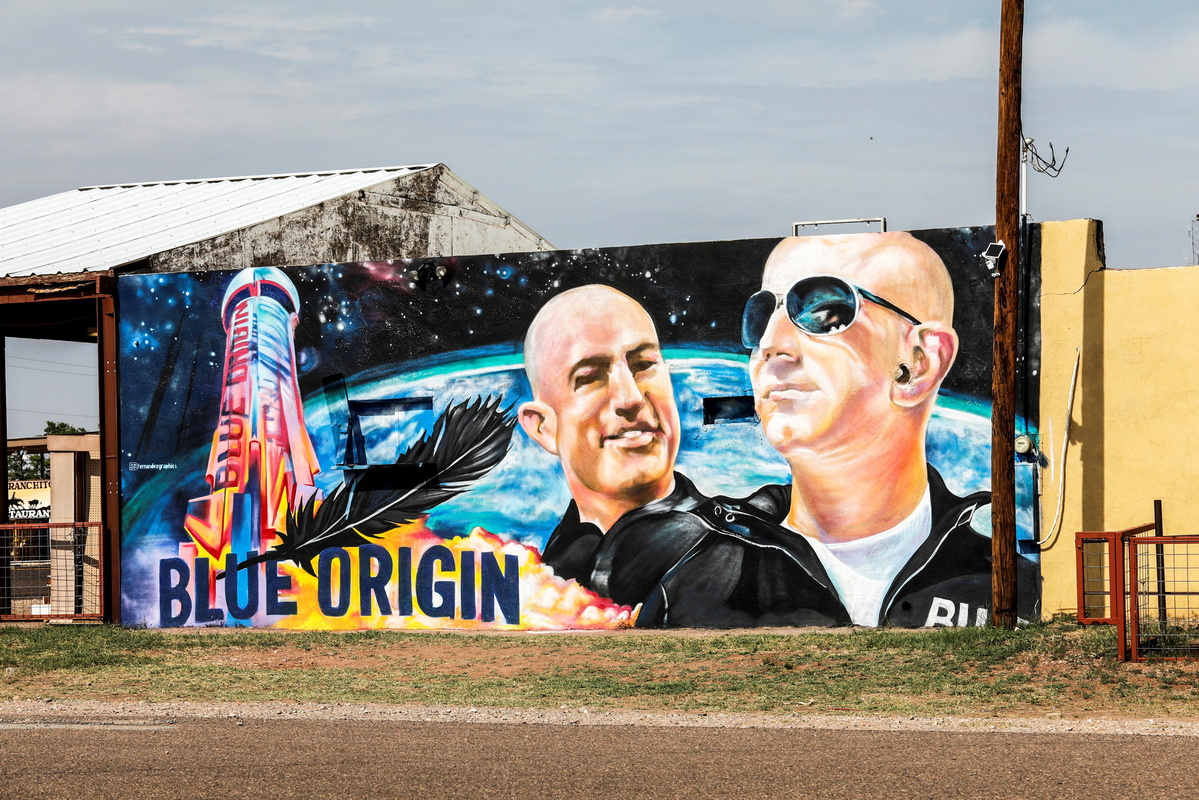 Amazon founder and billionaire Jeff Bezos will travel to the edge of space on Tuesday in a groundbreaking journey for the United States that coincides with the 52nd anniversary of the historic Apollo 11 moon landing.
The richest man on Earth, who stepped down as Amazon CEO in July, will blast off from Van Horn, West Texas, at 9 am in a 11-minute flight on the New Shephard rocket and capsule.
The New Shephard, an autonomous suborbital rocket, created by Bezos' space company Blue Origin, will travel at 2,300 mph. It can take up to six passengers. Three people will travel with him. Bezos picked the launch date as it is the same day that US astronauts Neil Armstrong and Buzz Aldrin became the first to step on the moon in 1969.
Bezos, 57, will make the flight alongside his brother and "best friend" Mark Bezos, 53; Mary Wallace 'Wally' Funk, 82, an astronaut who first trained for space in the 1960s but never got to go; and 18-year-old Oliver Daemen, a student from the Netherlands who paid for his ticket. Funk will become the oldest person to travel to space. Daemen will be the youngest.
This spaceflight will be unlike any prior launch with no pilot or spacesuits. Bezos and his fellow passengers will experience weightlessness for about three minutes during which Bezos will float around the cabin before he has to strap into his seat again and fall back to the ground.
Bezos said he isn't nervous, just excited about the journey.
"I have just been dreaming of this really my whole life, but I don't know what it's going to mean for me," he told ABC News on Monday. "I'm very curious about what tomorrow is actually going to bring. Everybody who's been to space says it changes them in some way. And I'm just really excited to figure out how it's going to change me."
Bezos will use his journey to demonstrate that it is safe for humans to travel beyond Earth, before he launches a space tourism venture. The trip will be livestreamed.
"What we're hoping to do is to build the road to space for the future generations," Bezos told ABC News. "If we can get to that stage, then the things that the next generations will figure out how to do in space, how to benefit Earth with all those things in space ... that'll be amazing to see, so that's the real goal."
Bezos, who also owns The Washington Post, founded his space company Blue Origin in 2000. It has taken 17 years of research to get to this stage. New Shepard has undergone more than 15 test flights.
New Shepard will fly upward until the rocket expends fuel. The crew capsule will separate from the rocket and continue upward. The rocket will be above the so-called Karman line for four minutes. It is described as the boundary between Earth's atmosphere and outer space.
Then the New Shepard will use a large plume of parachutes to slow it down to 20 miles per hour before it heads back to Earth.
Bezos has reportedly put more than $1 billion into Blue Origin. He has a net worth of $186.2 billion.
He is the latest billionaire to join the race to space. On July 11, British billionaire Richard Branson blasted off from a spaceport in the New Mexico desert.
The Virgin Galactic rocket, VSS Unity, went to the edge of space traveling 86.1 kilometers, 53.5 miles. or 282,000 feet. It is very different from Bezos' rocket.
Billionaires Bezos, Branson and Elon Musk aim to kick-start space tourism for people with deep pockets.
Blue Origin will reportedly charge passengers $200,000 for a ticket, according to Reuters.
A trip on Branson's Virgin Galactic space rocket could cost $250,000, according to the BBC. At least 600 people have reserved a ticket for a future flight.
The third billionaire in the space race, Musk, founder of SpaceX, has reportedly bought a ticket on Branson's rocket.
SpaceX, which was founded in 2002, is ahead of the other space companies. It has sent astronauts to the International Space Station and made than 100 rocket launches.
By 2050, Musk said he wants a colony on Mars.
"I've said I want to die on Mars," Musk, CEO of electric-car company Tesla, said in 2013. "Just not on impact."