Maglev trains seen as faster than flying
Share - WeChat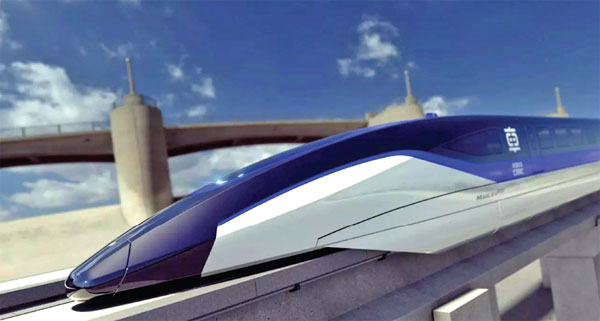 A high-speed maglev transportation system capable of running 600 kilometers per hour is set to roll off the production line on Tuesday in Qingdao, Shandong province, according to its manufacturer, CRRC Qingdao Sifang Co.
Within a few years, it is expected to be the fastest ground transportation available, featureing world-class, cutting-edge technologies, according to a notice released on WeChat by the company, a subsidiary of China Railway Rolling Stock Corp, the country's largest rolling stock manufacturer by production volume.
Liang Jianying, deputy general manager and chief engineer of CRRC Qingdao, said on CCTV in late January that China's first five prototype maglev trains designed to achieve 600 km/h had completed the debugging and testing process.
The speed of a high-speed train ranges from 400 to 600 km/h. The new models are expected to close the speed gap between land and air travel, improving the country's comprehensive transportation network.
At the designed speeds, it will take about 2.5 hours, including the boarding process, to go from Beijing to Shanghai, according to Beijing Youth Daily — about 1,200 kilometers. By contrast, it takes 4.5 hours by air and 5.5 hours by current trains.
When asked when the 600-km/h maglev train will be put into service, Liang, speaking on CCTV, estimated five to 10 years.