China launches pilot zone to develop premium wine in Gobi Desert
Share - WeChat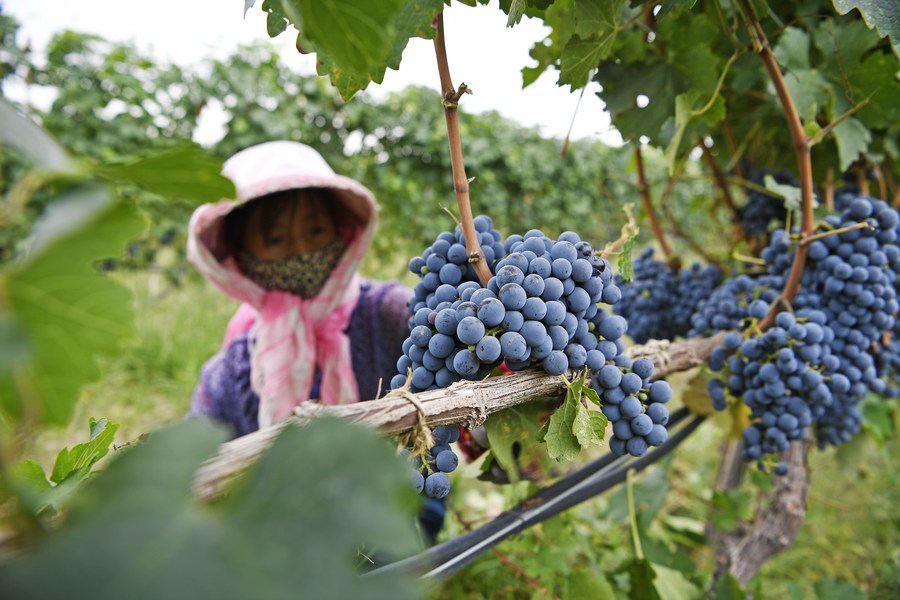 PIONEERING ROLE
By designating the wine area as a national pilot zone, China hopes to optimize the whole-chain development of the wine-manufacturing industry and introduce measures and standards of the International Organization of Vine and Wine countries to help regulate the sector.
Sui, the official with the Ministry of Agriculture and Rural Affairs, said the establishment of the pilot zone can encourage government departments and market entities to "boldly try" all measures and models that can help industrial development.
The beautiful architecture of chateaux and wine tasting areas have turned wineries into popular tourist spots.
"Last year, our winery received more than a dozen visitors on average every day, including free travelers, wine lovers and distributors," said Zhang Xueyan, owner of Ningxia Huangkou Winery.
In 2020, the sales of the winery hit 13.95 million yuan. This year, before the arrival of the peak season, the sales of its red wines have chalked up more than 8 million yuan.
Zhang said she believes that with the pilot zone's preferential policies, the wine zone will become more and more internationally competitive.
Christelle Chene from Burgundy, a famous wine region in France, came to Xige Estate, a winery in Ningxia, in 2019 to work on promoting the local winery products in the global market.
"In Ningxia, I have got my favorite wine taste with a rich fruity aroma and delicate tannin. I want to promote the wines here to the whole world," she said.
The wine and grape industry has become an important pillar of Ningxia's sustainable economic development, offering more than 120,000 jobs. Vineyards cultivated in deserts also have ecological functions of water and soil conservation.
Qu Dongyu, director-general of the Food and Agriculture Organization of the United Nations, sent a letter of congratulation on the launch of the pilot zone.
"Being one of the major origins of ancient agricultural civilizations in East Asia and sitting in the heart of wine grape production zones, Ningxia enjoys considerable advantages and enormous potential in developing grape and wine industries with distinctive regional characteristics," Qu said in the letter.