Picturing an epic journey
Share - WeChat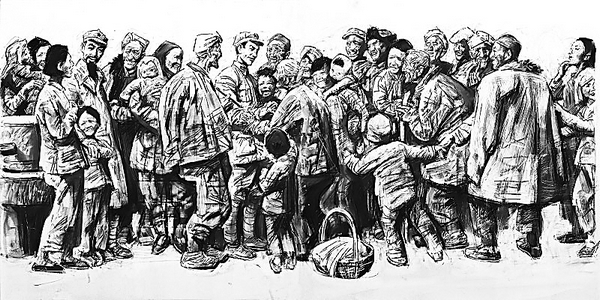 In 1988, Shen Yaoyi embarked on an art project almost as epic in scale as the subject itself. Thirty years later, in March 2018, he finally completed the magnum opus-a three album collection comprising 2,200 engravings depicting the Long March, the famous two-year tactical retreat undertaken by the Red Army of the Communist Party of China which began in 1934.
The collection of engravings, presenting scenes rendered in great detail, along with three oil paintings, comprehensively documents that historic trek to evade the forces of the Kuomintang.
The ongoing exhibition Shen Yaoyi's Illustrated Stories of the Long March at Beijing's National Center for the Performing Arts presents 278 engravings from Shen's trilogy of albums to commemorate the 100th anniversary of the founding of the CPC.
The exhibition comprises three sections. The Red Ribbon on the Earth shows the 12,500-kilometer trek, which led to the relocation of the CPC's revolutionary base from East China's Jiangxi province to Northwest China's Shaanxi province.