Half-year data highlight high-quality growth: China Daily editorial
Share - WeChat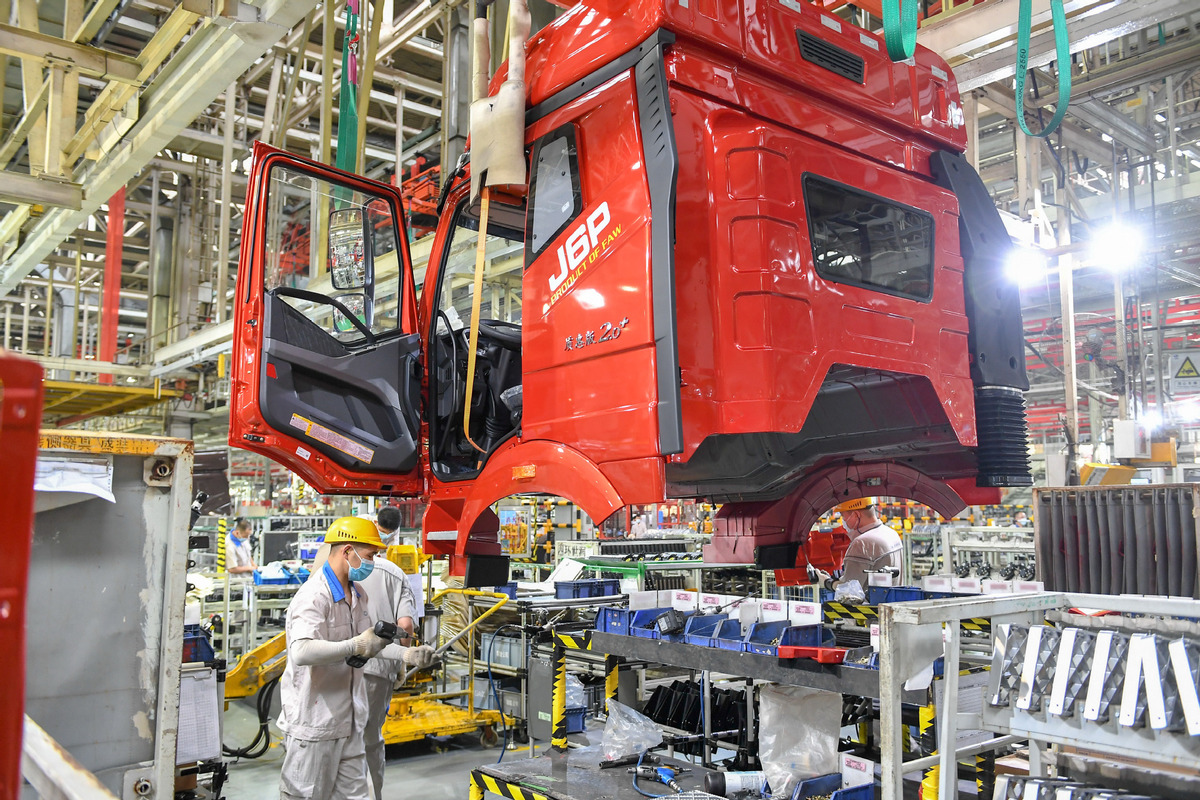 Even if the first half of last year was a low base, that the Chinese economy grew by 12.7 percent year-on-year in the first half of this year reinforces the fact that the world's second-largest economy is consolidating its recovery momentum.。
The average growth of 5.3 percent in the first half of the year over the past two years has been hard-won, given the headwinds the economy has faced.
As shown by the data the National Bureau of Statistics released on Thursday, production, which is the backbone of the economy, increased robustly over the past six months, during which the added value generated by industrial enterprises with annual revenue from their staple business above 20 million yuan ($3.09 million) rose 15.9 percent year-on-year. That represents a two-year average increase of 7 percent. The added value of the service sector contributed 53 percent of the growth. The fast increase of foreign demand has played an important role in boosting production, as foreign trade over the first six months has increased 27.1 percent year-on-year.
Although the growth of domestic demand has not yet fully regained its pre-pandemic rate, it is also steadily picking up speed.
Over the first half this year, the total retail sales of consumer goods hit 21.19 trillion yuan, up 23 percent compared with the same period last year, and the average growth in the first half year over the past two years has been 4.4 percent, 0.2 percentage points higher than that of the first quarter.
That the per capita disposable income has increased 7.4 percent in the first half year on average over the past two years, faster than the economic growth rate, while the consumer price index and unemployment have both been kept at a low level, indicates there is a solid foundation for the sustained rebound of domestic demand.
That means China has done a good job of coping with the increasing inflation pressure from local government debts and the limitless quantitative easing policies of the United States.
The fixed asset investment over the first six months of this year hit 25.59 trillion yuan, up 12.6 percent year-on-year, among which investment in high-tech industries and the social sector has increased fast. This reflects the market's optimism in the prospects of the Chinese economy, as the liquidity is flowing to innovation, public services and technology sectors instead of the real estate market and overcapacity industries.
The growth curve of the world's second-largest economy indicates that the harsh tests of the COVID-19 pandemic and the containment efforts of the US are just spurring it to stick to its high-quality development path. All of which means the above 6 percent annual growth target China has set for this year should prove to be a low-hanging fruit.
Most Viewed in 24 Hours
China Views