UAE seeks more Chinese investments in healthcare, logistics and real estate
Share - WeChat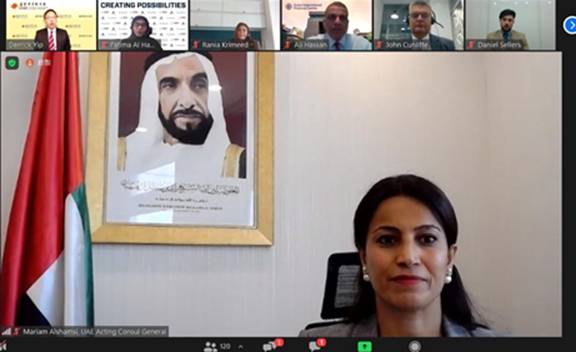 Chinese businesses looking to expand overseas should take a closer look at the United Arab Emirates, as the Gulf nation is offering attractive incentives to prospective investors while also holding promising opportunities in sectors ranging from health and sciences to logistics and real estate, experts said.
Speaking at a webinar organized by the UAE Consulate General in Hong Kong on July 12, the experts, many of whom were from key investment promotion institutions in the Emirates, also encouraged firms from the Hong Kong Special administrative Region to venture more into the UAE market.
In the online event titled "UAE Investment Opportunities Webinar I", the UAE's acting Consul General to Hong Kong, Mariam Alshamsi, urged businesses to tap the Emirates' booming markets, as the Hong Kong Economic and Trade Office, or HKETO, opened an office in Dubai this year.
Daniel Sellers, chief representative of China International Offices at the Dubai Chamber of Commerce and Industry, said there is a common misconception in China that Dubai's economy is oil and gas-powered, when in fact, the sector accounts for only 2 to 3 percent of the local GDP.
Sellers pointed out that wholesale and retail trade account for up to 30 percent of Dubai's GDP while transportation and logistics take up around 12 percent.
"So we can say that between 40 and 45 percent of Dubai's economy is based around trade and the flow of trade and people in and around the Emirates," he said.
China has been Dubai's largest trading partner "for the last eight years", so the country is "a very important market to Dubai", Sellers added.
Trade in goods like personal protective equipment continued between China and Dubai, even as the global logistics network experienced shutdowns sometimes because of the pandemic which broke out early last year, according to Sellers.
Some of the goods, he added, were even re-exported to Africa, Europe and South Asia.
Ali Hassan, senior representative for Europe and North America at Dubai International Financial Centre, said Dubai is unique as a gateway to MEASA, or the Middle East, Africa and South Asia region.
Fatima Mohammed Al Hammadi, vice president of commercial and business development at ZonesCorp, Abu Dhabi Ports – Khalifa Industrial Zone, said the government of Abu Dhabi has invested heavily in the healthcare and life-science sector.