Heat wave keeps grip on western states
Share - WeChat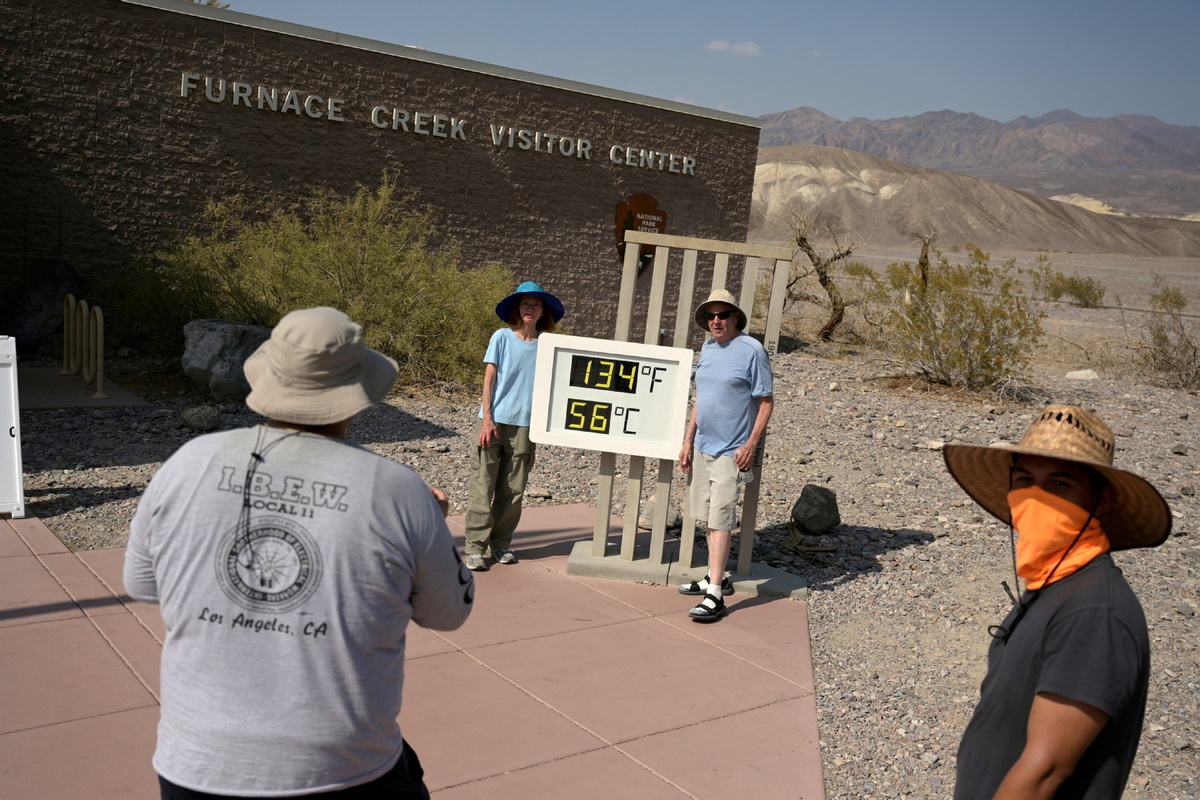 LOS ANGELES-A brutal heat wave sweeping the western US pushed temperatures toward all-time records for a third day on Sunday, as California's Death Valley was again one of the hottest spots on the planet.
Sweltering conditions hit much of the Pacific seaboard and as far inland as the western edge of the Rocky Mountains over the weekend.
A thermometer outside the Furnace Creek Visitors Center in the heart of Death Valley showed 56.67 C shortly before 4 pm on Sunday, though a National Park Service ranger said it typically measured higher than the official reading.
The National Weather Service recorded the temperature on Saturday at 54.4 C, which would be one of the highest ever recorded on Earth if verified. A ranger measured the sidewalk temperature outside the visitors center at 81.1 C on Sunday afternoon.
"I just came up here to see how hot it gets," said Richard Rader of Scottsdale, Arizona, who said he had ridden his bike about 16 kilometers across Death Valley on Sunday.
Most tourists left their air-conditioned cars only long enough to pose for pictures with the thermometer.
The National Weather Service issued excessive heat warnings across much of the region and cautioned residents of the high temperatures that could be hazardous to their health, especially young children and the elderly.
Two weeks ago, the extreme heat blazed through the Pacific Northwest, areas with homes typically built with no air conditioning, and killed nearly 200 in Washington and Oregon states alone.
Now, the heat wave is moving south and east, scorching California, Arizona, Nevada, Utah, Idaho, Montana, and parts of Oregon again.
Homes threatened
The sweltering heat, which extended across much of the Pacific Northwest, pressured power grids and fueled major wildfires, including a burning blaze in southern Oregon that threatened 1,200 homes and other structures.
The Bootleg Fire broke out on Tuesday and had blackened 580 square kilometers in and around the Fremont-Winema National Forest as of Sunday afternoon with no containment. The blaze conditions were so severe that the 926 firefighters working on the frontlines were forced in some cases to "disengage and move to predetermined safety zones".
The flames were burning along a high voltage power corridor connecting Oregon's power grid with California's, worrying officials in both states that electricity could be knocked out in thousands of homes and businesses.
A wildfire sparked by lightning in California on Friday has led to evacuations in Nevada and California, road closures and partial closure of the Plumas National Forest. Another fire spreading fast through southern Oregon also prompted evacuation orders.
Climate researchers lay these record-breaking highs squarely at the door of climate change, which has tripled the number of heat waves since 2000, and made them hotter, longer and more deadly.
In desert and mountain regions, low humidity from 10 to 15 percent and the seasonal gusty winds also elevate fire risk.
Agencies - Xinhua