Xi: Parties should promote growth for all
Share - WeChat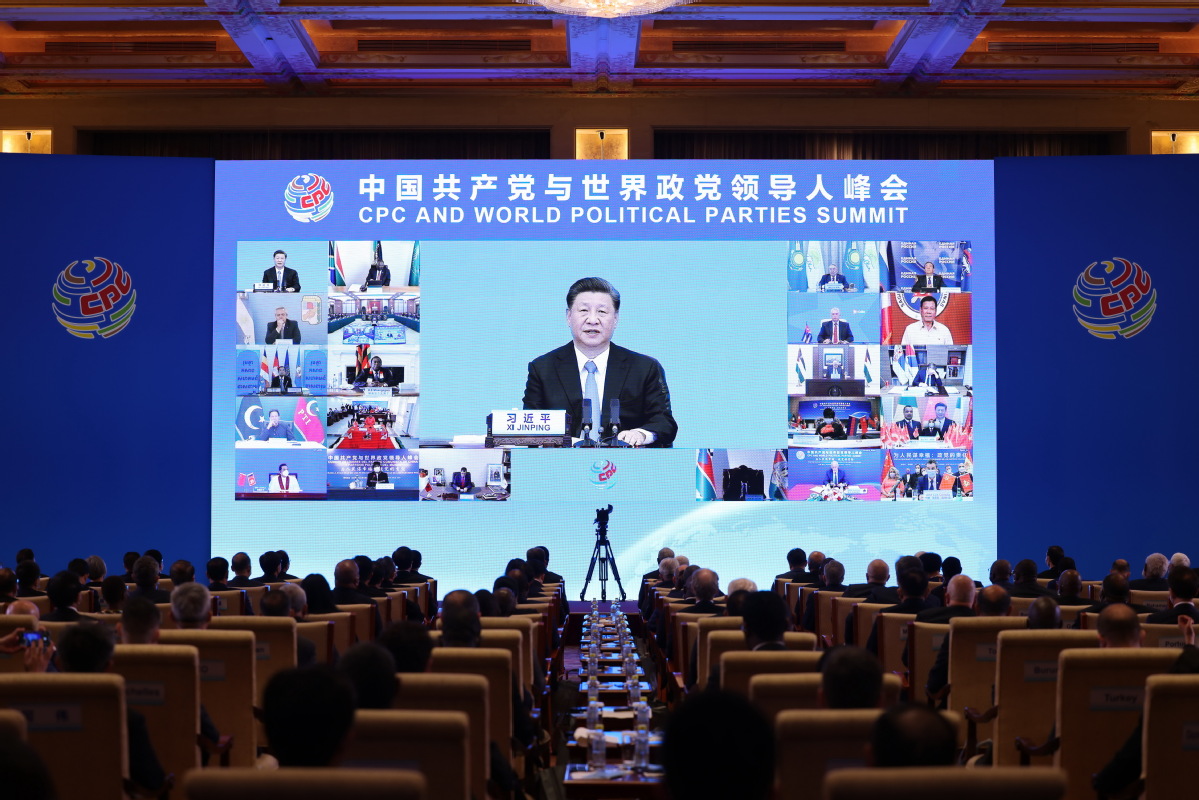 Xi Jinping, general secretary of the Communist Party of China Central Committee, called on Tuesday for international cooperation for shared development and opposing technological blockades, scientific divides and development decoupling, saying any political manipulation for the purpose of blocking other countries' development is doomed to fail.
Xi, also Chinese president, made the remarks in his keynote speech at the CPC and World Political Parties Summit, delivered via video link from Beijing.
He called on the world's political parties to shoulder their historic responsibility to promote development with results shared by people of all countries and to improve the fairness, efficiency and coordination of global development.
Development is the right of all countries, not a privilege of a small minority of countries, Xi said, adding that all countries should enjoy equal developmental opportunities and rights.
He said the CPC will actively promote global governance to make new contributions to mankind in dealing with common challenges.
Xi underscored the need to uphold multilateralism, saying international rules should be recognized by all countries, not formulated by a small number of individuals. International cooperation should serve the whole of mankind, instead of being distorted by group politics in a quest for world hegemony, he added.
Xi called on the world's political parties to strengthen international cooperation to better cope with global risks and challenges.
Facing a COVID-19 pandemic that still surges globally, countries should intensify solidarity and cooperation to narrow the vaccine gap, oppose politicizing the disease and jointly advance the building of a global community of health for all, he said.
Xi underlined the need for countries to improve governance in order to raise their capacity for enhancing people's well-being.
People of all countries have the right to choose their own development path and institutional model, he said, and there are various ways to realize democracy. Whether a country is democratic or not should be judged by its own people, not by a small minority of individuals, he added.
Xi called on the world's political parties to build consensus for upholding the common value of humanity in promoting peace, development, fairness, justice, democracy and freedom. The parties were also urged to promote international coordination and cooperation and to advance the building of a community with a shared future for mankind.
Xi said that the CPC remains true to its founding aspiration and mission for people's happiness and that it has also been striving to promote peace and development.
China has worked to be a promoter of world peace, contributor to global development and champion of international order, he added.
Xi said that the country will firmly pursue the path of socialism with Chinese characteristics to develop itself and at the same time benefit the world. A country's efforts to independently explore a path that suits its national conditions to achieve modernization should be respected, he added.
The CPC will unite and lead the Chinese people to comprehensively deepen reform and expand opening-up and make new contributions to the common development and prosperity of all countries, Xi said.
The trend of opening-up and cooperation remains unchanged, Xi said, pointing out that the CPC stands ready to strengthen communication with the world's political parties to guide economic globalization to become more open, inclusive, mutually beneficial and balanced toward greater win-win results.
The summit, with the theme "For the People's Well-Being: The Responsibility of Political Parties", is an important multilateral diplomatic event held at a time when the CPC is marking the 100th anniversary of its founding. More than 500 leaders of political parties and organizations from more than 160 countries, as well as over 10,000 party representatives, participated in the event.
Foreign leaders and diplomats at the event praised the CPC's people-centered philosophy, which has led to the country's achievements.
Cyril Ramaphosa, president of the African National Congress and South African president, congratulated the CPC on the realization of its first centenary goal: building a moderately prosperous society in all respects.
"We wholeheartedly endorse the statement by President Xi Jinping that 'the people are the true heroes, for it is they who create history'," Ramaphosa said.
Imran Khan, chairman of the Pakistan Tehreek-e-Insaf party and prime minister of Pakistan, said that the CPC has remained committed to serving the people and prioritizing their well-being and interests.
"The CPC has proved that attainment of political power is primarily meant for bringing a transformation in the lives of people and making them masters of their destiny," he said.
Khan praised China's achievements in poverty alleviation, its anti-corruption campaign and its nation-building under the leadership of the CPC.
"It's something that we hope to emulate in Pakistan," he said.
Alberto Fernandez, also president of Argentina's Justicialist Party and Argentine president, said Xi's speech was "visionary and insightful".
The speech can help political parties to reflect upon what kind of responsibility they should take, he said, and he called on political parties to strengthen cooperation and promote economic and social development to bring benefits to all.
Aleksandar Vucic, president of the Progressive Party of Serbia and Serbian president, said the great creativity that the CPC showed in the process of building the country has brought inspiration and hope to all countries in the world.
Amid the unprecedented challenges that the world faces, Vucic said, mutual respect, mutual help, reaching consensus through consultation and close cooperation have become more urgent than ever before.