Traditional Tibetan musical instruments sing new tunes
Share - WeChat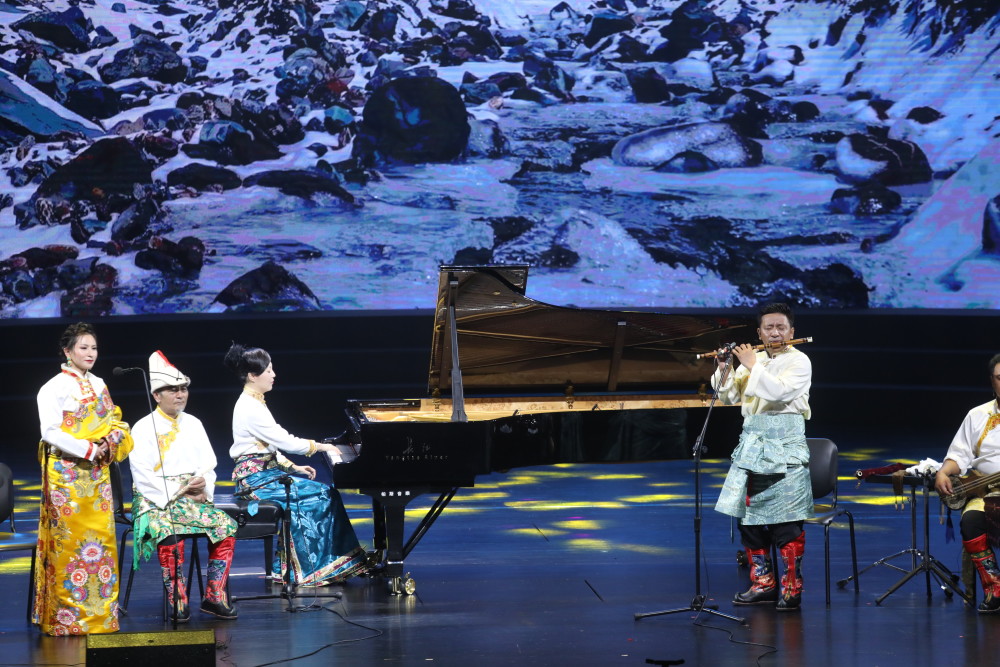 On stage, Shide tells the story about an oxhead musical instrument to the audience.
"It is a hand-made instrument," Shide, 56, said on the stage in Shangyin Opera House in Shanghai on Saturday. "It is profoundly connected with the Tibetan culture."
Shide is an inheritor of the instrument from the Golog Tibetan autonomous prefecture in Northwest China's Qinghai province. He has been making and playing it for decades.
"Tibetan people usually play the oxhead musical instrument while herding or on important holidays," he said. "But very few people know how to play it these days."
Shide flew from Golog, some 4,000 meters above sea level, to Shanghai to attend a concert held jointly by the Shanghai Conservatory of Music and the Golog Tibetan autonomous prefecture. He attended the event with members of the newly founded musical group "Anye Machen." He is a member of the group.
On Saturday night, Shide donned colorful Tibetan clothes and performed with the oxhead instrument in chord with a piano on the stage.
"Anye Machen means snow mountain in the Tibetan language, and we hope that our music will be natural and pure like a snowy mountain," he said.
The band is the first of its kind playing chamber music in Golog. It was founded this year with professional guidance from the Shanghai Conservatory of Music, according to Tang Shengsheng, a teacher with the institute.
"The group members are from the ethnic singing and dancing troupe from Golog and the Shanghai Conservatory of Music," Tang said.
The band members play distinctive musical instruments. Besides piano and bamboo flute, they also play raw, rare Tibetan historical instruments, such as the eagle bone whistle and the oxhead instrument. These Tibetan instruments face challenges in their passing down.
On Saturday night, the group members delivered a performance to the audience with their original music, assisted by the "ancient echoes" from the Tibetan musical instruments, the melodies from the piano, and their raw vocals.
"Tibetan musical instruments have their distinctive styles, stories, and traditions, which is very different from Western instruments," Tang said. "We hope to promote Tibetan folk music through the show so that more people will fall in love with traditional music and even learn to play the instruments."
Tang added that the concert would later hit cities like Beijing and Xining, the capital of Qinghai province, for charity.
"I am the luckiest guy in the world to have come to Shanghai from the plateau," Shide said. "Now I have a bigger dream: to introduce the oxhead instrument to more people."
Most Popular