Fast-moving words
Share - WeChat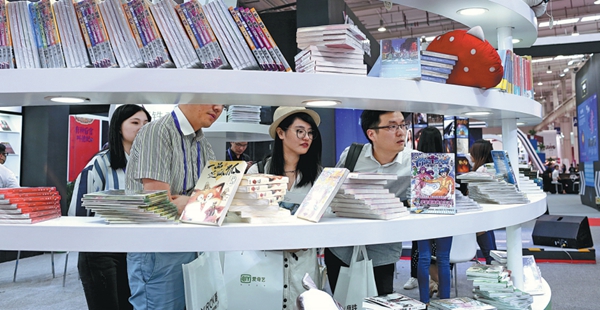 The world of online literature in China is bursting with writers and readers, Yang Yang reports.
In late 2012, Zuo Lei quit his job as a director at a TV station to become a full-time writer of online novels. At that time, on average, he wrote 6,000 words a day, generating a monthly income of 4,000 yuan ($625). Now, his daily output has risen to about 10,000 words and his income is more than 12,000 yuan.
"Actually since 2018, I had earned about 25,000 yuan a month through writing. However, this year, when a family member fell ill and my wife gave birth to our second child, I had less time to write, so my income dropped," says the 40-year-old.
So far, Zuo has completed six novels, all of which have been published on the online platforms of Tencent's China Literature Group, which is one of the largest of its kind in China.
"Over the last 20 years, Chinese online literature has made remarkable progress," he says, adding that the volume of online writing has grown and a general environment for such literature has been established.
There are three generations of online writers in China now, Zuo says. When the first online literature platforms were founded about two decades ago, they catered to the first-generation writers.
Zuo, born in the early 1980s, is from the second generation and those born after 1995 belong to the third generation.
"Drawing experience from the first two generations who explored new writing models or themes, the third generation has grown quickly," Zuo says.
Market boom
Starting in the late 1990s, Chinese online literature endured a dip in popularity between 2000 and 2003, followed by an explosive growth from 2003 to 2014.Regulated development of the sector began in 2015, says Ouyang Youquan, a professor with Central South University specializing in the study of online literature.
Around 2013, the government conducted a campaign to purge erotic content from online literature, "so the industry has been able to develop more healthily", Zuo says.
Apart from regulation, the highly commercialized operation has led to great success, which ensures higher payment for the writers.
Five years ago, online writers' incomes were low because they were only drawn from payments made by the readers, but now there are more income channels, including royalties from comic books, audiobooks, movies, video games, TV series and short-video adaptations, Zuo says.
"In terms of income, I haven't even reached the middle level among online writers," says Zuo, who is among some 600,000 active online literature authors in China.
According to China Writers' Association, by 2020, more than 10 million writers had registered on 500 online literature platforms, among whom more than 1 million were contracted authors.
Despite the fast development in the last two decades, the potential of online literature in China is still tremendous. In 2020, the market value of online literature surpassed 28.8 billion yuan, up 29.7 percent compared with the previous year, according to China Literature, the country's largest online literature provider.
The number of online literature readers reached 467 million, accounting for 47.2 percent of the total internet users in China, according to statistics from China Internet Network Information Center.
Last year, 2 million new works were produced online, increasing the total number to 28 million. The total value of the output of online literature and related cultural industries surpassed 1 trillion yuan in 2020, according to CWA.
Witness of changes
Over the last 20 years, China's online literature has become a witness and recorder of social changes, an inheritor of Chinese history and culture, a promoter of Chinese culture in the world and an important contributor to the development of Chinese culture.
Starting from time travel and fantasy, China's online literature has developed more than 20 themes and genres covering history, video games and stories based around modern city life that can be further divided into more than 200 subcategories.
China Literature has more than 9 million writers on its books and boasts a library of 13.90 million novels.
In recent years, Chinese online literature has diversified, turning its focus toward younger readers and writers, and is increasingly mainstream in its themes, says a China Literature executive who didn't want to be named.
China Literature's data in 2021 shows that its readership has shifted from those born in the 1980s and early 1990s to those born after 1995. Forty-two percent of its readers were born after 2000.
"The younger generation is more willing to pay for online products," the group's report says.
Among the new writers registered on China Literature platforms in 2020, 70 percent were born after 2000. Younger generation writers have added new elements to cater to younger readers' tastes, the executive says.
Writers from all walks of life, such as retired soldiers, university students, doctors and lawyers, add professional experience and knowledge to their works, which show the shift of online fiction from fantasy to more realistic, mainstream themes, such as the respective fights against the COVID-19 pandemic and poverty.
Another obvious change is that the value of intellectual property has received wider recognition. Online literature has become the source of various cultural products. A lot of popular TV dramas and movies are adapted from online works, the executive says.
"Technically, the sector has been able to prosper in China because the 'marriage' of the internet and literature has given it space to grow freely," says Ouyang. "In the past, Chinese popular literature has always been overlooked and marginalized by dominant discourse and high-brow works. The internet has offered mass discourse and popular literature a new opportunity to develop."
Additionally, the development of mass entertainment and the period of economic growth since the 1990s have provided a market for online literature consumption, he says.
Overseas audience
As the industry has been prospering in China, it has also attracted readers from overseas. Webnovel, China Literature's English website which was established in 2017, has seen more than 73 million visitors enjoy its library of more than 1,700 works, which are translated from Chinese. It has also attracted more than 100,000 writers from around the world, who have created more than 200,000 original works online.
TV drama adaptations of online novels, such as Qing Yu Nian (Joy of Life), Tiansheng Changge (The Rise of Phoenixes) and Quan Zhi Gaoshou (The King's Avatar), have also attracted audiences on overseas streaming platforms or TV channels.
Apart from online publishing, physical prints of online works have also become an important way for Chinese online literature to reach overseas readers.
CWA's data shows that by the end of 2020, one of the biggest online literature platforms jjwxc.com has had more than 10 million physical books from its more than 2,400 online works sold to readers in Southeast Asia, North America and Europe under copyright.
For foreign readers, the biggest charm of Chinese online literature lies in the good stories and the splendid imagination rooted in our culture, Ouyang says.
Despite cultural and geographical differences, quality online literary works convey ideas and emotions that can resonate with readers from different countries.
So far the websites of China Literature have sold copyrights for more than 700 novels to be translated into seven languages in Southeast Asia, including countries such as Thailand and Vietnam, and the United States, the United Kingdom, France, Turkey, among others.
Reading Chinese online fiction helps foreign readers to better understand Chinese culture, the China Literature executive says.
On Webnovel, in the comments section of Guimi Zhizhu (The Lord of Mysteries), based on Cthulhu Mythos, a fictional world originally created by US writer H.P. Lovercraft, readers post nearly 50,000 comments every day discussing the plot and characterization. With the online encyclopedia, readers can check colloquial terms that are commonly found in Chinese online literature.