Agricultural innovation aids region's economic growth
Share - WeChat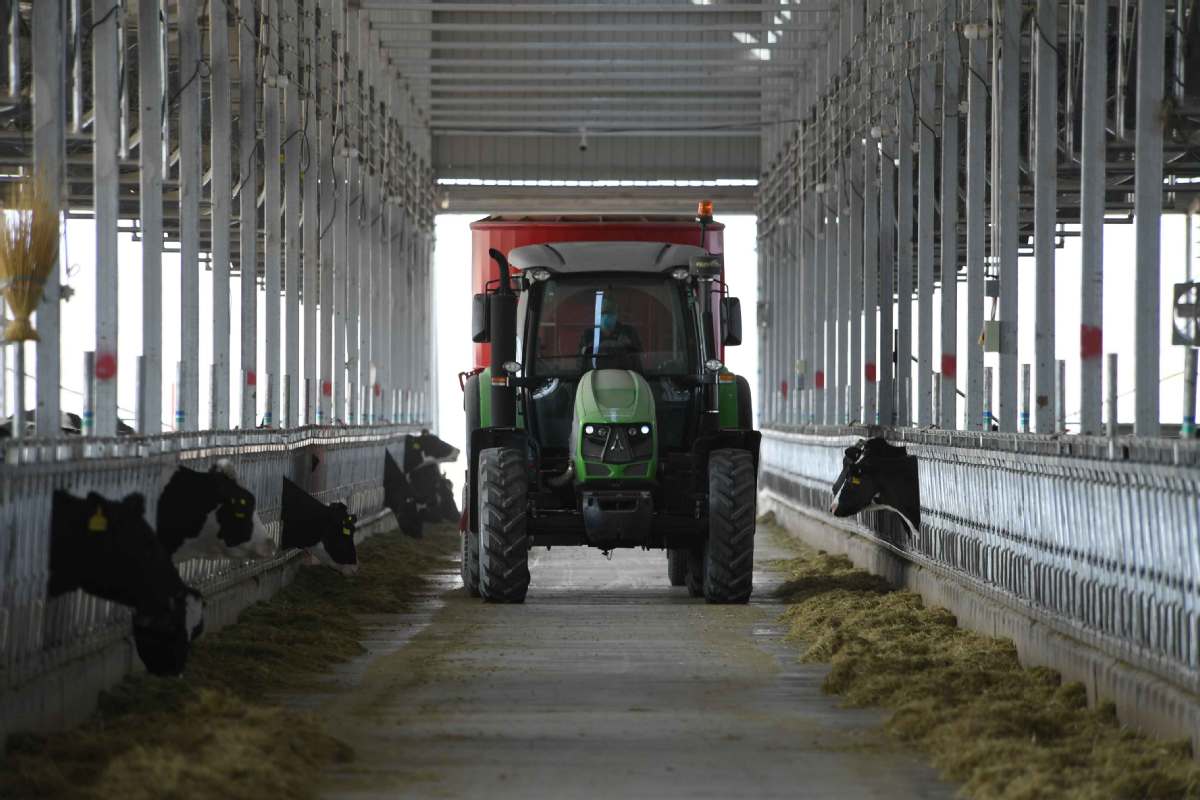 In a milking parlor in the Ningxia Hui autonomous region, "well-trained" cows walked onto the rotating platform while several workers applied milking cups. The milking process was completed in about 10 minutes, so the cups dropped automatically and the cows walked out of the parlor one by one.
This regular scene at large cattle farms in Ningxia is far removed from traditional milking practices.
In addition to the milking parlor, farms are equipped with advanced facilities including standardized cowsheds hundreds of meters long and systems for monitoring the animals' health.
Ningxia's natural resources are conducive to the planting of forage and for productive cows, guaranteeing a stable supply of high-quality raw milk. That's especially true in summer, when production in China's southern areas declines greatly because of the effects of heat on the animals, the provincial agriculture and rural affairs department said.
Data released by Xinhua News Agency show that the proportion of large-scale farming in Ningxia has risen from 60 percent in 2010 to 98 percent this year, so advanced breeding techniques, equipment and management have developed quickly.
"Cattle farms with 100-strong herds can be counted as large-scale farming, and 66 percent of our cattle farms have 1,000-strong herds," said Luo Xiaoyu, an official with the agriculture and rural affairs department.
Modern breeding methods produce healthy cows and enable the quality of Ningxia's milk to lead the country in terms of the proportion of whey protein and fat, making the region a high-end source of milk for domestic dairy giants, the department said.
Dubbed "the home of high-quality milk", Ningxia was home to 573,800 cows by the end of last year, a rise of 31.1 percent from 2019. Covering 66,400 square kilometers, the region has the largest per capita share of raw milk in China.
Last year, Yili Group, one of the country's leading dairy companies, started 16 production facilities in Ningxia, while several other big enterprises cooperated with the regional government to build an entire milk industry chain that resulted in daily processing capacity of 1,400 metric tons, the department said.
Major dairy enterprises, including Yili, purchase more than 90 percent of the raw milk produced in Ningxia.
The regional agriculture department estimates that the production value of Ningxia's milk industry this year will be 47 billion yuan ($7.3 billion) and the number is expected to hit 100 billion yuan in five years.
Lu Yaofu, deputy director of the department's animal husbandry bureau, said the industry faces challenges in terms of cattle and forage resources, which currently rely on imports to extend the scale of breeding activities.
Yang Yang, owner of a cattle farm in the region, said that last year the price of an imported cow had risen by 10,000 yuan from 2019.
"Things were so difficult that we had to 'book' a calf before it was born," he said.
According to the region's 14th Five-Year Plan (2021-25), Ningxia will continue to build its regional brands and raise the number of dairy production facilities in the next five years.
Meanwhile, a plan released at the end of last year by the regional government said milk is one of the nine backbone industries that Ningxia has prioritized for development with the support of the central government and the Communist Party of China Central Committee to build a high-quality development zone.
Goji berries, wine, beef cattle and sheep, electronic data, new materials, healthy food, clean energy and tourism are the eight other sectors mentioned in the plan.
Statistics released by the regional agriculture department show that Ningxia has 279 registered healthy foods and 33 organic agricultural products across various sectors, including milk, wine grapes, goji berries and Tan sheep.
According to the bureau of science and technology in Yinchuan, the regional capital, production of healthy products-mainly those deep processed from food oils, dairy, beverages and dry fruits-has boomed in Ningxia in recent years.
Focused on goji berries, wine and dairy products, the region is promoting the in-depth integration of technological innovation and the healthy food industry.
Goji berries from Ningxia, a regional name card and a traditional food and medicine, used to sell at relatively low prices due to technological limitations.
However, in recent years, the sector has made breakthroughs in the deep processing of berries by producing related healthy products, including fruit sugars and beverages.
"Previously, 1 kilogram of dry goji would sell for just a few dozen yuan. Now, we can sell a beverage for 50 yuan a bottle," said Ma Sirui, an e-commerce livestreamer.
Zhongning Goji, a multicompany goji berry brand from Ningxia's Zhongning county, is renowned as the first to have a standardized planting base and also to receive orders from overseas.
"Deep processing is a must for the goji industry to break the bottleneck," said Zhu Yanhua, chairman of a goji producer in Zhongning.
By cooperating with Tianjin University of Science and Technology, the company processes fresh goji berries into healthy drinks with high nutritional value.
It has a patent for liquid goji and can preserve healthy drinks made from the berries at normal temperatures.
Meanwhile, Zhongning and the Donge Ejiao Group have signed a cooperation agreement to jointly develop products made from goji berries and donkey-hide gelatin.
Last year, Ningxia produced 260,000 tons of fresh goji berries, resulting in production value of 21 billion yuan, and the processing rate of 200 goji berry producers has reached 25 percent.
The region plans to develop a batch of companies and brands related to healthy foods and support companies in the production of new products such as instant foods and snacks to cater to the booming market demand, according to the region's 14th Five-Year Plan.