New tool, methods turn Ningxia deserts green
Share - WeChat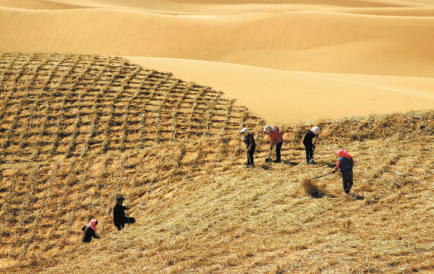 Villagers use Tang Ximing's method to control the expansion of the Tengger Desert with grass grids in the Ningxia Hui autonomous region. CHINA DAILY
According to Tang Ximing, deputy head of the Zhongwei Sand Control Forestry Center, Zhongwei city in the Ningxia Hui autonomous region has made great progress in its battle against desertification, with the total sand-controlled area reaching 100,000 hectares this year.
"Now, sand-fixing tree species like wormwood are growing in straw checkerboards in the southeastern Tengger Desert," Tang said.
The 55-year-old man has devoted 30 years to fighting desertification in Zhongwei and has helped develop an efficient method for fixing sand in place, which has increased tree survival rates by 25 percent.
The Baotou-Lanzhou Railway, China's first desert railway and which crosses the Tengger, opened in 1958. Trains were often forced to stop due to frequent sandstorms. To ensure normal operations and protect people living near the desert, several generations began to explore methods of sand control.
Born in Zhongwei city, Tang suffered from sandstorms so strong, they "sometimes blew people into the canal" and covered rice bowls in a dusting of sand.
He studied forestry at college and returned to his hometown after graduation in 1991, taking up a career in sand-control at a local forest farm.
The old way of using grass to fix the sand in place didn't work, as the grass was blown away by the wind. By accident, Tang and his colleagues discovered that wheat straw was able to stabilize the sand for several days.
"Scientists tested out straw squares of various shapes and sizes. After years of experiments, they found that straw checkerboards of about 1 meter by 1 meter were most effective, and cheapest," Tang said.
In 2015, he tried sowing grass seeds around the checkerboards to build up a grass grid. The roots of xerophytes plants that are naturally adapted to harsh conditions, are able to tap into deep underground water sources and, in this way, play a permanent role in fixing sand, he said.
However, the use of traditional spades for planting trees resulted in water loss and a low survival rate. "Because spade-dug pits tend to be shallow, when the tree is planted, its roots aren't able to absorb water in the dry, sand layer," Tang said.
After three years of research, Tang and his colleagues developed a new tool, which increases survival rates by 25 percent. Saplings are planted in a matter of seconds by forking their roots through one end of the 1-meter-long iron tool, and plunging it straight into the sand with one foot on the crossbar.
"This halves labor costs," Tang said. It took two years to turn the desert into an oasis, and it will become a forest in five years, he added.
The sand-control area in Zhongwei now covers 100,000 hectares and should keep increasing by 5,300 hectares every year.
The portable afforestation tool has been promoted for use in the Inner Mongolia autonomous region, Gansu province and the Xinjiang Uygur autonomous region.
Tang's family was not able to understand his work at first, as he worked long hours and often returned home covered in sand. "I took my wife and daughter to the desert, and they saw it turning into an oasis. They were proud of my achievements," he said.
He formed a 3 0 0-strong sand control team, training them in afforestation knowledge and skills. "Some farmers in Zhongwei were lifted out of poverty by participating in desert control work in Ningxia and elsewhere," he said.
"A couple that used to live in poverty now earns 100,000 yuan ($15,600) a year through sand control and have bought a building in downtown Zhongwei through their efforts over the past few years."
In January, an upgraded method developed by the Chinese Academy of Sciences was patented.
"The new straw checkerboard, a net in the shape of a brush, frees workers from the need to carry straw on their shoulders, reducing the intensity of work, while raising sand-control efficiency by 60 percent," Tang said.
"The lifetime of the new straw checkerboard has also been extended from three to six years, further reducing costs."
Qu Jianjun, a CAS researcher participating in the project, said that they will keep innovating and that some day the work will be automated, with robots replacing people in making the checkerboards.
Tang said he hoped to solve the problem of desertification in his life, not just in Ningxia, but also outside, and to "turn more deserts into oases".