Marching toward a greener future
Share - WeChat The Chinese mainland and Hong Kong have made great strides in reducing carbon emissions, with carbon-intensive industries, such as construction, taking the initiative. Experts say low-carbon technologies are crucial to the future of all businesses. Chai Hua reports from Shenzhen.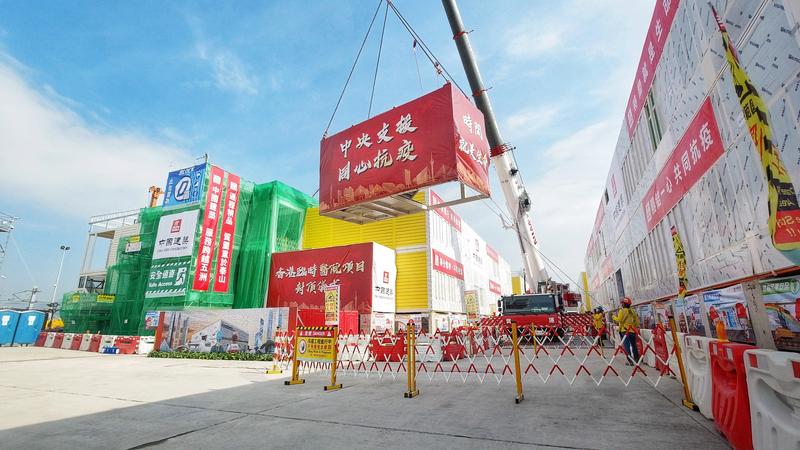 The speed with which the Hong Kong Infection Control Centre at North Lantau Hospital was built is astonishing — just four months, only one-tenth of the time such a project would normally take.
But few would know it's a green medical facility. It eliminates more than half of the on-site carbon emissions using state-of-the-art building technologies, while meeting the high standards required of an infection control unit with negative-pressure wards.
The center began operations in February, admitting COVID-19 patients with mild or moderate symptoms.
Carbon-intensive industries, such as energy and electricity production, and steel manufacturing, have been at the forefront in taking the initiative to reduce carbon emissions. But greater efforts have yet to be made by businesses closer to our everyday lives.
To maintain or improve the quality of living in the low-carbon era, technology plays a key role in the all-around upgrading of the environment, and low-carbon technologies will be essential to the future of all businesses, industry insiders say.
Many enterprises in the Guangdong-Hong Kong-Macao Greater Bay Area have already begun applying green technologies to housing, food and transportation projects.
Low carbon has embodied the highest level of advanced technology in the region, but the main challenge is the high cost involved. Industry experts believe that estimating budgets needs to be improved because the overall economic benefits can emerge only when the initial input of low-carbon technology, along with the operational cost, is taken into account.
China, as the world's largest developing nation, has committed itself to peaking carbon emissions before 2030 and attaining carbon neutrality by 2060.
Vice-Premier Han Zheng last month presided over the first plenary meeting of a leading group on reducing carbon emissions, reflecting the nation's strong resolve in meeting the goals, with strategic policies to be carried out soon.
Guangdong province proposed in its 14th Five-Year Plan (2021-25) for Economic and Social Development it will peak its carbon emissions ahead of the national target in the next five years.
Hong Kong's carbon emissions peaked in 2014, and the city pledged to achieve carbon neutrality before 2050. Substantial investments have been poured into power companies in the past decade, and the next step is to get the full support of various sectors in the community.
The key initiatives proposed in Hong Kong Chief Executive Carrie Lam Cheng Yuet-ngor's policy address last year include exploring different types of zero-carbon energy technology and enhancing the energy efficiency of both new and existing buildings.
Generating power for buildings normally accounts for over 60 percent of carbon emissions in Hong Kong — a city crowded with skyscrapers — and buildings account for up to 90 percent of the city's electricity consumption.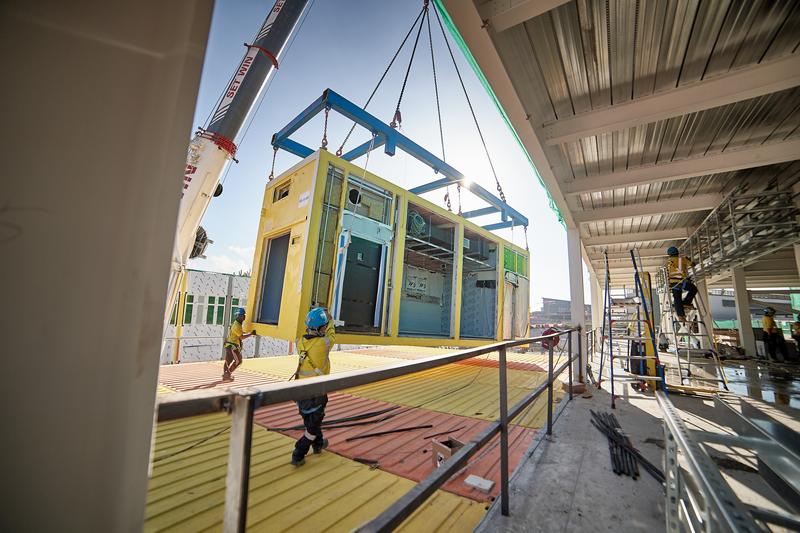 High-tech MiC saves energy
Modular integrated construction (MiC) is one of the most advanced technologies in building construction developed in the past two years by Hong Kong-based China State Construction International Holdings.
The technology has been used in several hospital projects for epidemic prevention in the Hong Kong Special Administrative Region, including the Hong Kong Infection Control Centre at North Lantau Hospital — the first local MiC hospital equipped with negative-pressure wards, or isolation rooms that keep patients with infectious diseases away from other patients.
Compared with traditional building methods, MiC buildings can cut half of the on-site construction time, 25 percent of material waste and half of the carbon emissions, according to CSCI. This saves a lot of electricity, and the modules can be reused flexibly.
Since 2019, CSCI has completed more than a dozen MiC projects in the Greater Bay Area.
"The MiC technology allows us to split the buildings into standard modular units in the designing stage, produce each component and assemble them accordingly in factories," said Guan Jun, assistant general manager of the company's technology department.
He said each module, when transported to the construction site, is also finely decorated and ready for use.
Another green technology applied involves advanced glass walls called "passive curtain walls", which can save 35 to 60 percent of energy for cooling buildings. The low-carbon technique is useful, especially in Hong Kong, because air-conditioning is the largest energy user among all power consumption categories — including lighting, cars, cooking and industrial operations — in the densely populated city.
Air-conditioning accounted for 18 percent of total energy consumption in 2018, compared with 15 percent in 2008, according to the "Hong Kong Energy End-use Data 2020" issued by the Electrical and Mechanical Services Department.
However, Guan said, the cost of applying these new technologies is higher than using the traditional methods. It may thus discourage some companies from adopting them, but the overall cost is actually lower if the cost is calculated from the perspective of a full life cycle, he added.
Guan praised the SAR government for promoting MiC technology by adopting it in public projects, and suggested that another important measure is to advance the development of intelligent buildings.
He explained that the bulk of a building's energy consumption is generated during management and operations. Therefore, an intelligent control system of elevators, lights and cooling systems will help us achieve the "zero-carbon goal."
Water plants, pumping stations and sewage treatment plants are all large consumption sources of electricity, said Lyu Shuping, president for China and North Asia at Xylem — a United States-based water technology provider.
She said sewage treatment plants in China account for about 1 percent of the country's energy consumption.
Many sewage treatment plants still rely on manual experience to set various parameters and control the entire process, leaving huge potential for digital upgrading and energy-saving, she said.
According to Lyu, the Xilang sewage treatment plant in Guangzhou, the capital of Guangdong province, saved about 20 percent of energy by adopting an intelligently controlled breakage detection system and can further cut energy consumption by 30 percent if it uses a submersible wastewater mixer with built-in speed regulation to automatically optimize thrust.
She said Xylem's product is more expensive than conventional products, but considering the full life cycle costs, including maintenance and energy consumption costs, she believes theirs is the most cost-effective.
Lyu is upbeat about the future of the green technology market in the Greater Bay Area as Guangdong's schedule to peak carbon emissions and realize carbon neutrality is ahead of the national target.
She believes local governments will implement related standards and measures more strictly to bolster the application of green technologies.
Xylem launched a digital research and development base in Shenzhen last month, taking advantage of the region's technological edge.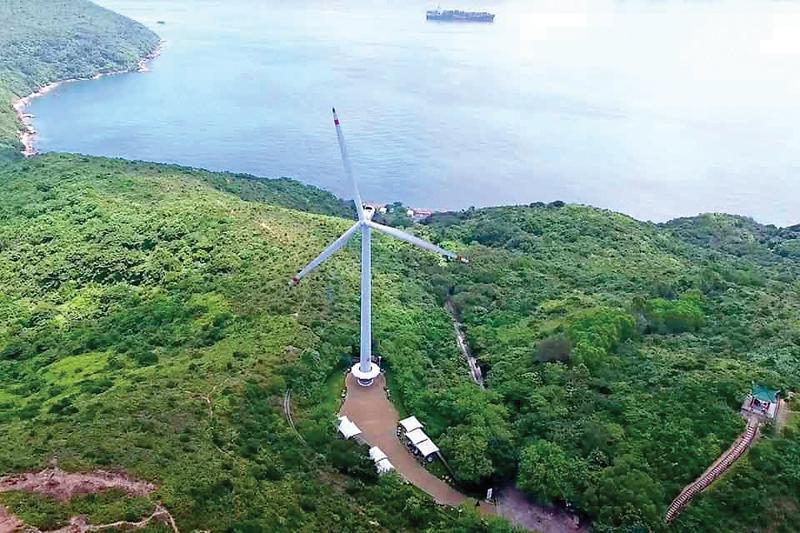 All-around plan required
Automobile emissions are among the major greenhouse gas pollution sources, and many governments are vigorously promoting green-energy-powered vehicles. However, one thing that's easily overlooked is the higher amount of carbon emissions the vehicles generate when they travel at low speed.
"Looking for a space in a crowded parking lot produces high carbon emissions. A car is likely to emit less than 7 kilograms of carbon dioxide per 100 kilometers when it travels at normal speed, but this could exceed 7.6 kilograms at low speed," said Duan Xinfeng, vice-general manager and chief strategy officer at Shenzhen-based startup Yee Fung.
The startup has come up with an intelligent parking solution, using automated guided robots to save drivers from the hassle of driving around overcrowded cities to search for a parking space.
Yee Fung built an intelligent-parking lot in downtown Huizhou, the second-largest city in the Greater Bay Area, in May. Duan estimated the average daily number of vehicles using the parking lot is 2,000 to 3,000, and each would normally need about 30 minutes to find a slot.
The carbon emissions in the parking lot could be as high as 55 metric tons per year, according to his estimates. If a tree could absorb 18.3 kg of carbon dioxide a year, over 300,000 trees would be needed annually to absorb the emissions.
The new smart parking lot allows drivers to turn off the engine at the entrance, and the automated guided robots can carry the vehicle to a vacant lot, with remarkably lower carbon emissions.
Huizhou has built 10 public smart parking lots and plans to build another 30 in the future.
"Carbon emission reduction is the integration of the most high-end technologies covering various industries in future," said Liu Jianhong, a professor at the College of Chemistry and Environmental Engineering at Shenzhen University and also a deputy to the municipal people's congress.
It resembles the sterling jewel in the crown of science and technology, he said, but also warned that the high costs involved are unavoidable. As for the solution, he urged authorities to promote carbon reduction technology through further legislation and regulation.
At the same time, all businesses should embrace the technology upgrade and use it as an opportunity to make technological breakthroughs and improve efficiency, Liu said.
Besides green buildings and transportation, energy storage and new materials are also two crucial technologies in meeting low carbon-emission targets, he said.
"We need to determine local carbon emission data first and then accelerate the study of the overall strategy of low-carbon development in the Greater Bay Area," he said.
He proposed the coordinative formulation of specific implementation paths and jointly building an intelligent carbon emission management system for carbon peak and carbon neutrality in the area.
Carbon emission trading is also one of the effective ways of pushing enterprises to act, but more work needs to be done in this regard, he said.
At the China Emissions Exchange (Guangzhou) — the nation's largest local carbon market — only about 250 major carbon emitters in Guangdong are listed. Most of them are energy-related companies, accounting for 70 percent of energy-related carbon emissions in the southern manufacturing powerhouse.
Liu called for participation from a broader range of companies to help the Greater Bay Area meet its carbon-neutral target by 2060.