Drones reveal bigger picture
Share - WeChat Hong Kong entrepreneur plans 'taxi-like' air transportation services from SAR to cities across Bay Area, using pilotless drones and seaplanes.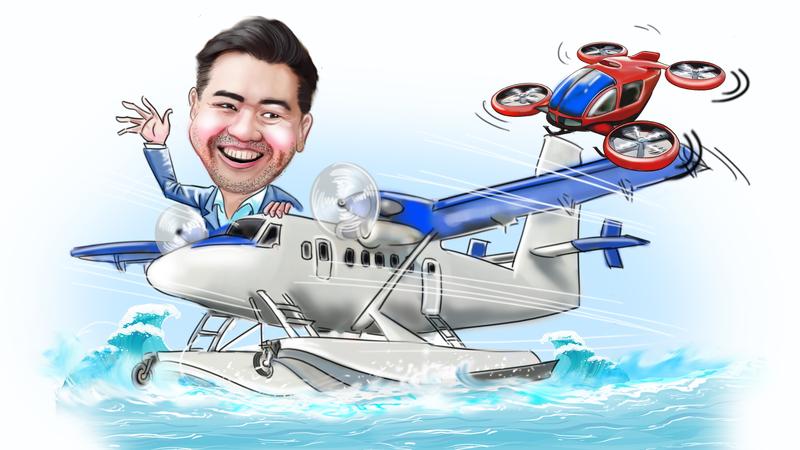 A Hong Kong pilot-turned-entrepreneur is banking on what he sees as the tremendous opportunities in the Guangdong-Hong Kong-Macao Greater Bay Area, with plans to offer "taxi-like" air transportation services for commuters in the region.
Steven Dominique Cheung, founder and chief executive of Seaplane Hong Kong, got the company off the ground earlier this year, with plans to offer aerial transportation and sightseeing services with seaplanes, as well as pilotless passenger drones for Hong Kong residents.
According to the company's website, prices for aerial seaplane transportation and sightseeing aboard on-demand hop-on-hop-off "air taxis" in Hong Kong and across the Greater Bay Area will be "affordable", as the minimun cost of an aerial sightseeing tour around Hong Kong is expected to be HK$250 (US$32). Seaplane Hong Kong plans to start such services next year, subject to regulatory approval.
Cheung said his company is teaming up with China Travel Service (Hong Kong), as well as Beijing-based, State-owned Aviation Industry Corporation of China, which is principally engaged in the production and sale of aircraft, and is working with local universities on research and development of passenger drones.
Seaplane Hong Kong plans to carry out test flights for passenger drones by the end of this year and commercialize the business within two years, subject to regulatory approval and the resumption of normal travel between Hong Kong and the Chinese mainland.
The company hopes to obtain approval and certification from the Hong Kong Special Administrative Region's Civil Aviation Department for local sightseeing services, and the go-ahead from the Civil Aviation Administration of China for operating air shuttle services between Hong Kong and other cities in the Greater Bay Area this year.
Seaplane is also in fundraising talks with banks and institutional investors, said Cheung.
Cheung was born in Hong Kong in 1989 and emigrated to Britain with his parents when he was 11. He had dreamed of becoming a pilot after spending his childhood watching planes taking off and landing from the Kwun Tong Ferry Pier.
He was awarded a bursary by a British organization, the Air League, in 2018 that allowed him to train in night flying. He completed the training in England and began working for German airline Lufthansa before returning to Hong Kong in 2019 and joining Hong Kong Express as a pilot.
Aviation and travel were among the industries that bore the brunt of the pandemic worldwide. Cheung was forced to take unpaid leave for six months in January. Looking at the sea view from his flat in Kowloon gave him the inspiration to launch Seaplane Hong Kong with aerial sightseeing services.
He realized there's more that can be done by taking in the entire Greater Bay Area that comprises a cluster of nine cities in Guangdong province, as well as the Hong Kong and Macao special administrative regions.
"The high-speed railway links West Kowloon in Hong Kong with major mainland cities like Shenzhen, Guangzhou and Beijing. But what if people in Hong Kong want to visit smaller cities in Guangdong, such as Zhuhai or Maoming?" he said.
With passenger drones, commuters from Hong Kong can get to Zhuhai in about 18 minutes. "We'll offer transportation to smaller cities that aren't linked to the high-speed rail network or are located far away from major airports. So there won't be much competition."
Cheung expects more Hong Kong people, especially youngsters, to go to the mainland, either for studies, work or leisure, and Seaplane Hong Kong will be an ideal transportation mode.
"The Greater Bay Area offers huge opportunities with its massive market. Hong Kong has only 7.5 million people, but there are 70 million in the whole region. Any business you plan to do could benefit."
As for safety on passenger drones, Cheung pointed out aviation is one of the most strictly regulated business sectors in the world. So everything needs the green light from regulators to proceed. He stressed that aerial "taxi-like" services are nothing new as helicopter tours are already popular in Hong Kong or in mainland cities or places like Las Vegas in the United States.
Despite all the difficulties facing Hong Kong, particularly the pandemic's impact, Cheung believes the city is still a great place for entrepreneurs to start a business, particularly in the technology and innovation fields.
"Hong Kong definitely has some of the biggest players in the innovation sector. We have Science Park and Cyberport, with a lot of support from the SAR government," he said.
But young entrepreneurs need to look beyond Hong Kong in starting a business.
"You've to look at the whole picture for any innovator, startup or business leader to get going in Hong Kong. You need to look at the entire Bay Area as it'll become the beacon and a model for smart cities and smart mobility."
Su Zihan contributed to this story.