US consumer prices jump 5%
Share - WeChat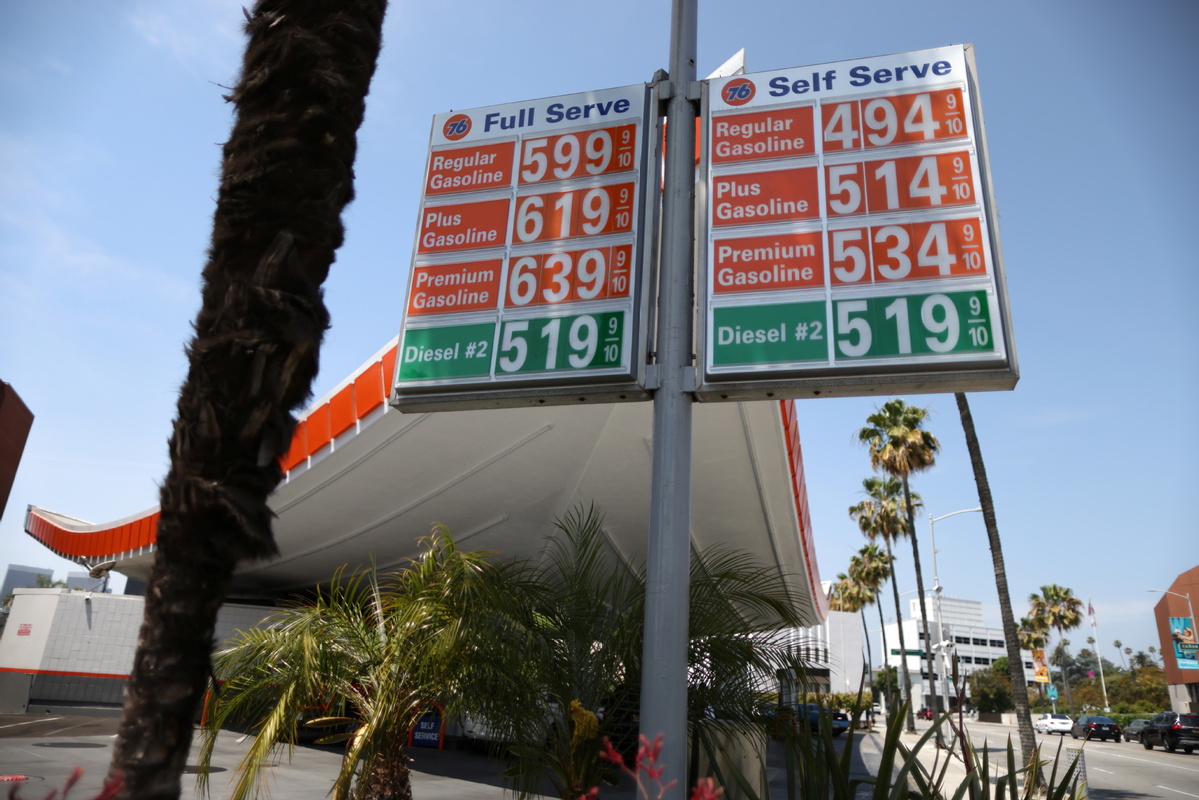 US consumer prices increased 5 percent in May from a year ago, the Labor Department said Thursday, the largest 12-month rise since a 5.4 percent increase for the period ending August 2008.
It is far above the Federal Reserve's 2 percent target for annual price increases.
Economists polled by Dow Jones and The Wall Street Journal had forecast a 0.5 percent increase in the Consumer Price Index (CPI), which tracks the prices of everything from cars to clothing but excludes volatile energy and food costs.
The report comes amid mounting inflation fears from some economists and investors. But on Wall Street, investors were unmoved by the inflation data.
The S&P 500 gained 0.47 percent Thursday to close at a record high of 4239.18. The Dow Jones Industrial Average rose 0.06 percent, and the Nasdaq Composite added 0.78 percent, spurred by growth stocks that thrive on low interest rates.
Yields on 10-year government bonds, which have been particularly sensitive to concerns about inflation, fell to a three-month low of 1.440 percent. When investors were worried about inflation later in March, the yield had spiked to 1.776 percent.
The CPI report was largely in line with expectations, said Subadra Rajappa, head of US rates strategy at Societe Generale in New York, told Reuters.
"The market is really buying into the narrative that the rise in inflation is in fact transient because you're not seeing that necessarily being priced into fears in the bond market," Rajappa said.
Federal Reserve and Biden administration officials say factors temporarily driving prices up include a demand for goods and services rebounding as more people become vaccinated and are eager to spend pent-up savings during the pandemic, as well as supply chains struggling to catch up to demand.
Fed Chairman Jerome Powell has repeatedly expressed his belief that inflation will prove temporary as supply bottlenecks are unclogged, and parts and goods flow normally again.
The only comment on the inflation report from the Biden administration came from Heather Boushey of the Council of Economic Advisers. "As the virus is contained, the economy is improving, step-by-step," tweeted Boushey. "Today's data on inflation is the latest indicator that things are both moving in the right direction and that we have supply-chain hiccups."
Some economists said Thursday that they saw the price increases as temporary.
"The price spikes could be bigger and more prolonged because the pandemic has been so disruptive to supply chains," said Mark Zandi, chief economist at Moody's Analytics. But "by the fall or end of the year", he told The Associated Press, "prices will be coming back to Earth".
The data released on Thursday increased Republican criticism that the Biden administration is spending too much, and the Fed needs to change its monetary policy.
"The combination of the Fed's average inflation targeting and its view that inflation will be transitory virtually guarantees the Fed will be behind the curve if inflation is enduring," tweeted Senator Pat Toomey of Pennsylvania, the top Republican on the banking committee. "Congress' massive spending contributes to the problem. It's time to end it."
The CPI report reflected supply-chain snarls are leading to shortages of key components such as computer chips for cars and computers, and higher prices.
A nationwide shortage of used cars saw prices soar 30 percent from a year earlier, accounting for one-third of the overall increase in the CPI for May. The price of new cars rose 1.6 percent, the largest one-month increase since 2009.
The lack of computer chips has limited production of new cars, which, in turn, has reduced the supply of used cars.
Americans traveled more as the pandemic ended, and prices for airline fares are up more than 24 percent. Hotel stays also registered large increases.
Clothing was up 5.6 percent as more people returned to work and increased the size of their wardrobes. Household-furnishing prices rose nearly 3 percent as homes were upgraded.
Gas prices have surged 56.2 percent during the past year, and the energy index overall is up 28.5 percent compared with May 2020. Prices for household furnishings and services increased 1.3 percent in May, the largest monthly increase since January 1976.
The Labor Department said in a separate statement that weekly unemployment insurance claims fell to their lowest levels since March 2020, with just 376,000 people filing jobless claims last week. The weekly tally has been trending downward in recent months, amid the widespread vaccine rollout and businesses reopening as pandemic restrictions ease.