Pear orchards bear fruit of poverty relief
Share - WeChat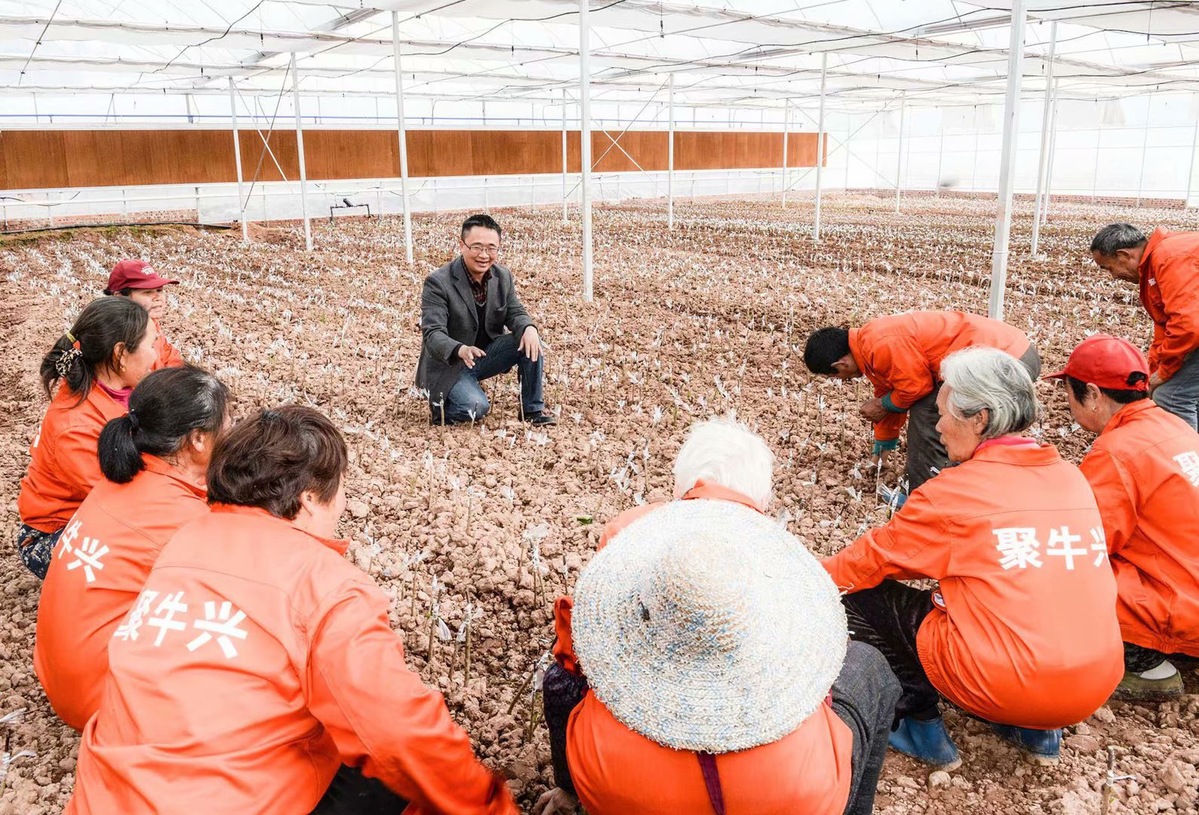 Putting down pen and picking up hoe,man paves way to fortune for villagers
Twenty-one years ago, a motivated college graduate in Chongqing chose to strive for success in a rural area instead of staying in the big city for a white-collar job. Now, he has not only turned countless barren hills into jungles of fruit, but also helped his fellow villagers out of poverty.
In 1974, Yang Dake was born into a fruit farmer's family in Chongqing's Yunyang county. At the age of 25, he graduated from Sichuan University and got a decent job in the provincial capital, Chengdu.
One day, he came across news that a new pear variety bred in South Korea had entered the Chinese market. The variety, known for its good taste and appearance, was said to produce considerable yields.
A business idea came to the young man. "Why not plant it in my hometown, where the climate and soil are suitable for the fruit?" he thought.
In 2000, Yang returned to Wuliang village in Shuangtu town in Yunyang with his girlfriend, Yang Yongqiong, who was also a college graduate.
"The decision wasn't easy," the bookish-looking man wearing glasses said. "Some said I'd suffered setbacks in the city, some said that I must be out of my mind. But I believed I could make it, against all odds."
Yang Dake contracted 19.2 hectares of barren land in Yingpanling in Wuliang Mountain.
Putting down their pens and picking up hoes, the couple experienced a tough life converting countless barren slopes into terraced land, clearing broken stones and weeds, digging nearly 30,000 holes for planting and then fertilizing.
They lived in a temporary shelter in the orchard to save time and suffered from frostbite on their hands and feet in the winter. Living on a tight budget, they could not even afford phone bills or new clothes. Yang felt very sorry for his girlfriend, who was born and raised in the city.
"The year 2002 is special to me, as I picked my first ever harvest," Yang recalled. Their trees yielded fruit in the fall, netting them over 10,000 kilograms of crystal pears worth more than 50,000 yuan ($6,000 at the time). Their son was born the same year.
The formerly skeptical villagers were amazed. "Barren hills can bear golden fruit!" they said. In 2004, a bumper harvest brought in net income of 100,000 yuan.
"There are a thousand ways to get rich, as long as you pick one and stick to it," Yang said.
Gao Shangfan, a fortuneteller from neighboring Dayang township, didn't believe the trees could make anyone's fortune. Upon hearing this, Yang brought seedlings, pesticides and fertilizer to Gao's home and taught him the skills he needed to grow. From that year on, Gao's pear garden became increasingly profitable, and the fortuneteller became a determined local promoter for planting pears.
In 2005, Yang lent a large sum of money to Yang Zisheng, a 30-year-old bachelor with no skills or income living in Wuliang village, to buy a dozen cows and 100 sheep. Yang Dake let the bachelor's herds and flocks graze on his land, asking for nothing in return but their dung as fertilizer for his orchard. The bachelor began to earn money and got married in 2018.
"As a Communist Party member, I realized I should lead more villagers out of poverty," Yang Dake said. The annual income of the villagers was less than 300 yuan in 2000.
In June 2005, Yang registered the first local agricultural brand, Dake Crystal Pear, and established a cooperative association to mobilize villagers to grow pears.
He lent them money to purchase agricultural materials and proposed contracts with favorable terms-guaranteeing a high survival rate of seedlings, free planting guidance and fruit purchases above the average market price-which eased their worries.
"Our home telephone soon became a technical service hotline," said Yang.
Over the years, he has provided on-site technical guidance over 300 times and organized 30 technical training sessions for more than 2,000 households from four villages. "So far, 90 percent of the pear trees bear fruit," Yang said.
The association has grown from seven households to 476, more than 70 of which can earn over 100,000 yuan per year. The annual family income in the village has increased tenfold since Yang's return.
In 2013, his professional cooperative association was rated a National Model by the Ministry of Agriculture.
In 2018, Yang and five other young pioneers in the battle against poverty in Chongqing set up a consulting company to help local farmers with agricultural technology, management, marketing and branding. Yang is general manager.
The company has successfully helped Wuniu village in Chongqing's Yubei district develop 200 hectares of land and helped build a modern fruit plant specializing in peach plums.
To maximize benefits, Yang and his team are planning a complex that combines agriculture, culture, business and tourism.
They expect net annual revenues of more than 10 million yuan from the complex within three years, which will benefit 3,342 villagers.
In the last 20 years, the former white-collar worker has won multiple national and municipal awards. "I've been given too much honor," Yang said. "The only thing I should do is lead more villagers to prosperity and contribute in the building of new socialist countrysides."