Rappers fusing cultures
Share - WeChat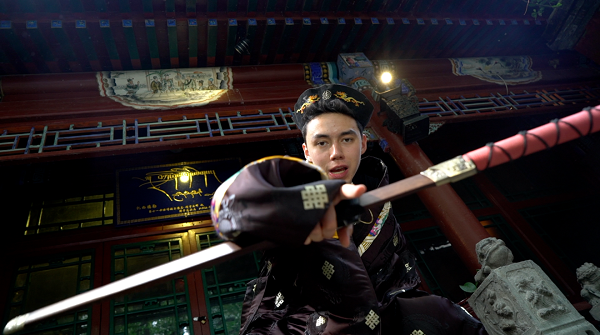 Picture this-in a quaint Beijing hutong and courtyard, a group of ebullient, foreign-looking youngsters are seen clad in Chinese martial arts clothing. They rap and dance with great panache while brandishing long sticks and nunchuks from time to time, oozing charisma.
This is from a music video of Unfazed, an up-and-coming Beijing-based rap quartet.
The visual marriage of hip-hop and kungfu, together with the Bruce Lee's film sounds heard on their 2020 album Celestial, immediately evokes the legendary New York rap group Wu-Tang Clan, who named themselves after the 1983 movie Shaolin and Wu-Tang, and laced their raw, grimy music with old kungfu film sounds in their 1993 seminal album Enter the Wu-Tang Clan (36 Chambers).
East and West, the twain was ingeniously merged in Wu-Tang's music and inspired curiosity about and love for Asian culture in millions of westerners. Citing Wu-Tang Clan as one of their musical influences, the budding rap group says they aspire to make music that fuses cultures and unites East and West.
Growing up as third-culture kids
What shapes the group's musical aspiration largely comes down to their shared experience as third-culture children.
"There are many people in the West growing up in the East but are not fully from the East. We're all third-culture kids growing up in Beijing, a city that sits deeply in our hearts, but we're not fully from here," said Laurence Carrol Brahm (aka LB the Dragon), the group's leader and producer.
Consisting of two brothers, Laurence and Robert Brahm, along with their friends Yousif Khairi and Daniel Nwosu (aka EUDAIMONIA), Unfazed got together around October 2020, reincarnating from the eponymous group Laurence had formed back in high school.
Born to a Chinese mother and an American father, Laurence, 19, and Robert, 15, grew up in Beijing, the former now studying filmmaking in Los Angeles while the latter a tenth grader at an international school in the Chinese capital.
Khairi, 18, hails from Sudan. His father, a businessman came to study Chinese at Nanjing University in 1981. His family settled in Beijing in 2005 after having spent three years in South Korea. Now Khairi is a first-year medical student at Ningbo University.
Nwosu, 20, a Nigerian whose parents are diplomats, grew up in a series of postings such as Tokyo, Beijing, and Houston. In 2018, he moved back to China, taking Chinese lessons for a year in Changchun. Now he is in his second year studying mechanical engineering at Beijing Institute of Technology.
Most Popular