Datong becomes center for frontier tech research
Share - WeChat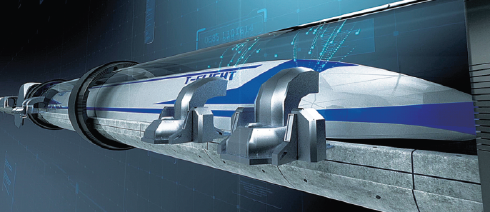 An inauguration ceremony for a laboratory focusing on low vacuum tube maglev trains took place in the Shanxi city of Datong along with the groundbreaking of a test line in the same city.
The pair of events marked the province's new effort in the research on frontier technologies for its advanced manufacturing industries.
The high-tech train, which is also known as vactrain or high-speed flying train in the industry, is designed to run inside a virtually air-free tube to reduce resistance.
The vactrain lab and test line project is jointly established by the Taiyuan-based North University of China and the Third Research Institute of China Aerospace Science and Industry Corp.
Yuan Hao, board chairman of CASIC, said the company began its research on vactrain in 2017 and has achieved breakthroughs in key technologies during the years since then.
He said the reasons that CASIC selected Shanxi as the location of its lab and test line project include Shanxi's offering of resources needed for the research as well as the strong support from local authorities.
Mao Kai, a researcher from the Third Research Institute of CASIC in charge of the vactrain research project, said Datong was selected out of seven candidate cities throughout the country.
Mao said the test line in Datong's Yanggao county will be a full-size line with a total length of 60 kilometers and will be built in three phases.
The test line's first phase will have a length of 2 km, which will be used to collect basic research data. The trial operation of the first phase is scheduled to begin by the end of September.
After two years' research in the first phase, the line will be extended to 5 km and 15 km to test the vactrain's technologies for commercial use, Mao said.
"The vactrain project is expected to offer an even higher-speed option compared to the existing high-speed trains running either on wheels or using magnetic levitation," said Ni Zhancheng, general manager of Datong High-Speed Flying Train Development Co, the entity responsible for the operation of the lab and test line.
Industry insiders said vactrains can reach a speed of more than 1,000 km per hour, much faster than the conventional bullet train that travels at under 400 km per hour.
Zhao Zhicheng contributed to this story.