Cholera stalks those forced out by DR Congo volcano
Share - WeChat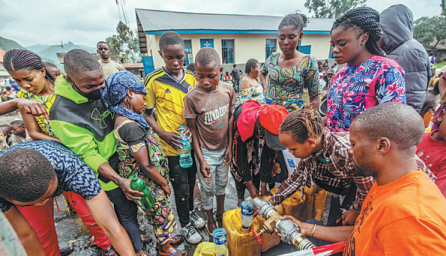 An emerging cholera outbreak may soon hit people affected by the eruption of the Nyiragongo volcano in the eastern Democratic Republic of the Congo last month, as international organizations called for action to minimize epidemic risks.
Thirty-five cases of cholera have been reported in the Kirotshe Health Zone in North Kivu Province's Sake city, 25 kilometers west of Goma, the United Nations Office for the Coordination of Humanitarian Affairs said.
In its daily briefing on Tuesday, the UN agency said cases of the disease have been increasing rapidly since Saturday, with 18 suspected cases reported in just two days.
Medecins Sans Frontieres, an international medical humanitarian organization, said more than 500,000 people in Goma, located 12 kilometers from Nyiragongo, were left without access to clean drinking water after the city's main reservoir and pipes were damaged during the eruption.
"We are assisting the immediate needs of displaced people, but it is not enough," Magali Roudaut, the Medecins Sans Frontieres head of mission in the country, said in a statement on Monday.
"More clean water should be urgently provided. Cholera is endemic in the area and poses a huge threat to people, including to the host communities."
Roudaut said they are currently focusing on preventing cholera from spreading and treating patients with the disease.
"Our teams are also undertaking epidemiological surveillance, as well as providing drinking water, scaling up storage capacity to 125,000 liters, which can be refilled by trucks depending on people's daily consumption," Roudaut said.
Financial support
The UN Central Emergency Response Fund allocated $1.2 million to support the World Health Organization and the United Nations Children's Fund to ensure access to drinking water and reduce the risk of outbreaks of communicable diseases, including the further spread of cholera.
An estimated 450,000 people have fled Goma, of which 120,000 escaped to Sake while around 8,000 crossed the border into Rwanda, though most have since returned, the UN High Commissioner for Refugees said.
The International Organization for Migration classified at least 28 percent of the displaced as coming from vulnerable groups. This includes children aged under 5, breastfeeding women, the chronically ill, pregnant women, unaccompanied children, elderly people, and those with mental health issues and physical disabilities.
Most of the people left their homes following an order by authorities for a partial evacuation of Goma's 10 neighborhoods on Sunday due to fears of another volcanic eruption.
The eruption of Nyiragongo, considered the most dangerous volcano in Africa, killed 31 people. Several buildings, including health structures, water and electricity supply systems in some parts of Goma, were severely damaged or collapsed.