It's time to commit to quitting tobacco
Share - WeChat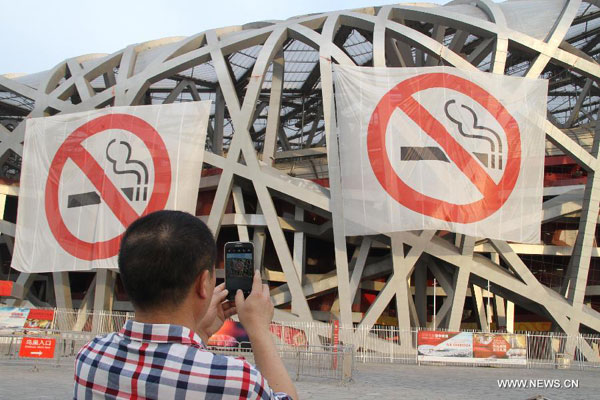 To celebrate World No Tobacco Day on Monday, the World Health Organization has chosen "Commit to Quit" smoking as this year's theme.
On its website, the WHO provides more than 100 positive reasons for quitting as well as guidelines to help smokers quit, but it also warns that new tobacco products such as electronic cigarettes and heated tobacco products are not the answer when attempting to quit smoking.
According to the WHO: "The benefits of quitting tobacco are almost immediate. After just 20 minutes of quitting smoking, your heart rate drops. Within 12 hours, the carbon monoxide level in your blood drops to normal. Within two to 12 weeks, your circulation improves and lung function increases. Within one to nine months, coughing and shortness of breath decrease. Within five to 15 years, your stroke risk is reduced to that of a nonsmoker. Within 10 years, your lung cancer death rate is about half that of a smoker. Within 15 years, your risk of heart disease is that of a nonsmoker."
You are never too old to quit smoking and thus improve your health. For example, if you quit at the age of 50, you could gain six years of life expectancy.
Tobacco causes 8 million deaths worldwide each year. About one in every three cigarettes smoked in the world is smoked on the Chinese mainland, causing about 2 million deaths each year. This makes help in quitting imperative.
After evidence was published that smokers were more likely to develop severe disease and die from COVID-19 compared with nonsmokers, millions of smokers have wanted to quit tobacco.
There are a lot of other reasons to quit, too. Tobacco is addictive, harms almost every part of your body, and eventually kills an estimated half of its users.
Tobacco use is responsible for 25 percent of all cancer deaths globally. Tobacco causes more than 20 types of cancer, and smokers are up to 22 times more likely to develop lung cancer than nonsmokers.
One in five tobacco smokers will develop chronic obstructive pulmonary disease in their lifetime, especially people who start smoking during their childhood and teenage years.
Smoking can exacerbate asthma, restricting activity, contributing to disability and increasing the risk of severe asthma attacks requiring emergency care. Tobacco also worsens tuberculosis.
Tobacco breaks hearts: Just a few cigarettes a day, occasional smoking, or exposure to secondhand smoke increases the risk of heart disease. Tobacco smokers have up to twice the risk of a stroke and a fourfold increase in heart disease risk.
Smokers are also dangerous to others, especially at home and at the workplace. Smoking or using e-cigarettes around children compromises their health and safety. Smoking is extremely hazardous to an unborn child.
There are many other reasons to quit. For example, it's expensive; you could be spending your money on more important things.
Tobacco pollutes the environment. Arsenic, lead, nicotine, formaldehyde and other toxic substances have been identified in discarded cigarette butts, which leach into the soil and the oceans.
The WHO warns bluntly: "When you buy tobacco, you are financially supporting an industry that exploits farmers and children and peddles sickness and death."
The WHO also clearly states that all forms of tobacco use are deadly, and notes specifically that e-cigarettes and heated tobacco products are harmful to health. However, the tobacco industry is pushing the new products as the answer to cessation.
In contrast, the WHO highlights the "addictive potential" of these new products and recommends measures against e-cigarettes and heated tobacco products. The WHO says that heated tobacco products "expose users to toxic emissions similar to those found in cigarette smoke, many of which can cause cancer". Switching from conventional tobacco products to such products does not equal quitting.
Low- and middle-income countries in particular are struggling to reduce cigarette smoking. More than 40 countries and jurisdictions have already banned e-cigarettes.
World No Tobacco Day offers a fitting opportunity to "commit to quit" use of all tobacco products, and to improve our entire community's health and air quality. Let's pull together to make it happen.
The author is a senior policy adviser to the World Health Organization, a special adviser to the Global Centre for Good Governance in Tobacco Control, and director of the Asian Consultancy on Tobacco Control.