Strangers in their own land
Share - WeChat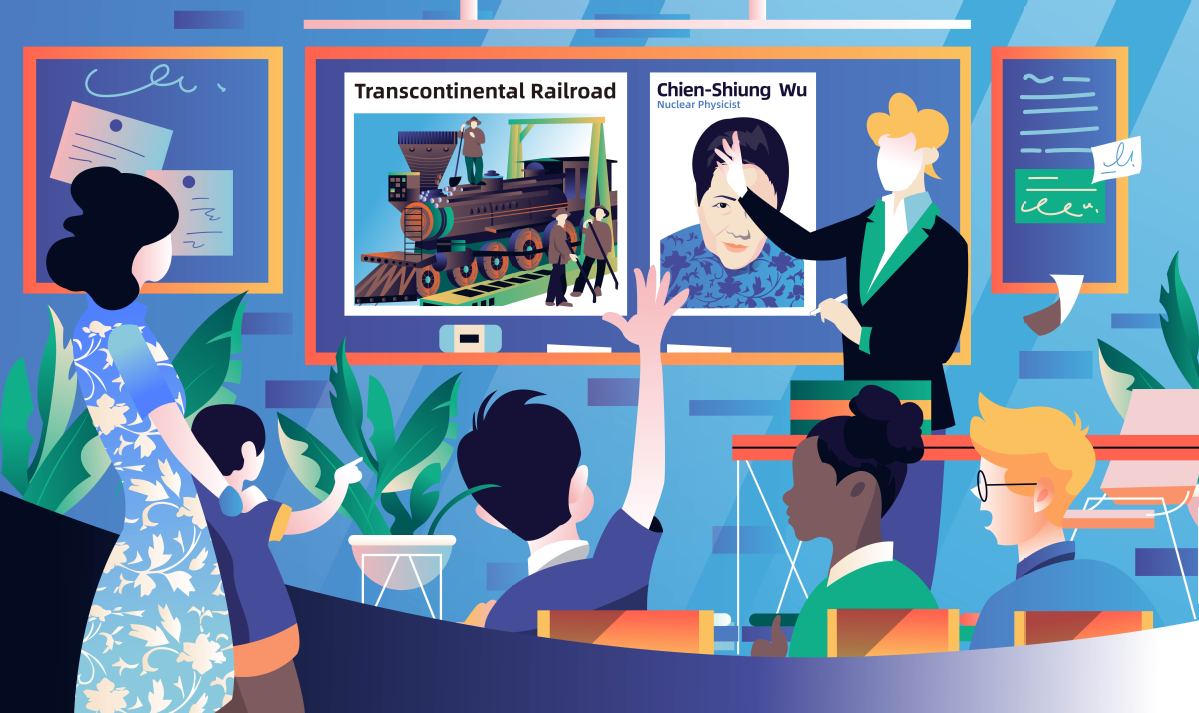 Their ancestors helped build the country, and they continue to do so, yet it may be that Asian Americans have never felt so ignored, unwanted and often despised. Now many are speaking out, with 2,388 signing a letter to New York's mayor suggesting that education is an answer to the problem.
One morning in February last year Alice Tsui, a music teacher at an elementary school in Brooklyn, New York, was climbing the stairs toward her school's sunlight-filled auditorium, where she was about to unveil what she believed would be a beautiful day for her mostly black and brown students, with music.
"That was when a fifth-grader stopped me and said, 'Miss Alice, someone said you had coronavirus," recalls Tsui, who was born to Chinese migrant parents in New York in the early 1990s.
"I later found out that it was another one of my fifth-grade students whom I had taught for many years."
On March 21, five days after the shooting in Atlanta, Georgia, in which Robert Aaron Long, 21, killed eight people, including six Asian women, within half an hour, Tsui took to the platform at a rally against Asian hate, her voice trembling with rage.
"I am so mad at the toxicity of systematic racism that we breathe in, and specifically white supremacy, for dividing my black children and I, an Asian American teacher in this world," she told the crowd as she was overwhelmed by another surge of emotion.
"My call to action to you, everyone here, is to find those emails, the contact information of principals, teachers, and the educational institutions that are supposed to serve us," Tsui said. The goal is to "acknowledge and teach Asian American history, lives and arts including and beyond the Lunar New Year".
Her impassioned words fell on fertile ears. On April 26 five parents, all Chinese Americans, sent a letter to New York Mayor Bill de Blasio and the city's Schools Chancellor, Meisha Porter.
"The recent surge in anti-Asian hate crimes and violence has highlighted the woefully inadequate education pertaining to Asian American history that our children receive. As parents of Asian American students in NYC public schools, we urge you to ... establish and promote a curriculum that is inclusive of Asian American history and culture," the letter began, ending with 2,388 signatures from concerned parents, students, educators, and those who identify themselves as a "graduate" or simply "a resident".
Citing Tsui as an inspiration, Xia Li, who has a 13-year-old daughter and wrote the first draft of the letter, said she was jolted into action by the sheer amount of violence, some committed against those close to her.
"A colleague of mine, whose parents were originally from China and the Philippines, believes that she has lost her father to Asian hate, after having the pandemic claim the lives of several other family members," said Li, an education professor at Brooklyn College who describes herself, before the pandemic, as "the opposite of an advocate".
"The old man was found at a bus stop, apparently having been assaulted and unable to speak. He was taken to hospital by passersby, stayed there for nearly a month in a coma and died on New Year's Eve," she said.
"It (Asian hate) won't be on the news until more people die," one of Tsui's 4th-graders told her. "What does this say about what my students know about our society and have already internalized?"
"The best antidote", Li and her fellow parents believe, lies with education, one that "must start in the earliest grades".
"Invisibility-the word popped up in my mind as I walked through my daughter's school corridor with pictures of famous people lining both sides of the wall, not seeing a single Asian face," Li said. "The children of Asian descent have grown so used to it-used to seeing neither themselves nor their ancestors-that the issue barely registers for them."
Lulu Song, also from Brooklyn College, was at the same Zoom meeting with Li when their Chinese-Filipino colleague reduced both to tears with her family tragedy. Joining Li to push for the education proposal, Song said the idea has been at the back of her mind since her daughter, now 10, was 4.
"One day she came back from kindergarten looking sullen. 'Chinese are short. Chinese houses are flat.' – she said to us," Song recalled. "I was upset, almost furious, only to realize at a later time that my anger was misplaced."
Graduating from one of China's top universities before moving to the US to pursue her studies in the late 2000s, Song herself had no idea then that it was the 12,000 or more Chinese laborers who built the western section of the Transcontinental Railroad in the 1880s. (The other half was built mostly by Irish workers.)Linking the country from coast to coast, the railroad that built America, as it is known today, would not have been possible without these men who were poorly fed, who lived in flat houses-makeshift tents-for seven winters while the track was being laid, and who helped shape the country's future through their sheer endeavor.
"The absence of that history in our education means that my daughter hasn't been allowed to take pride in the accomplishment of her ancestors in this country," Song lamented.
Even worse, on occasions when the event does receive a fleeting mention in its "bare minimum", to quote Aiden Tan, 14, a New York high school student, the effect is often toward reinforcing the existing stereotype, rather than challenging it in a way that promotes understanding and appreciation among students of different ethnic roots.
"All we learned was that they (the railroad workers) were cheap laborers who had had a tough life in China," Tan said. There's no mention of the lives lost as the men blasted through the granite mountain face at Sierra Nevada, or the amazing speed at which they laid the tracks.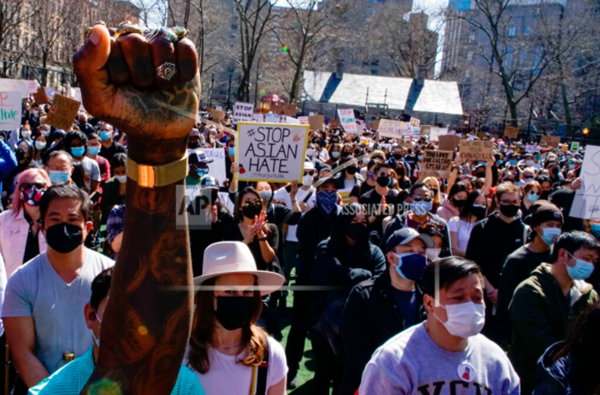 Similarly, as anti-Asian hate raged alongside the pandemic last year, one public school in the New York borough of Queens taught its second-graders about the 19th and early 20th immigration history of the Chinese, Italian and Irish in the city. Students learned, in bullet points, that the Chinese "worked in the city's laundries and sweatshops" and routinely "sent money back home to support their family in China", according to a mother who is Chinese American and whose daughter attended the school.
"A Jewish proverb goes: a half truth is a whole lie," said the mother, who requested anonymity. "In this case, the students, both of Asian and non-Asian descent, have been failed by the teacher's-and to be more exact our education system's-failure to contextualize what they teach.
"Under the casual, almost indifferent light, they appear as sojourners who were here to take, and who never engaged seriously with the country they had crossed oceans to reach, sometimes at the risk of their lives," she said. "This is completely untrue: Heaven knows how they had struggled to sink roots into a land whose soil was rendered arid by rampant racism."
In April the same elementary school, in teaching reading comprehension to students, chose the 2006 book The Earth Dragon Awakes-The San Francisco Earthquake of 1906, by the Chinese American author Laurence Yep. Focusing on two families-one white (the Travis family), one Chinese (the Chin family)-affected by an earthquake that destroyed more than 80 percent of San Francisco, the historical fiction is known more for its descriptive language and interesting seismic facts than for shedding light on the reality of the era, and what it meant for Chinese living on the American West Coast at the time.
Near the end of the book the Chin family, whose father was a house boy at the Travis household, had no choice but to leave after the earthquake because "the people of San Francisco don't want to let us go back to our old neighborhood", said Ah Sing, the Chin family son, in resignation.
"The students walk away with no more than a vague sense of inequality," the mother said. "In real life the Chins probably wouldn't have left their homes until it was totally burned down, not during an earthquake but as a result of hate crimes."
During the teaching of the book, which lasted for about two weeks, no complementary materials were provided. There was no talk about the notorious San Francisco riot of 1877, three days of racial violence that swept Chinatown, resulting in many deaths and the destruction of property worth more than $100,000. Nor was there any mention of the fact that the Chinese immigrants, with their rich agricultural expertise, helped make the San Francisco Bay Delta one of America's prime areas of farmland, often by reclaiming swampland.
The direct result of such an approach, said Tsui, is that "our teachers and students are not empowered to engage in meaningful discussion about racism, let alone speak against it." Instead, it leads to ignorance, an ossified perception of Asians as being alien, and "any subtle form of racism" all too familiar to her and others.
Most Popular