Expanding transport network brings country together, links it to world
Share - WeChat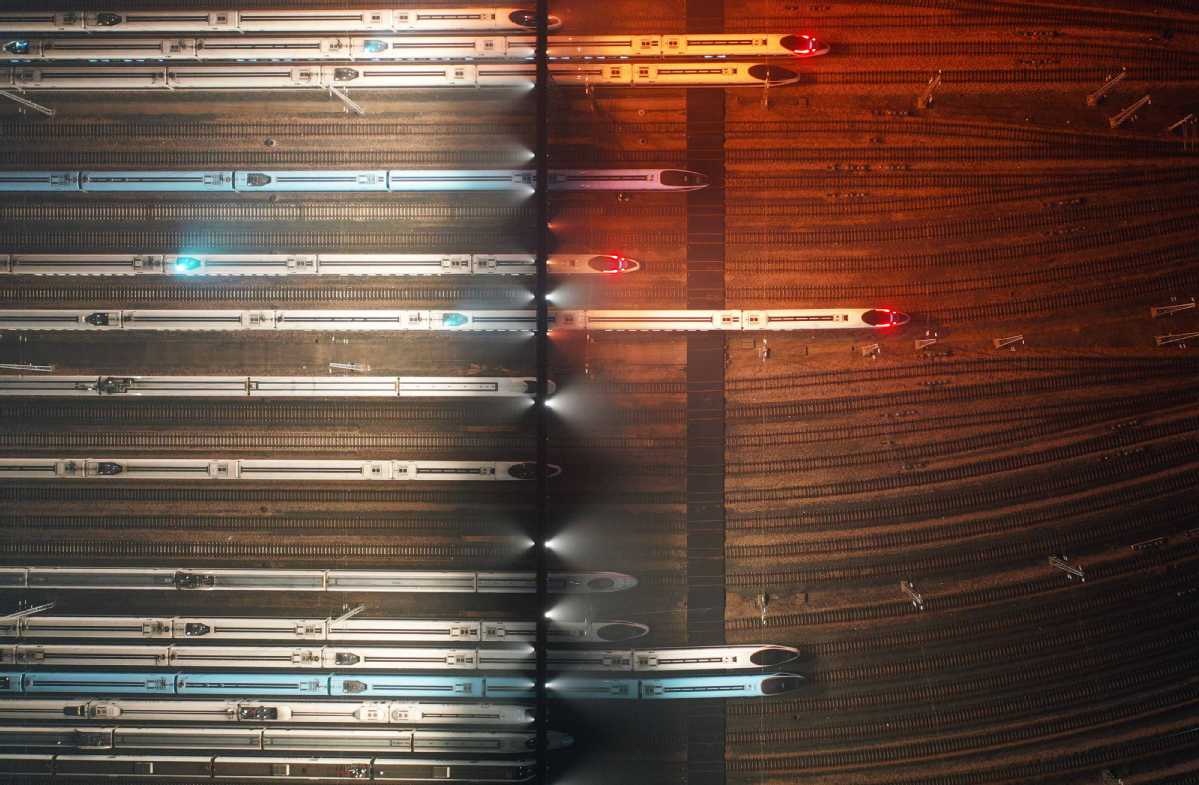 Snowballing railway, road, aviation sectors shorten travel time, underpin nation's growth and progress
Editor's note: To celebrate the 100th anniversary of the founding of the Communist Party of China, China Daily is publishing a series of stories on the changes and developments in various fields and industries.
He Kaixin and her grandfather have very different definitions of "taking a long trip".
"I don't see it as a 'long trip' unless I travel abroad. But for my grandfather, a 'long trip' might just have been from his home in Dehua county to my father's home in Fuzhou," the 36-year-old said.
Dehua is a county in Quanzhou, Fujian province, which neighbors Fuzhou, the provincial capital. It now takes less than 3 hours to drive between the two places, but the trip used to be much longer.
Her grandfather visited them in Fuzhou fewer than five times in the 20 years before he passed away in 2003.
"He was reluctant to come because it was very inconvenient to travel back then," she said, adding that her grandfather treated her well, and they had a close relationship.
The journey took 8 to 10 hours on a cramped bus, and required a transfer after a long and unpleasant trip.
He remembers that the same journey during school breaks taken in the other direction, from Fuzhou to Dehua, was painful, although she liked to visit her grandfather.
"It felt like you were sitting on the bus forever, with many unexpected passengers, like live ducks and chickens. It was chaotic and very crowded. There was no bathroom on the bus and when I asked to go to the bathroom too often, my mom would yell at me. We took food with us to eat for lunch," she recalled, adding that the bus also stopped whenever it was hailed on the street.
The improvement of He's journey today is a reflection of China's accomplishments in the transportation sector.
The country's rapidly-expanding transport network offers faster, cheaper, as well as more convenient and pleasant journeys, and plays a crucial role in social and economic development.
China has more high-speed rail tracks and freeways than anywhere else in the world.
As of the end of last year, the railway network, excluding urban rail, covered a total of 146,300 kilometers, including about 38,000 km of high-speed rail lines and the road network covered 5.2 million km, with 161,000 km of expressways.
Seven out of the world's top 10 maritime ports handling shipping containers by volume are also in China.
Transport Minister Li Xiaopeng said earlier that the railway network has reached 99 percent of cities home to more than 200,000 residents. He also noted that about 95 percent of cities with populations over 1 million have access to the high-speed railway network.
The development of the transportation sector has allowed He to see places her grandfather could only have imagined.
In 1990, at the age of 5, she took a 3-day train trip from Fuzhou to Beijing. But in 2003, when she attended college in the capital, the same trip took less than a day. She also took bullet trains when she later lived and traveled in Europe and the United States, but said she prefers China's bullet trains because they are cheaper and faster.
He's grandfather never left the province in his entire life, but she has been able to travel all over the world.
Travel by rail
The high-speed railway industry, including building bullet trains and railroads for different climates and terrains, has become China's international calling card, a way to showcase its strengths.
The country's first independently-built railway line, the original Beijing-Zhangjiakou railway, opened in 1909, and only reached speeds of 35 km per hour. A new line linking the two cities opened at the end of 2019 and reached speeds of 350 km/h.
President Xi Jinping said the line has been witness to the development of China's railways over more than a century. He also said the country's rail network was a leading factor in China's comprehensive national strength.
"China has established the most modern and developed railway system in the world," said Lu Dongfu, president of China State Railway Group, the national railway operator, adding that the company has launched a technological innovation project to develop faster bullet trains.
He Huawu, academician of the Chinese Academy of Engineering, said that China has taken the lead in researching the key technical parameters for lines capable of speeds of 400 km/h and above, which has greatly enhanced the core competitiveness of its high-speed rail technology.
In June 2017, China's first domestically manufactured bullet train-the Fuxing-which can travel at speeds of up to 350 km/h, went into operation.
By 2020, China had 1,036 Fuxing bullet trains running at speeds of between 160 and 350 km/h and more smart Fuxing bullet trains will be put into operation before July 1, according to China State Railway Group.
Since the country's first high-speed railway, the Beijing-Tianjin Intercity Railway, which opened in 2008 and could reach speeds of 350 km/h, the country has built a high-speed railway network that leads to all provincial level regions on the Chinese mainland, except for the Tibet autonomous region.
The network will continue to expand. China issued national guidelines in 2016 to build a high-speed network of eight main north-south and eight east-west high-speed railway lines. Construction is currently underway to complete the grid.
According to guidelines released earlier this year, a total of 70,000 km of high-speed rail lines will be built by 2035, to reach areas with populations of more than 500,000.
China's network is also expanding beyond national borders, enhancing connectivity with the rest of the world.
A freight train service to Europe, which was initiated in 2011, plays a significant role in the Belt and Road Initiative, boosting trade between China and participating countries.
The service continued throughout the COVID-19 pandemic, transporting epidemic control materials and daily supplies, and injecting vitality into the global economy.