UK parades its two-faced desperation: China Daily editorial
Share - WeChat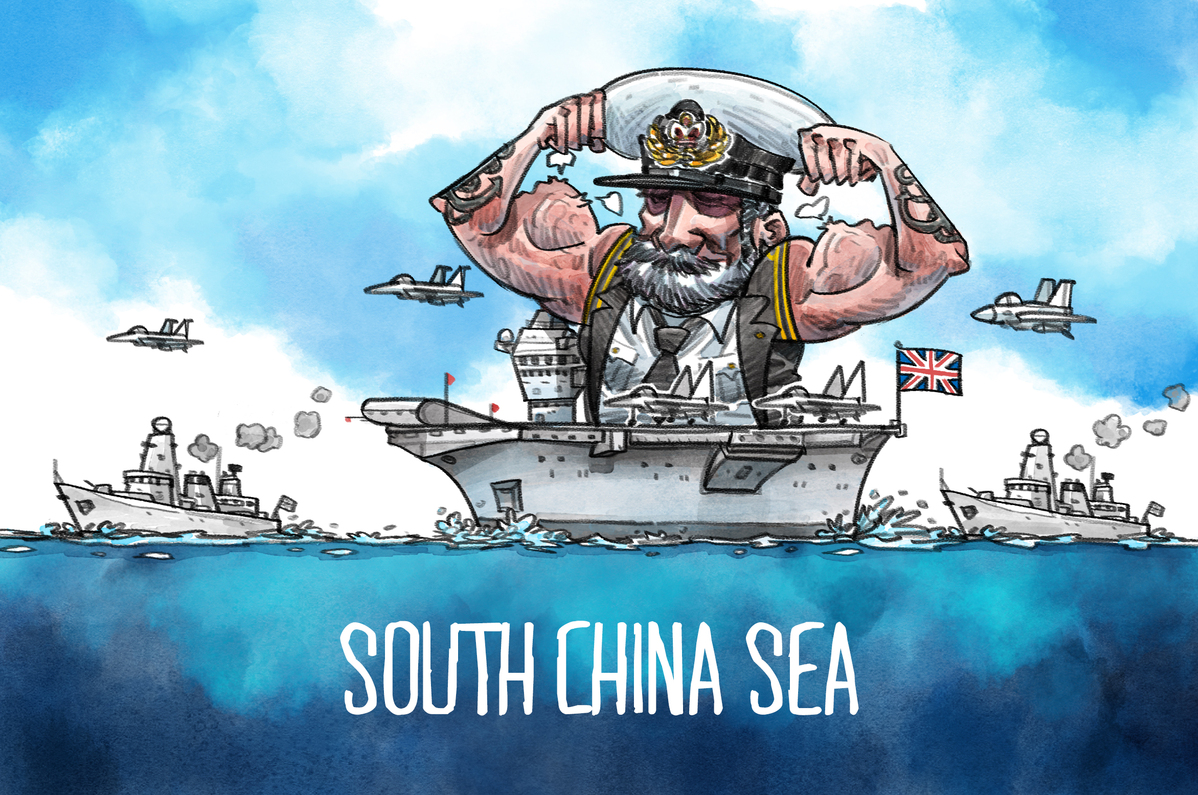 In what the United Kingdom's Ministry of Defense described as the "largest concentration of maritime and air power to leave the UK in a generation", a carrier strike group, led by HMS Queen Elizabeth, embarked on its maiden operational deployment on Saturday.
On the 28-week, 26,000-nautical-mile journey, the flotilla will route through the Mediterranean and the Indian Ocean to the Pacific in its quest to justify the carrier's astronomical price tag.
UK Defense Secretary Ben Wallace said last month the deployment "will be flying the flag for Global Britain — projecting our influence, signaling our power, engaging with our friends and reaffirming our commitment to addressing the security challenges of today and tomorrow". And, of course, desperately trying to prove that the UK is still a player despite it no longer being a member of the European Union.
While on the surface there is nothing unusual about it as a calling card. What distinguishes this high-profile voyage from others of its ilk is the fact that its itinerary has its course fixed on China.
British Prime Minister Boris Johnson tried to pass off the fact that the UK would be visiting "our friends in China" bearing a big stick as nothing untoward — saying it was merely knocking on the door in "a confident but not a confrontational way".
Reinforcing the friendly nature of the visit, the voyage will include transits through the East China Sea, South China Sea, and the Philippine Sea, where China has maritime disputes with neighboring countries, and participate in exercises with India, Japan and US forces in the region, which as members of the so-called Quad have expressed their shared commitment to containing China.
Putting aside the actual ability of a post-Brexit UK "to put an onus on" Russia and China to behave as the UK likes, as Admiral Tony Radakin, Britain's First Sea Lord, intimated, its attempted "tilt to the Indo-Pacific Region" may hardly serve the purpose of reinstating itself as a "truly global Britain" if it takes the form of gunslinging swagger.
The recent Western clamor about crises in the Indo-Pacific is to Chinese eyes an explicit plot against China. The UK joining allies in boosting military presence in the region will do nothing except escalate tensions, and perpetuate the already vicious circle where distrust and tensions are mutually consolidating.
From Beijing's perspective, the "freedom of navigation" operations that the flotilla is expected to perform in the Western Pacific are like a thief crying thief — because there have been no reports of anyone disrupting the sea routes except those carrying out such activities.
A truly Global Britain should refrain from fanning the flames of confrontation when the pandemic-plagued world needs peace and solidarity.
Most Viewed in 24 Hours
China Views