Israel pounds Gaza as deadly conflict intensifies
Share - WeChat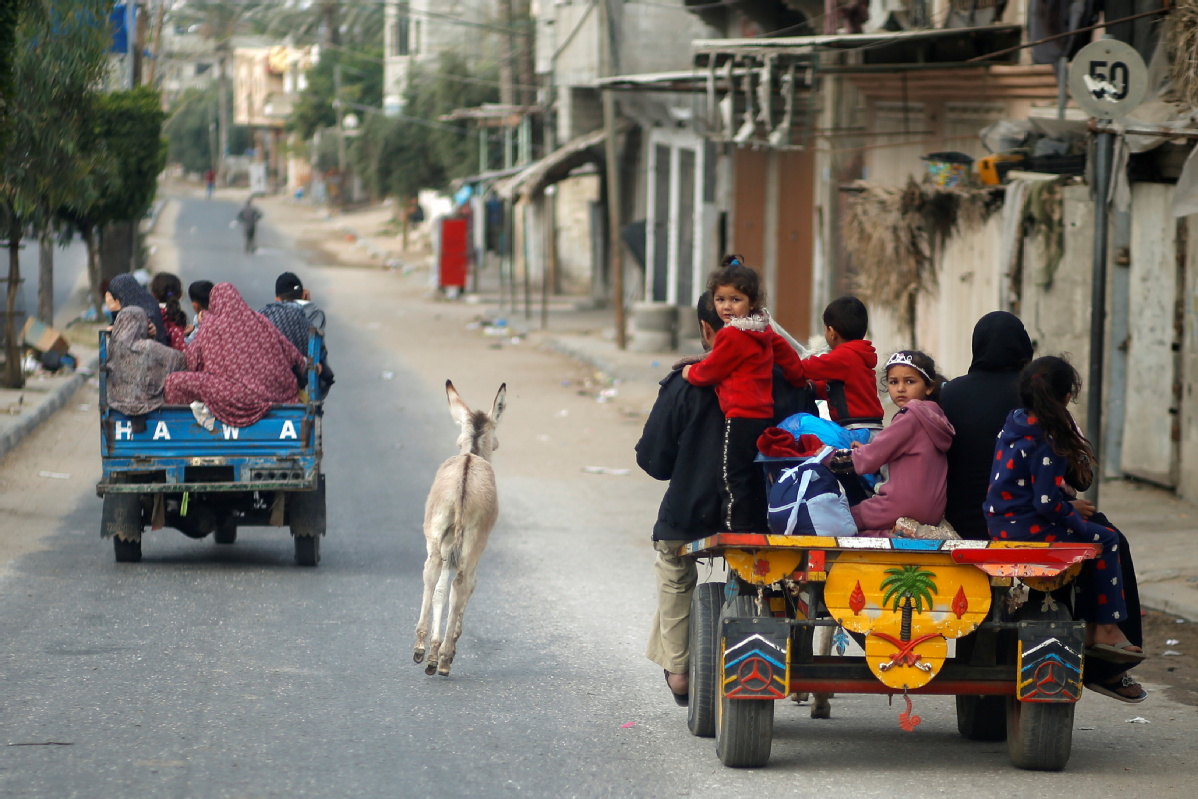 GAZA CITY/JERUSALEM - Israel bombarded Gaza with artillery and airstrikes on Friday in response to a new barrage of rocket fire from the Hamas-run enclave, in an intensification of a conflict that has now claimed more than 100 Palestinian lives and seven in Israel.
The two bitter enemies have plunged closer to all-out war. Days of deadly violence have seen Israeli soldiers massing on the edge of the territory, although the army stressed there had been no ground incursion despite an earlier statement that troops were carrying out an attack "in the Gaza Strip".
Israeli security forces have also scrambled to contain deadly riots between Jews and Arabs, and three projectiles have been fired from Lebanon. But a source close to Israel's archenemy Hezbollah said the Lebanese Shiite group had no hand in the incident.
Early on Friday, the Israeli military said air and ground troops struck Gaza in what appeared to be the heaviest attacks yet. Masses of red flames illuminated the skies as the deafening blasts from the outskirts of Gaza City jolted people awake.
The Israeli army clarified early on Friday that its troops had not entered the Gaza Strip as it had earlier indicated, blaming an "internal communication" problem for the confusion.
With the conflict showing no signs of easing, Israel has been rocked by an unprecedented wave of mob violence, in which both Arabs and Jews have been savagely beaten and police stations attacked.
Defense Minister Benny Gantz ordered a "massive reinforcement" to suppress the internal unrest.
It came amid international efforts to broker a truce between Israel and Hamas. According to London-based satellite channel Al Araby, truce efforts were being led by Egypt, Qatar and the United Nations.
The UN said the Security Council would meet on Sunday to address the conflict as UN Secretary-General Antonio Guterres called for "an immediate de-escalation and cessation of hostilities".
The United States, which had blocked an originally scheduled session on Friday, agreed to move the session - requested by Tunisia, Norway and China - to Sunday. The US State Department has urged its citizens to "reconsider travel to Israel".
Several international airlines, including KLM, British Airways, Virgin, Lufthansa and Iberia, canceled flights amid the aerial onslaught.
The Israeli military said on Friday it had hit targets in Gaza more than 600 times while 1,800 rockets were fired from the enclave. Hundreds of rockets were intercepted by the Iron Dome air defense system.
At least 119 people have been killed since Monday, including 31 children and 19 women, and more than 830 wounded, according to health authority in Gaza. Inside Israel, seven people have been killed since Monday, including one 6-year-old.