Firm to boost chemical industry growth
Share - WeChat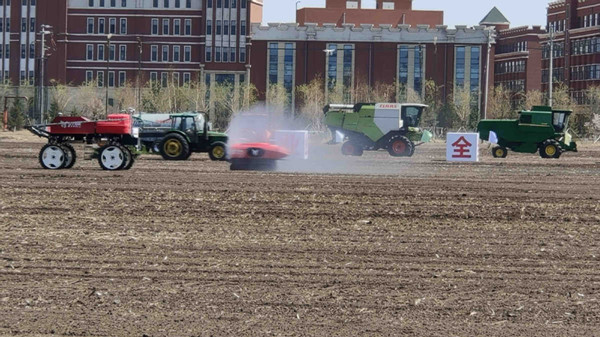 Company strives to promote technological innovation ability, core competitiveness
Sinochem Holdings Corp, a new, centrally administered State-owned enterprise, will accelerate growth in modern agriculture, seed and chemical businesses through creating a source of original technology, its executives said. That will further ensure the safety of China's industrial and supply chains in those fields, they said.
The executives commented after the State Council, China's cabinet, unveiled the company's new name following the merger of Sinochem Group Co and China National Chemical Corp, also known as ChemChina, two State-owned chemical giants, in Beijing on Saturday.
Sinochem Holdings has more than 220,000 employees, including over 90,000 in overseas markets. It operates in eight business sectors covering life, environmental and materials sciences, basic chemicals, rubber and tires, machinery and equipment, municipal operations and industrial finance.
Sinochem Holdings Chairman Ning Gaoning said the new company will focus on creating a stable and controllable international industrial chain and other new business models. That will enhance the integration of its domestic and overseas subsidiaries with China's massive market utilizing strong innovative abilities.
In addition to injecting more synergy value in the new group, Ning said the company will invest about 23 billion yuan ($3.58 billion) in innovation on an annual basis, and has introduced a number of new measures to recruit talent through institutional reforms, such as equity incentives for research employees at each stage of their projects.
Combining the edge in technology and assets of Sinochem and ChemChina, the new group leads in subdivisions of agrochemicals and animal nutrition in life science as well as in those of fluorine silicon materials, engineering plastics and rubber additives in material science.
Sinochem Holdings owns production centers and research and development facilities in more than 150 countries and regions across the world with a full-fledged marketing network. It will have 16 listed companies under its umbrella at both home and abroad, including Shanghai-headquartered Sinochem International Co, Milan, Italy-based tiremaker Pirelli and Adisseo, the French health products provider.
"We will strive to build a technology-driven innovator and promote the group's technological innovation ability, core competitiveness and sustainability," said Li Fanrong, Sinochem Holdings' president, adding that the company currently is making plans to cut carbon dioxide emissions and achieve carbon neutrality to respond to China's commitment to achieving high-quality and sustainable growth.
Risk management
Wang Xiaoming, a researcher at the Institutes of Science and Development of the Beijing-based Chinese Academy of Sciences, said the establishment of the new company is in line with the government's efforts to ensure that SOEs are reliable at critical moments and improve their risk prevention and risk management abilities. It also is meant to further optimize State-owned assets and eliminate avoidable competition.
Wang said the world's chemical industry is highly concentrated and dominated by large companies with global scale. Global chemical giants have consolidated to create large-scale chemical companies in recent years.
Such consolidations have bolstered research and development activities in the industry, paving the way for product innovations, said Li Shousheng, chairman of the China Petroleum and Chemical Industrial Association in Beijing.
For instance, Dow Chemical Co's merger with DuPont Co and Bayer AG's purchase of Monsanto Co in recent years have put an end to their mutual competition among themselves for market share and financial resources, thus energizing R&D and innovation, officials said.