Core capsule of space station takes off to music of Xi'an Symphony Orchestra
Share - WeChat On April 29, China successful launched the core capsule of its space station, named Tianhe, or Harmony of Heavens, at the Wenchang Space Launch Center in Hainan province, marking that China's space station construction has entered the full implementation stage, which lays a solid foundation for follow-up tasks.
With the core capsule of space station taking off behind them, musicians and singers Xi'an Symphony Orchestra and the chorus of the orchestra performed under the baton of conductor Xia Xiaotang, with a concert, titled Fly Into the Space, along the beach nearby the Wenchang Space Launch Center on the same day, which, for the first time, celebrated the exciting moment with music, as well as marking the 100th anniversary of the founding of the Communist Party of China.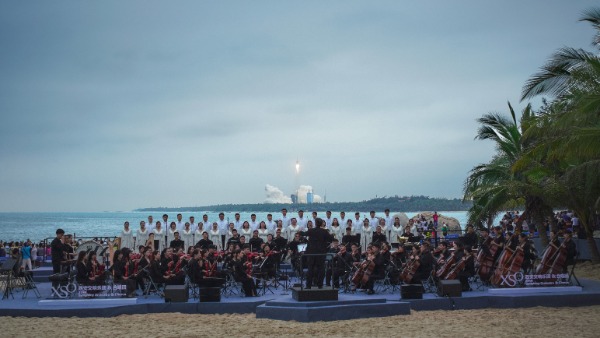 Classic Chinese music pieces, including East is Red, adapted from a popular revolutionary song with the same title written by Li Youyuan and Li Huanzhi, and Sing for the Country, a patriotic song written by Wang Xi, as well as Western classic music works, including The Planets, an orchestral suite composed by English composer Gustav Holst, were performed during the concert. The musicians also performed David Hoffner's Positive Outlook, which has been used as background music for many of the space launch with great significance.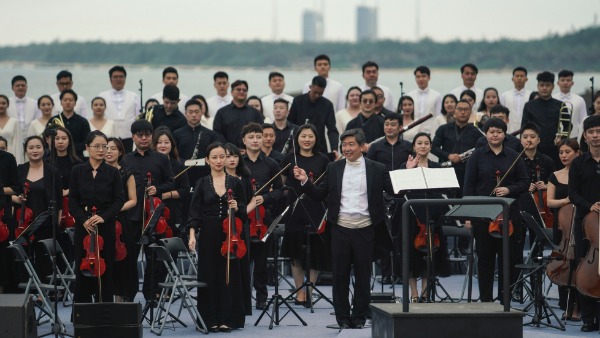 On May 8, the concert will be streamed online through major platforms.
Founded in 2012, Xi'an Symphony Orchestra has built up a large fan base with their performances outside concert halls. They've played at various locations in Xi'an, Shaanxi province, where they are headquartered, including the Shaanxi History Museum and the Emperor Qinshihuang's Mausoleum Site Museum. Last summer, they've staged a concert titled XSO Meets Huashan Mountain Summit Clouds Rhapsody, which saw 200 musicians from the Xi'an Symphony Orchestra and its chorus under the baton of conductor Tang Muhai performing on the west peak of Huashan Mountain in Shaanxi province, one of China's five most famous scenic mountains with an altitude of about 2,000 meters.