China launches first section of its massive space station
Share - WeChat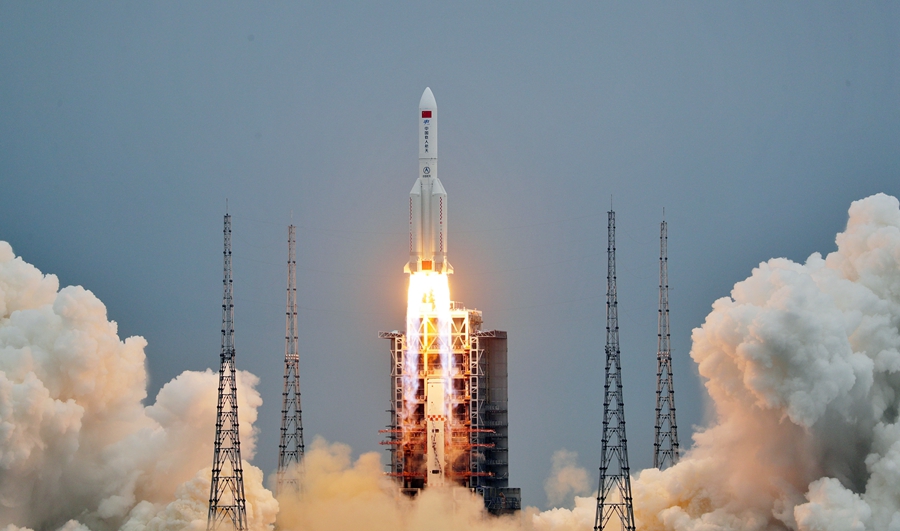 Sixty years after Yuri Gagarin undertook mankind's first space journey, China launched the core capsule of its space station on Thursday morning, formally embarking on the buildup of one of the humanity's largest and most sophisticated space-based facilities.

As the countdown ticked down to zero at 11:23 am at the Wenchang Space Launch Center in Hainan province, 10 engines at the bottom of a Long March 5B heavy-lift carrier rocket roared to life, generating a thrust power of 1,068 metric tons to lift the 18-story-tall vehicle through thick rain clouds covering the coastal city of Wenchang.
[Video/Zhao Lei]
On behalf of the Communist Party of China Central Committee, the State Council and the Central Military Commission, President Xi Jinping, also general secretary of the CPC Central Committee and chairman of the CMC, extended warm congratulations and sincere greetings to all members who have participated in the mission in a congratulatory message.
Xi said in the message the successful launch of the core module marks that China's space station construction has entered the full implementation stage, which lays a solid foundation for the follow-up tasks.
The launch is tasked with transporting the 22.5 ton capsule, the biggest and heaviest spacecraft China has ever constructed, to a low-Earth orbit about 400 kilometers above the land to place the first piece of the country's space station.

The craft's weight equals that of 15 ordinary-sized cars combined.