US barking up the wrong infrastructure tree
Share - WeChat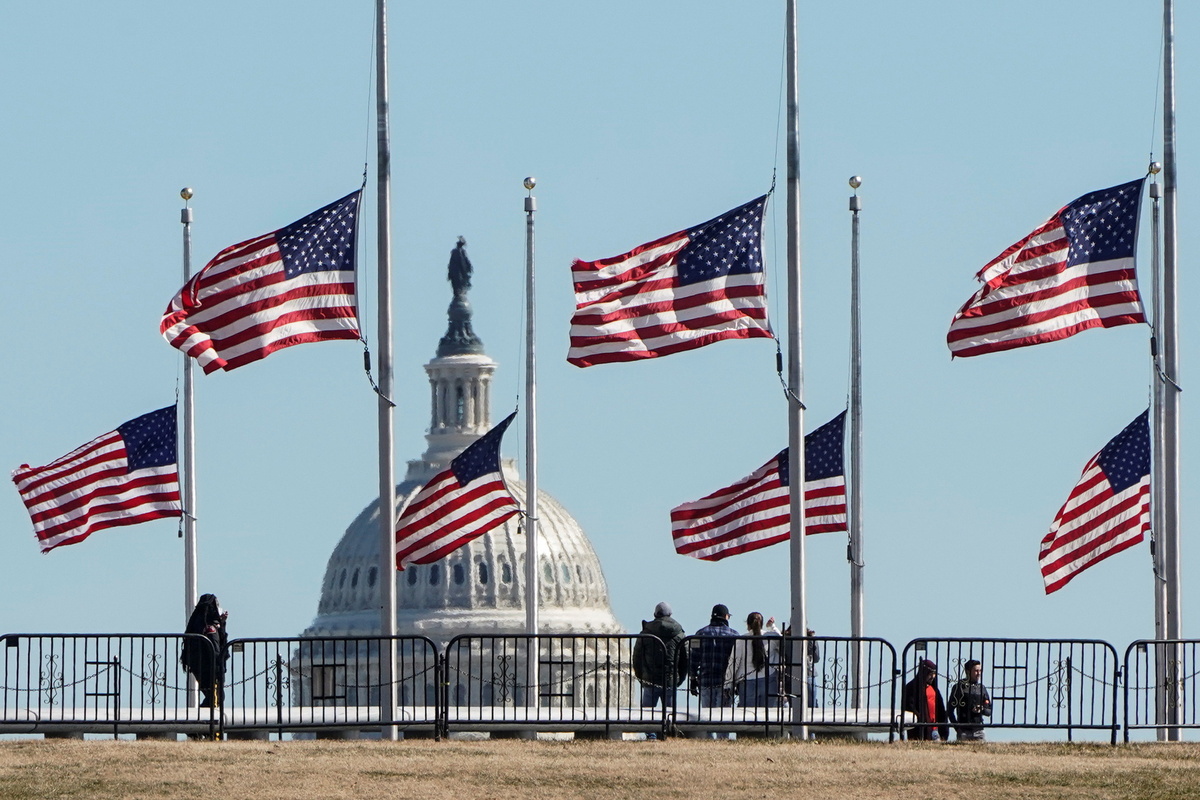 The United States President Joe Biden is still struggling to get the $2.25 trillion-stimulus package passed by the Congress, while the Republicans insist on their less-costly version.
Biden unveiled the "boldest domestic spending package" since the construction of America's interstate highway system and the dawning of the space race on March 31 to rebuild highways and bridges, fund programs for housing, broadband and schools, and increase manufacturing jobs over the next eight years.
Although the plan to channel development funding into infrastructure, manufacturing, clean energy, childcare and eldercare, and technology sectors is totally domestic in nature, Biden has repeatedly said the package is needed to catch up with China in infrastructure.
For example, according to the American Jobs Plan, as the infrastructure plan is called, the US' market share of plug-in electric vehicle sales is only one-third of China's, Biden has proposed an investment of $174 billion to make the US a leader in the sector. Other proposals include building a national network of 500,000 electric vehicle chargers by 2030, electrifying at least 20 percent of school buses, and using the vast tools of federal procurement to electrify the federal fleet.
As the plan says, the US is one of the few major economies whose government spending on research and development has declined as a percent of GDP over the past 25 years while that of countries such as China has seen rapid increase. Hence, Biden proposes to invest $180 billion for upgrading R&D infrastructure across the US, including brick-and-mortar facilities, computing capabilities and networks. The focus will be on areas such as artificial intelligence, biotechnology, semiconductors, advanced computing, information and communications technology, and clean energy technology.
That Washington's policy to contain China has not changed is evident from Biden's pledge to strengthen the US' competitiveness to prevent China from becoming a prosperous and powerful country.
The Biden administration believes that competition with China today is more about economic and technological gains than military weapons and, as a result, the US can out-compete China only after solving its domestic problems, including strengthening its infrastructure. Therefore, the US' policies have been devised with an eye to winning the long-term Sino-US competition.
The American Jobs Plan, in fact, is not only about infrastructure development, but also about advancing the Democratic Party's policy of boosting the green economy-for example, the administration plans to invest $100 billion to modernize the electricity grid, in order to generate 100 percent carbon-free electricity by 2035 and spend $213 billion to produce, preserve and retrofit more than 2 million affordable and sustainable places to live.
Among the R&D investment, $35 billion will be used to achieve breakthroughs to make the US the global leader in clean energy technology. And as part of the clean energy program, Biden's tax reform proposal is aimed at ending billions of dollars of subsidies and special tax credits for the fossil fuel industry while increasing subsidies for clean energy enterprises.
Biden's plan also highlights workforce development opportunities for women and people of color. Specifically, Biden proposes to spend $400 billion for expanding the access to home-or community-based care for senior citizens and people with disabilities, while creating jobs and raising the wages for care-giving workers who are mainly women or ethnic minorities and form the main support base of Biden. As such, Biden's plan is aimed at repaying his supporters and creating a favourable environment for the Democrats' victory in the midterm election next year.
But if Biden expects to win the Congress' support for his plan by playing the "China threat" card, he may be wrong. Although Democrats and Republicans both agree that infrastructure in the US needs improvement and upgrading as the existing transportation and electricity systems were built in the 1960s or even earlier, they have divergent views on investment in "green infrastructure" to mitigate climate change because it will affect the US' huge fossil fuel industry.
Besides, to secure enough funds for the plan and reduce the financial deficit of the federal government, the Biden administration has said it will raise corporate income tax. But Senate Minority Leader Mitch McConnell has criticized Biden's plan, calling it a "Trojan horse" and asserting that under no circumstances would Republicans back any tax hikes to pay for the plan. And a wrong tax policy could reduce job opportunities and trigger an economic downturn.
Even within the Democratic Party, there are divergent voices. For example, West Virginia Senator Joe Manchin has said he prefers a corporate tax rate of 25 percent, lower than the 28 percent Biden has proposed. Therefore, it will be difficult for Biden to get the plan passed through the Congress, particularly through the Senate where both parties have equal number of seats.
What Biden should be worried about are domestic problems, as they cannot be solved by investment plans. The recent power outages in Texas showed that, owing to decades of little or no investment, the US' infrastructure is crumbling. As such, the US cannot solve its long-term structural development problems and out-compete China with just a one-time investment plan. Also, proposing the plan is one thing, and successfully implementing it another.
Moreover, Biden has been repeatedly emphasizing that the infrastructure plan will use "Made in America" goods, hire American workers and create jobs in the US.
By upgrading its infrastructure, the US can not only expand its economy, but also solve some of its long-term structural problems, which China and other countries welcome. Yet there is no reason why the US should develop its infrastructure to compete with China. Washington seems to be barking up the wrong tree. It should focus on its own problems instead of competing with China just for competition's sake.
The author is an assistant researcher at the Institute of American Studies, Chinese Academy of Social Sciences.
Most Viewed in 24 Hours
China Views