More Chinese willing to 'pick up a printed book' during 2020 epidemic
Share - WeChat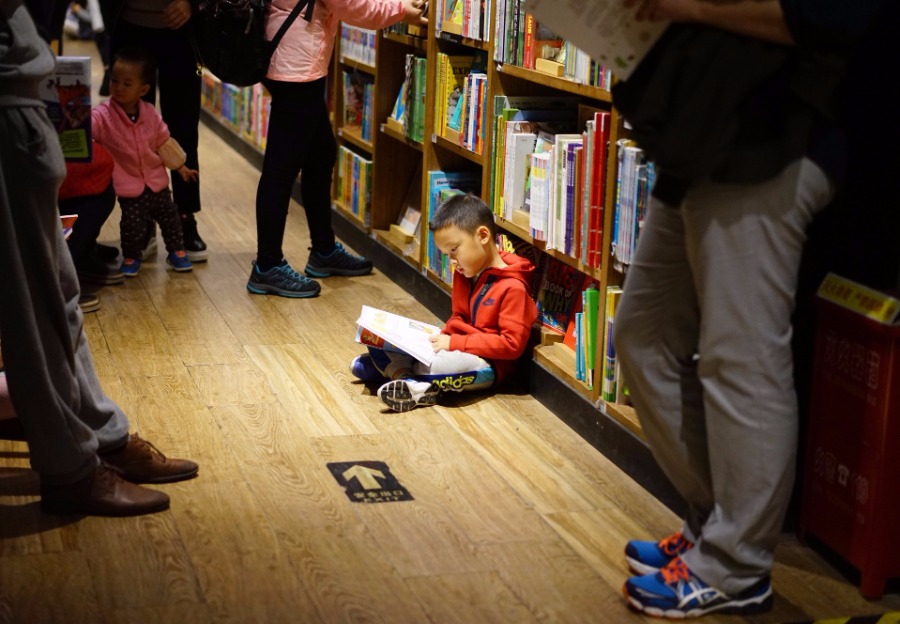 The latest annual report on Chinese people's reading habits showed that more were willing to pick up a book in print in 2020, against the ever-running challenges from e-books and digital reading.
On Friday, World Book Day, the Chinese Academy of Press and Publication released its 18th annual report on reading habits since 1999.
Wei Yushan, director of the academy, said the survey covered 167 cities and towns spanning 30 provincial-level administrations in the country, and with algorithmic analysis on the samples, collected both from urban and rural areas, it is eligible to stand for the whole population.
Based on a survey and research that ranged from September 2020 to April 2021, the report showed 81.3 percent of adult Chinese have the habit of reading, whether in print or mobile phone or other digital devices in 2020, increasing slightly by 0.2 percent from 2019.
In 2020, the adult Chinese read on average 4.7 books in print and 3.29 digital books, whereas in 2019, it was 4.65 and 2.84; both made a tangible rise.
It also showed that 43.4 percent of adult Chinese tend to read printed books, 6.7 percent more than that in 2019; while 33.4 would choose to read on mobile phones.
While the report said only up to one-third of Chinese feel they're satisfied with the amount of books they read in a year, 11.6 percent read more than 10 books in print, and 8.5 percent more than 10 e-books, rising by 0.5 percent and 0.9 percent, respectively, compared with that in 2019.
"During the COVID-19 outbreaks in 2020, people found themselves with more time to read, and they found their affections for printed books return a bit," Xu Shengguo, also with the academy, told China Daily.
No huge increase was found in the case of audio books in 2020, as 31.6 percent of adults and 32.5 percent of minors under 17 had the habit of listening to audio books. "The market has been growing steadily and is already quite large," Xu added.
The report found the mobile phone was the top choice when Chinese read. On average, adults spent 100.75 minutes a day on mobile phones, 0.34 minutes more than in 2019.
A closer look at the report found that while younger people still were at the top regarding digitalized reading and people aged 18-49 made up the majority of digital content users, more older readers are joining the scene.
People aged 50 and above accounted for 23.2 percent of total digital readers, an increase of 2.8 percent from 2019.
As to children and young people under 17, they read 10.71 books (besides textbooks) on average a year, 0.35 more than that in 2019. Among them, teenagers aged 14-17 read the most, with 13.07 books.